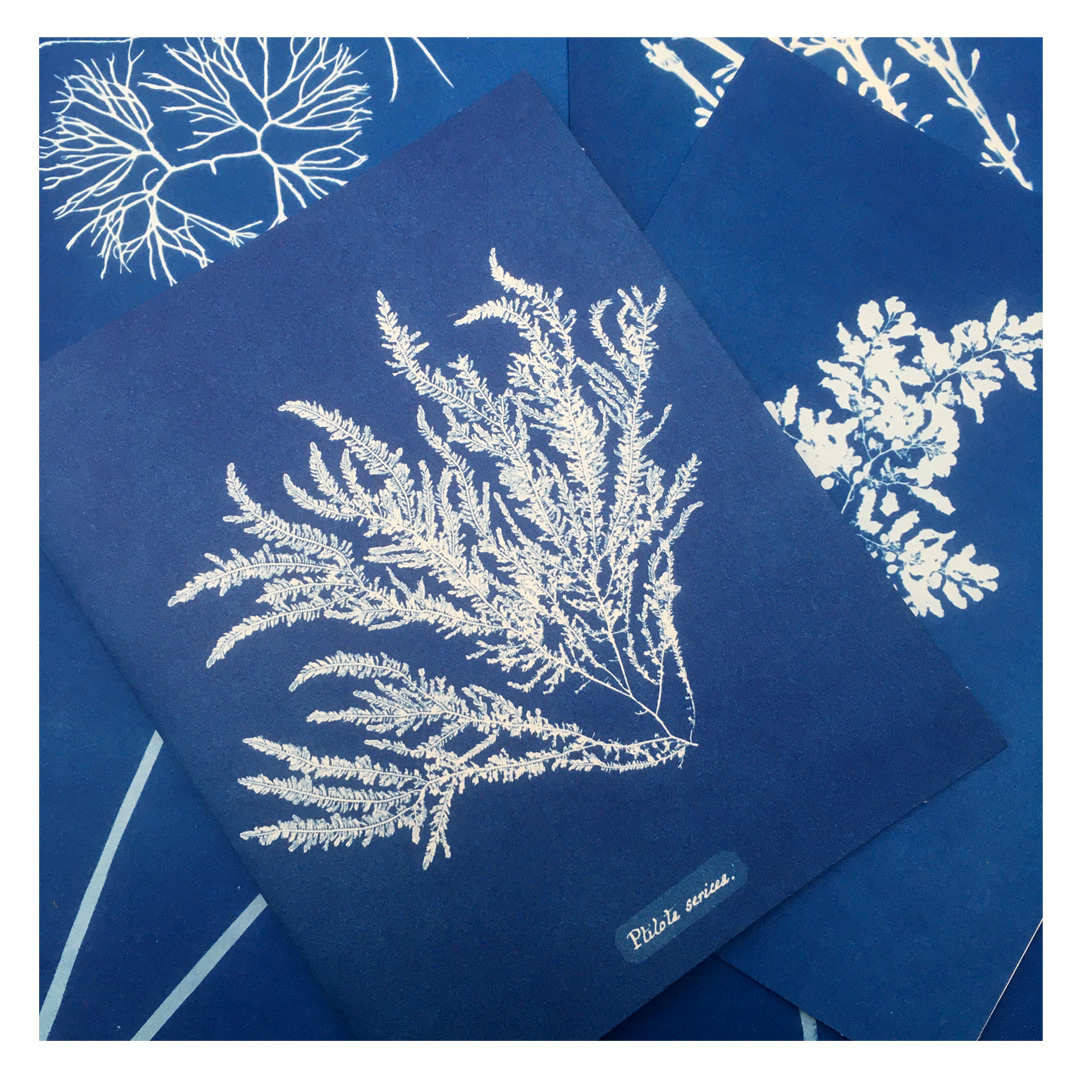 Cyanotype of British algae by Anna Atkins
The 24th September marks this year's World Cyanotype Day – an international initiative honouring one of the very first photographic processes. 'Cyanotype' is a process which combines two chemicals (ammonium iron(III) citrate + potassium ferricyanide) with UV light to achieve a high contrast, blue image.
Invented by Sir John Herschel in 1841, the cyanotype process has been consistently revived, a marker of artistic heritage which remains at the forefront of innovation. This World Cyanotype Day, we're shining a Prussian blue spotlight on five women in photography who utilise this distinctive hue.
5 Artists who celebrate the cyanotype
In 1843, botanical artist Anna Atkins (b. 1799, Kent) became the first person to illustrate a book with photographic images, confirming her status among the legendary photographers of the 19th century. Although science was a discipline from which women were typically barred, Anna worked closely with her botanist father, John Children. Throughout her life, she produced hundreds of illustrated sketches and, later, cyanotype photographs of British plants, donating her herbarium to the British Museum in 1865.
Gohar Dashti's Still Life series consists of unusual cyanotypes which suspend their subjects in a state of physical decay. Created using organic materials such as leaves and filaments, Gohar destroyed her specimens prior to capturing their images, resulting in their fragmented structures. The resulting 'explosion' effect references Gohar's childhood, spent amid the backdrop of war in Iran.
Alix's Styx, a project which references the rich history and intertextuality of Greek mythology, partially comprises found X-ray images transferred to large translucent fabrics via the cyanotype procedure. Alix's experimental application of the cyanotype technique deepens Styx's historical associations, while the integration of X-ray technology emphasises her modern approach to the retelling of ancient tales.
Joy is also celebrated for her integration of early photographic processes into her creative work. In her recent series Invisible Life Force of Plants (2020), Joy explored 'economic botany' – the human use of plant materials for survival and tradition – from the seventeenth to the nineteenth centuries. In her iconic cyanotype and lumen prints, the 'life force' of each plant is figuratively realised via the 'aura' which limns each specimen. The work's vitality suggests each species' continued significance to modern living.
Alongside her photographic practice, Tacita is renowned for her analogue films, printmaking, and drawing. In particular, she is a strong proponent of analogue film methods; many boxes in her 'exhibition in a box' project Monet Hates Me contain handprinted photochemical photographs, including cyanotypes. Describing her penchant for early processes, she has stated, 'It's rich in its potential for mistakes that can be beautiful. It's worth saving.'
Have you created a piece of cyanotype art? Alternativephotography.com is hosting an online gallery of cyanotypes, and submission is free. Access the submission guidelines here!