In 1843, botanical artist Anna Atkins (b. 1799, Kent) became the first person to illustrate a book with photographic images, confirming her status among the legendary photographers of the 19th century. Although science was a discipline from which women were typically barred, Anna worked closely with her botanist father, John Children. Throughout her life, she produced hundreds of illustrated sketches and, later, cyanotype photographs of British plants, donating her herbarium to the British Museum in 1865.
From Still Life series, 2017 © Gohar Dashti. Courtesy of Ingrid Deuss Gallery
Since those groundbreaking beginnings, the cyanotype process has been consistently revived, emblematising photographic heritage while remaining at the forefront of innovation. A group exhibition curated by Joost Vandebrug for Ingrid Deuss Gallery in Antwerp, Blues explores how seven pioneering artists have utilised the cyanotype process in their practice.
Among the heterogeneous collection is the work of Contemporary Heroine and Iranian photographer, Gohar Dashti (b. 1980), one of the most acclaimed women in photography to feature cyanotypes in her work. Her Still Life series consists of unusual cyanotypes which suspend their subjects in a state of physical decay.
Created using organic materials such as leaves and filaments, Gohar destroyed her specimens prior to capturing their images, resulting in their fragmented structures. This creates the illusion of an explosion caught in time; the shreds of plant life scatter across the image, conveying a tangible sense of destructive force.
Gohar's practice is inextricably informed by her childhood, growing up amid the backdrop of war. In her own words: "growing up in war time… makes my generation live with the fear that one day we might again get into war. We are constantly living with war in Iran…everything reminds us of war, it is part of our everyday existence."
Growing up during the 1980s, Gohar's life was frequently interrupted by violent conflict; inevitably, her experiences have influenced her art. Rooted in the traditions of the cyanotype, which were frequently used to categorise natural forms, the contrast of Gohar's destruction is rendered more potent; in her work, a technique historically used to preserve natural beauty instead renders its disruption.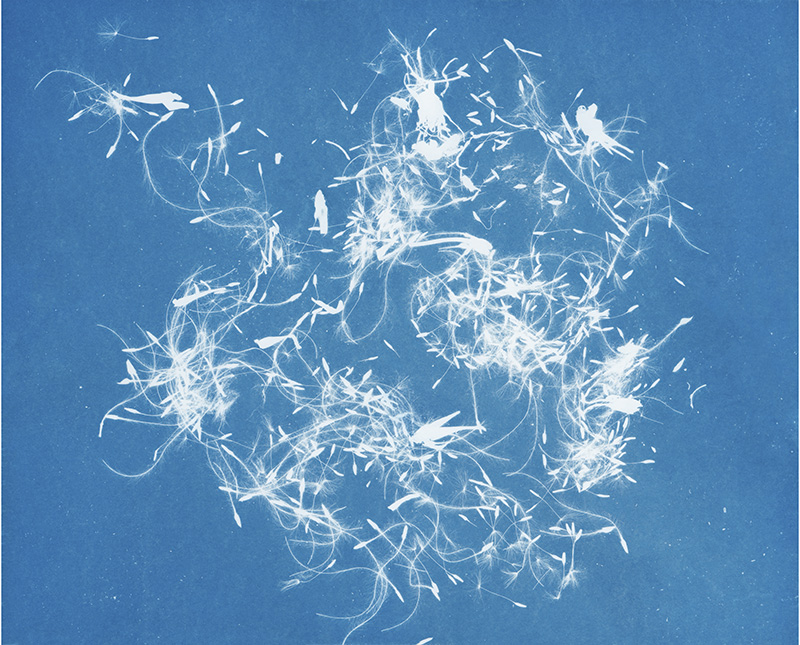 From Still Life series, 2017 © Gohar Dashti. Courtesy of Ingrid Deuss Gallery
In conjunction with the exhibition, Anna Atkins' Photographs of British Algae: Cyanotype Impressions will be re-printed for sale by Steidl, as well as being presented as part of the display. Though Gohar and Anna produced their images more than a hundred years apart, their use of cyanotype is equally imbued with careful attention – beyond the practicalities of the process – to the aesthetic composure of the results. Highlighting the boundless potential of the cyanotype, the artists of Blues will ensure its continued longevity.
Blues is on display at Ingrid Deuss Gallery, Antwerp until September 4, 2021. Artists included are Gohar Dashti, Mika Horie, Ivan Forde, Arash Fakhim, Erika Rodin, Timo Lieber and Julie van der Vaart.
By Katherine Riley