On 17th May, we celebrate International Day against Homophobia, Transphobia and Biphobia. Created in 2004, International Day against Homophobia, Transphobia and Biphobia draws attention to the prejudice and discrimination people within the LGBTQIA+ community face.
The date May 17th was specifically chosen as this is the day, in 1990, that homosexuality was officially declassified as a mental disorder. International Day against Homophobia, Transphobia and Biphobia is celebrated in 130 countries, including some where same-sex relationships remain illegal. At Hundred Heroines we are celebrating by showcasing five artists who celebrate the LGBTQIA+ community within their work, whilst bringing a voice to marginalised communities. I hope this article inspires you to create art but also speak up for LGBTQIA+ communities. To create true change we all have to stand up together.
Marie Høeg and Bolette Berg
Marie Høeg was a Norwegian queer photographer and a prominent member of the Norwegian feminist movement. Beginning to work as a professional photographer in 1890, five years later in 1895, she met Bolette Berg who became her partner, in their photography business and also in life.
Being co-owners of their studio was revolutionary at the time and Marie and Bolette continued to support the feminist movement, with their studio being used as a safe place for women to meet. It was also a place where they felt safe to experiment with gender and identity, with much of the work from their private collection showing Marie taking on a male character. The images within this private collection are fun and playful, showing that Marie and Bolette had created a place for self-expression, frivolity and trust which was very rare for people within the LGBTQIA+ community.
Marie and Bolette were true pioneers.
Zanele Muholi

Zanele Muholi is an award winning South African artist whose work focuses on bringing visibility to black LGBTQIA+ people and to those who suffer extreme violence from homophobic and transphobic people.
In 2006 Zanele began their series 'Faces and Phases'. Within this series, they took black and white portraits of black lesbians. Showing people of varying backgrounds and ages, Zanele had the subjects look directly at the camera. Along with taking their photograph, Zanele also had each of the participants write a testimonial, allowing them all to tell their own story and to help give a voice to the black LGBTQIA+ community.
Zanele Muholi – 'In My World, Every Human is Beautiful' | Tate by Tate
Claude Cahun
Claude Cahun was a queer photographer, writer and sculptor whose work challenged the gender binary and the stereotype which were associated with gender.
Claude's work featured writing, photography, and theatre but they are most well known for their self-portraits. Claude created these works with their life-long partner, Marcel Moore; as Claude took on multiple personas, it is believed to have been Marcel who took the photographs. Although their work is now interpreted as a statement on gender and sexuality, Claude created it for themselves and had no desire to be famous.
No matter the reason behind the works, Claude's images were groundbreaking in their defiance of gender norms and they were a true pioneer for the LGBTQIA+ community.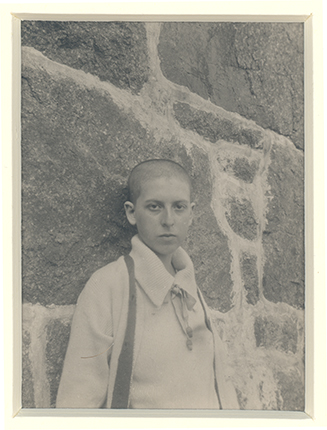 Self Portrait c.1917 by Claude Cahun. Courtesy of the Jersey Heritage Collections
Nan Goldin
Nan Goldin's photography often depicts people who are members of the LGBTQIA+ community but, unlike some photographer, Nan has not had to search out her subjects, the people she photographs are her friends. And as they are her friends, she has never simply been an observer, never on the outside looking in via her camera. Nan is a part of the world and she is is often also within the images, taking many self portraits depicting her most vulnerable moments.
With this approach, she has managed to capture real, raw moments in the life of people within the LGBTQIA+ community, creating a deeply personal narrative for the artist and subjects alike.
'I'm not Really Interested in Photography – I'm Interested in Art' – Nan Goldin I Interview by Steidl
Jane Hilton
Jane Hilton is a British photographer and filmmaker whose work explores the everyday realities of American culture. Within her series 'Drag Queen Cowboys', Jane was inspired by the portrayal of the Western genre and the 1961 film 'The Misfits', which starred Marilyn Monroe. In a series of black and white images, Jane was wanting to capture a juxtaposition between the rugged harshness of the desert with the displacement of the subjects within her images.
Jane chose drag queens as this was a community she had never documented before and she wanted to show each drag queen in a much less artificial world. With natural light and no retouching, Jane created images which were poignant and powerful, showing each queen in their true beauty.
You might be interested in…
5 Photographers Who Make Trans and Non-Binary Visible
At Hundred Heroines we have chosen to celebrate International Transgender Day of Visibility by choosing five artists who are part of the LGBTQIA+ community, and who celebrate transgender and non-binary people while challenging preconceptions and injustices.