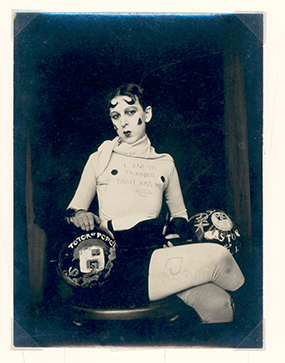 'I am in training don't kiss me', 1927 © Claude Cahun. Courtesy of the Jersey Heritage Collections
Claude Cahun 1894 – 1954
French Photographer
French photographer Claude Cahun was best known for their Surrealist self-portraits. Born in Nantes into a wealthy intellectual family, they started photographing and writing as a teenager and enrolled at the Sorbonne in 1918,  becoming involved in avant-garde theatre. They moved to Paris in 1920 with their step-sister lover, the graphic artist Marcel Moore. Claude and Marcel adopted gender-ambiguous pseudonyms and collaborated on work which questioned gender and the domination of 'the male gaze'.
To escape mounting political turmoil in pre-war France, they moved to Jersey in 1937. During the occupation, from 1940, Claude and Marcel channelled their artistic philosophy to undermine the Nazis and took considerable risks distributing hand-made, subversive flyers. They were eventually caught and imprisoned from 1944 to 1945.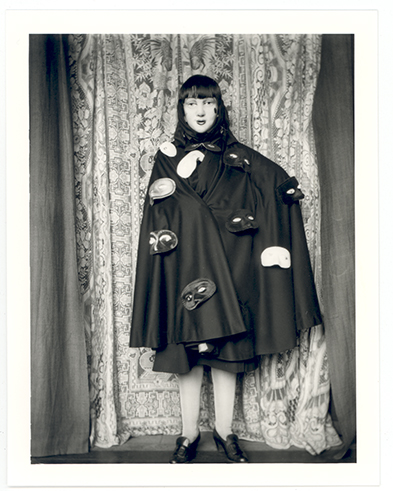 Self portrait (in robe with masks attached), 1928 © Claude Cahun. Courtesy of the Jersey Heritage Collections
Claude's black and white images have a haunting, confrontational quality. Their work was self-exploration and little was published in their lifetime. They often assumed a persona, experimenting with emblematic masks, mirrors, costume and double exposure.
Claude's genres were diverse, ranging from portraiture and nudes, to still life and landscape. In one of their best known self-portraits they are shaven-headed, dressed as a cravat-wearing dandy; in another, Claude wears a silver checked jacket, turning questioningly from a mirror. A still life of an iris has three plastic dolls tumbling from it. Another shows their head trapped in a glass dome.
Claude and Marcel published the groundbreaking  'Aveux non avenus' (Disavowals) in 1930, an illustrated book of their surrealist photomontages and writings. Clause also took the iconic portrait of Dali's flower-headed woman in Trafalgar Square used to promote the International Surrealist Exhibition of 1936. Their pioneering work has inspired many contemporary artists including Gillian Wearing and Sarah Pucill.
An archive of Claude's work is housed in The Jersey Heritage Trust.
By Paula Vellet