We're thrilled to announce our first studio takeover at Jolt! Astro 2030: Present Future
Astro 2030 : Present Future is an interactive, multi media presentation created by Mónica Alcázar-Duarte. 
Through the use of augmented reality, lightboxes, and video presentations, Mónica poses questions about taking the next step in space exploration and what it means to humanity both here on earth and those who journey into the realms of the unknown, and ultimately to the colonisation of a new planet…Mars.
Since 2014 Mónica Alcázar-Duarte has been working on a project related to current efforts towards space exploration. The resulting body of work delves into the beginning of an era of technological prodigy.
It encourages us to look to the far future with eyes wide open, as there is a need to resolve current legal loopholes regarding space exploration for it to proceed in a peaceful and balanced way.
It also highlights how imperative it is to focus any findings of these explorations towards the preservation of our planet.
The installation of the work includes an Augmented Reality component that works as a virtual portal that adds an extra layer to the overall narrative that is presented.
Mónica is part of a minority of women making work that combines science, technology and art, using cutting-edge technology which allows the audience to interact with the work.
We look forward to welcoming you from 16th February – entry is free, but booking is essential. Studio 17, Jolt Studios, 27 St Aldate Street (on King's Square), Gloucester, GL1 1RP.  The exhibition runs until 14th April, Tuesdays, Wednesdays & Thursdays, 10.00-16.00.  Other times available by arrangement.
Book a time slot
Join the Conversation
In 2011, Mars One was on the search for 100 volunteers to travel to the red planet without the option to return. The successful applicants would live, grow and try to build a community based on Mars – 10,000 people applied.
Jump to 2022, the year that the space launch was scheduled. Although the project ran out of steam (and funding) we want to know why people were so keen to try and start over on a new planet.
As you move through Astro 2030: Present Future, think about those who would have made the one-way journey.
Would you have signed up?
What would you say to them as their rocket docked on Mars? Would it be a warning? Of abandonment and anger? Or would it be messages of hope? Of Love?
Record your soundbite to be transmitted via radio waves to Mars' first settlers.  And if you can't get to Jolt, send your recording or written message to hello@hundredheroines.org.
The New Colonists
The New Colonists delves into the beginning of an era of technological prodigy. It encourages us to look to the far future with eyes wide open, as there is an imperative need to resolve current legal loopholes regarding space exploration for it proceed in a peaceful and balanced way.
The project seeks to create a perception akin to the "overview effect" experienced by astronauts as they view the tiny blue dot that is Earth and experience a deep and emotional connection to humanity and the planet as a whole. The New Colonists highlights the importance of whatever we explore beyond Earth, whatever is gained from these explorations, needs to be used not to "jump ship", but for the benefit, preservation and development of our planet.
Ascension
Considered the first artificially produced environment, Ascension is an island located in the South Atlantic Ocean. Between 1850 and 1870, at the suggestion of Charles Darwin and under supervision of botanist Joseph Hooker, 330 plant varieties were shipped from the Royal Botanic Gardens Kew by the Royal Navy. A number of animal species were introduced that ended dominating the local wildlife.
This "terra-forming" experiment changed Ascension from 'an arid treeless island', as Darwin described it, to a landscape including both rainforest and desert.
In recent years Ascension has been used as an example, a blueprint, for what could be achieved one day on Mars. A terra-forming process on the red planet would take many hundreds of years, first generating an atmosphere and then slowly creating ecosystems.
One could imagine that the plant and animal specimens traveling to other planets would do so as DNA or frozen genetic fragments to be cloned upon arrival.
Ascension to the heavens has been an ambition since the beginning of recorded history.  Initially, this was in an attempt to reach the dwelling place of the Gods, or a single God.  With technology augmenting our ambitions, we are starting to believe that we can expand life beyond our planet.
The coming generations will need to remember that whatever we find in our explorations of space needs to be brought back and used to enrich and inform our lives on Earth. This will become a human imperative.
 The exhibition includes the artist's film entitled Ikamo Tlalli / Earthless. Three channel video installation. Duration: 10 mins.
School Activities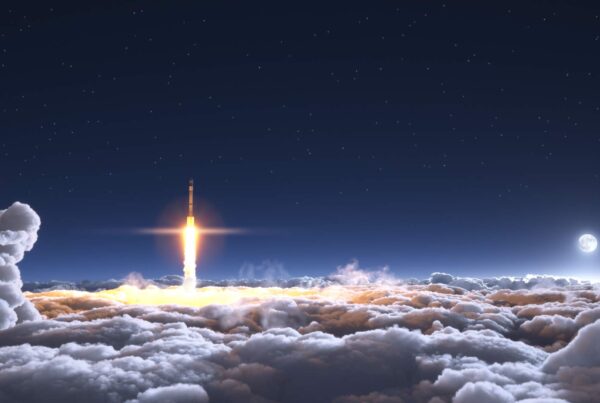 One Way Ticket to Mars
This task is to inspire creativity and empathy by understanding what it may feel like to leave their homes, this can encourage students to understand the hardships some families go through. By linking it back to their own interpretations of traveling to a new planet - students can choose any emotion to…
Mónica Alcázar-Duarte is a Mexican-British multi-disciplinary visual artist whose work acknowledges her indigenous heritage while exploring current ideals of progress. She embraces themes related to science and technology and their influence over society and the natural world. In her projects she mixes images and new technologies, such as Augmented Reality, to create multi-layered work, producing meaning through seemingly disconnected narratives. Mónica's work confronts our obsession with speed and infinite growth on a planet crying out for us to slow down. Her work has been exhibited and collected throughout Europe, Mexico and the United States.