Masculinities: Liberation Through Photography, which includes work from eight of our heroines.
After a successful run at the Barbican Centre in London, the exhibition 'Masculinities: Liberation Through Photography' is now open to the public at the Gropius Bau in Berlin until the 10th of January 2021. With over 300 works by 50 artists, the exhibition explores through a multitude of perspectives how masculinity is performed, perceived and ever-changing. Stephanie Rosenthal, Director of the Gropius Bau, encapsulates the exhibition stating that it "offers a nuanced examination of masculinities in all their facets and shades." It is certainly not a simple feat, and the extensive exhibition is worth dedicating a good amount of time to, so make sure to free up your day!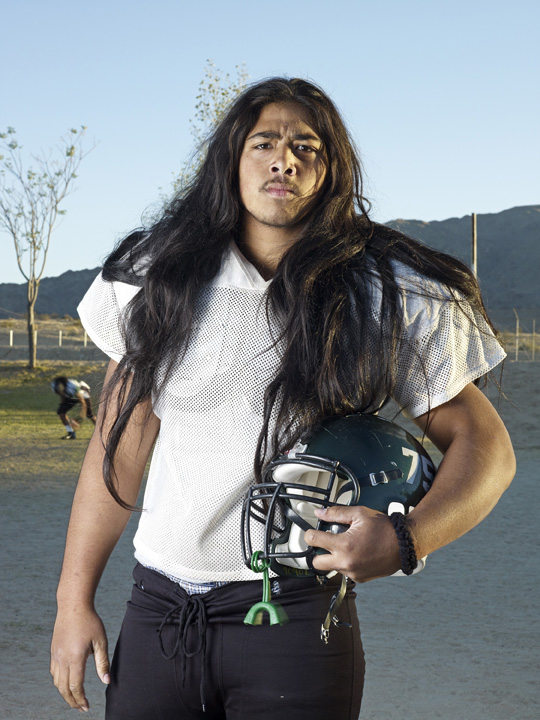 Catherine Opie : Rusty, 2008
Courtesy: Regen Projects, Los Angeles; Thomas Dane Gallery, London © Catherine Opie
By Enez Nathie
As you make your way through the exhibition and arrive at Duane Michals' tender images of father-son vulnerability, the guttural screams of Yale fraternity boys provide a muffled yet disturbing background noise, contrasting the fragility and toxicity of masculinity. This juxtaposition is a constant theme throughout the exhibition 'Masculinities: Liberation through Photography', housed in the Barbican and extended until the 23rd of August 2020. The exhibition is divided into six sections including 'Disrupting the Archetype', 'Reclaiming the Black Body' and 'Women on Men'. Although photography is the primary medium, it is displayed amongst a smattering of short films and other artworks, providing a thorough and diverse account of masculinities from the 1960s to present day.
Some may question whether there is a need to commemorate and create more spaces dedicated to masculinity? Indeed, aren't most spaces in society created by men for men? The difference with this exhibition is that it is completely void of uncritical representations of the masculine norms we are all too familiar with.  Curators Jane Alison and Alona Pardo state that the central question of the exhibition is 'What does it mean to be male?' A question that may seem misleadingly simple to some, but as demonstrated through the exhibit has a plurality of answers specifically with regard to geographical and temporal localities as well as gender, racial and sexual identities.
The curators put forth that masculinity is constructed and performed by diverse bodies, which has been successfully immortalized by global artists throughout the sprawling exhibition. Sunil Gupta (member of The Hundred Heroines Criteria of Merit Panel) explores the lives of gay men both in New York City and New Delhi throughout the 1970s and 80s. His photographs put in the foreground the impact of politics and culture on individual liberation. The subjects walking on Christopher Street —the location of the Stonewall Riots— have confident stances and stare into the camera lens unashamed. In comparison, the men photographed in the clandestine gay community in New Delhi are anonymous, with the images taken from the back or faces cropped out and quoted as fearing being outed. Collier Schorr's portraits of cowboys, an emblem of the 'All-American Boy', also reference the mainstream erasure and idealisation of certain masculinities. The images of young white cowboys are superposed over images of African American men hinting at erasure of black men from the American male narrative.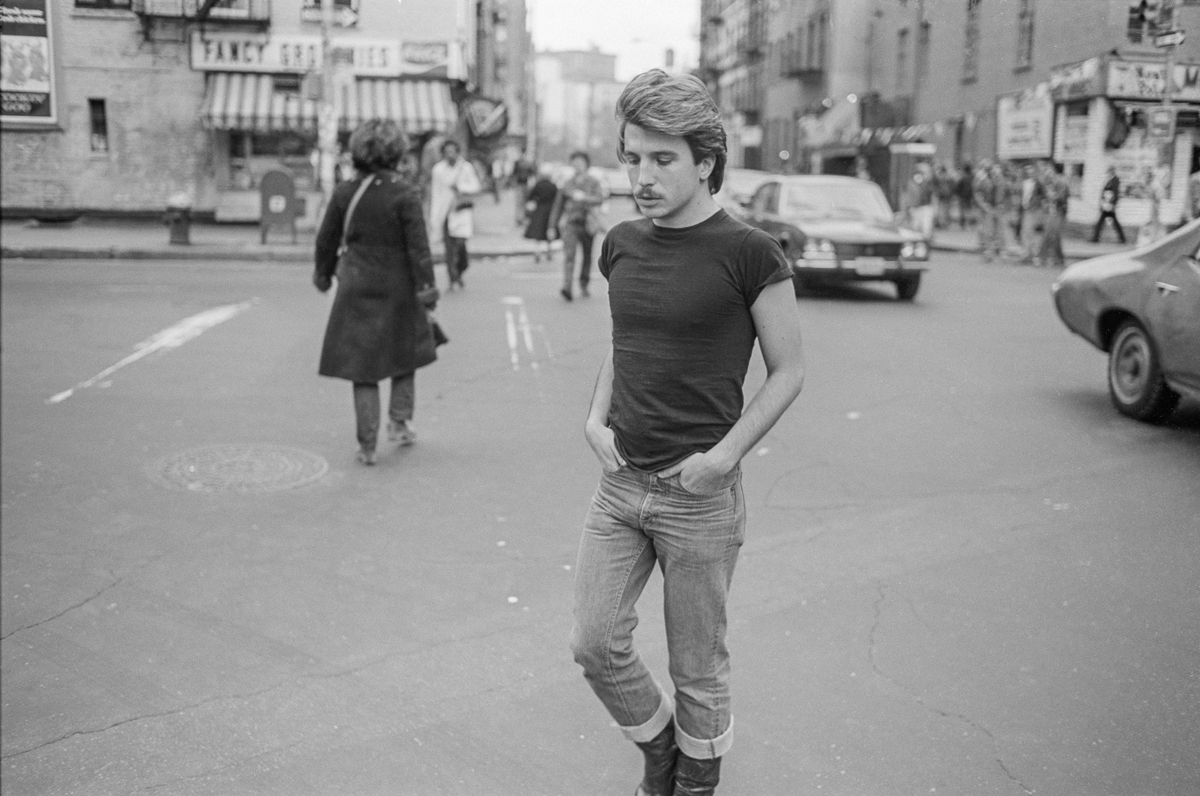 Sunil Gupta : Untitled 22 from the series Christopher Street, 1976
Courtesy the artist and Hales Gallery. © Sunil Gupta. All Rights Reserved, DACS 2019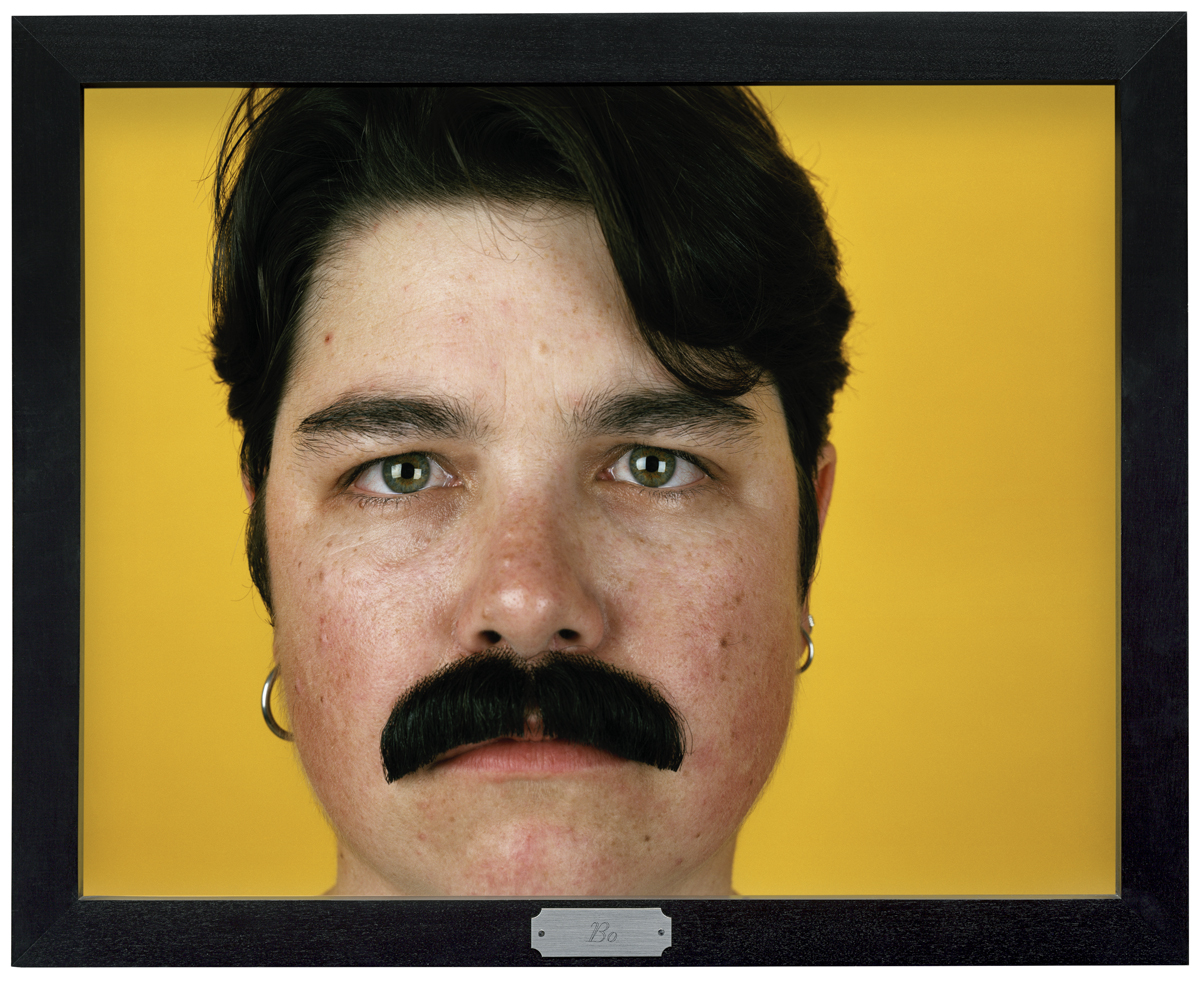 Catherine Opie : Bo from "Being and Having", 1991
Collection of Gregory R. Miller and Michael Wiener © Catherine Opie, Courtesy Regen Projects, Los Angeles; Thomas Dane Gallery, London; and Soloman R. Guggenheim Museum, New York
Karen Knorr, Clare Strand, Catherine Opie and Rineke Dijkstra's work is displayed throughout the exhibition and portrays masculinity from an outsider's perspective. Karen Knorr's photography of an all-male private men's club in St. James' powerfully depicts masculinity as archaic, exclusive and plutocratic. Through the images subtitled with text excerpted from conversations and records such as "Men are interested in power. Women are interested in Service", Knorr conveys effectively the pervasive boundaries and stereotypes which continue to limit women's involvement in 'male' spaces. This sentiment is supported by Strand's sculptural work 'Men Only Tower' consisting of copies of men's softcore pornography magazines which claim "We don't want women readers. We won't have women readers".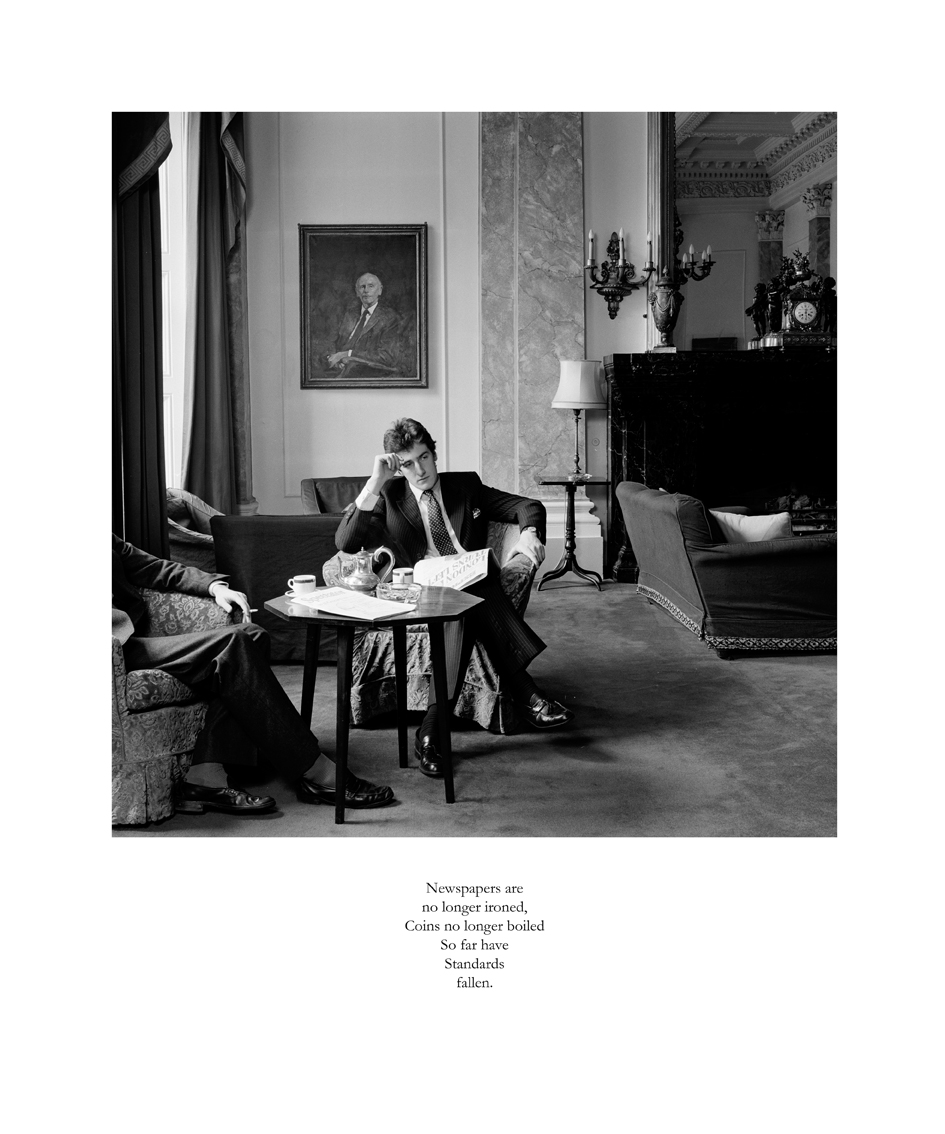 Karen Knorr : Newspapers are no longer ironed, Coins no longer boiled So far have Standards fallen from the series Gentlemen, 1981-83
Tate: Gift Eric and Louise Franck London Collection 2013 © Karen Knorr
On the other hand, Catherine Opie and Rineke Dijkstra's neighbouring portraits of athletes take on a more delicate perspective on masculinity. Opie's work plays on the stereotype of the 'high-school jock' as symbolic of youthful masculinity. Armed with ill-fitting shoulder pads, the boys she photographs express vulnerability at a transitory stage between boyhood and manhood. On the adjacent wall, Dijkstra's images explore the role of violence in masculinity through portraits of bullfighters fresh from the fight. Their ripped floral jackets are flecked with blood yet their soft faces show exhaustion and vulnerability.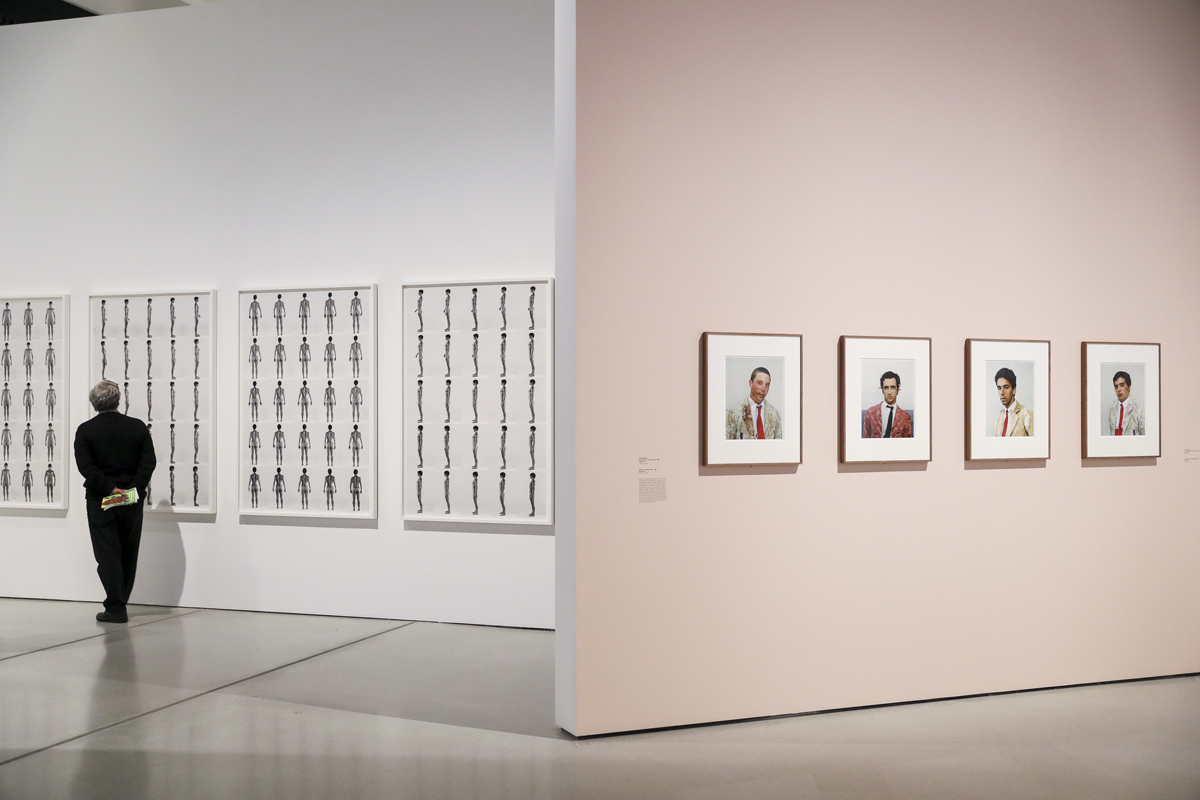 Masculinities : Liberation through Photography Installation view
Barbican Art Gallery : 13 July 2020 – 23 August 2020 ©Tristan Fewings / Getty Images
Later in the exhibition, Anna Fox's artist book provides a shocking and uncomfortable portrayal of violence which often goes unnoticed in families protected by patriarchal norms. The images of her mother's cupboards filled with delicate pink porcelain and wrapping paper contrast with her dad's words: "I'm going to tear your mother to shreds with an oyster knife." The uncensored words exemplify the undiscussed misogynistic vitriol that women experience even at home, a topic which continues to be a central motivation for global feminist movements against femicide and domestic abuse.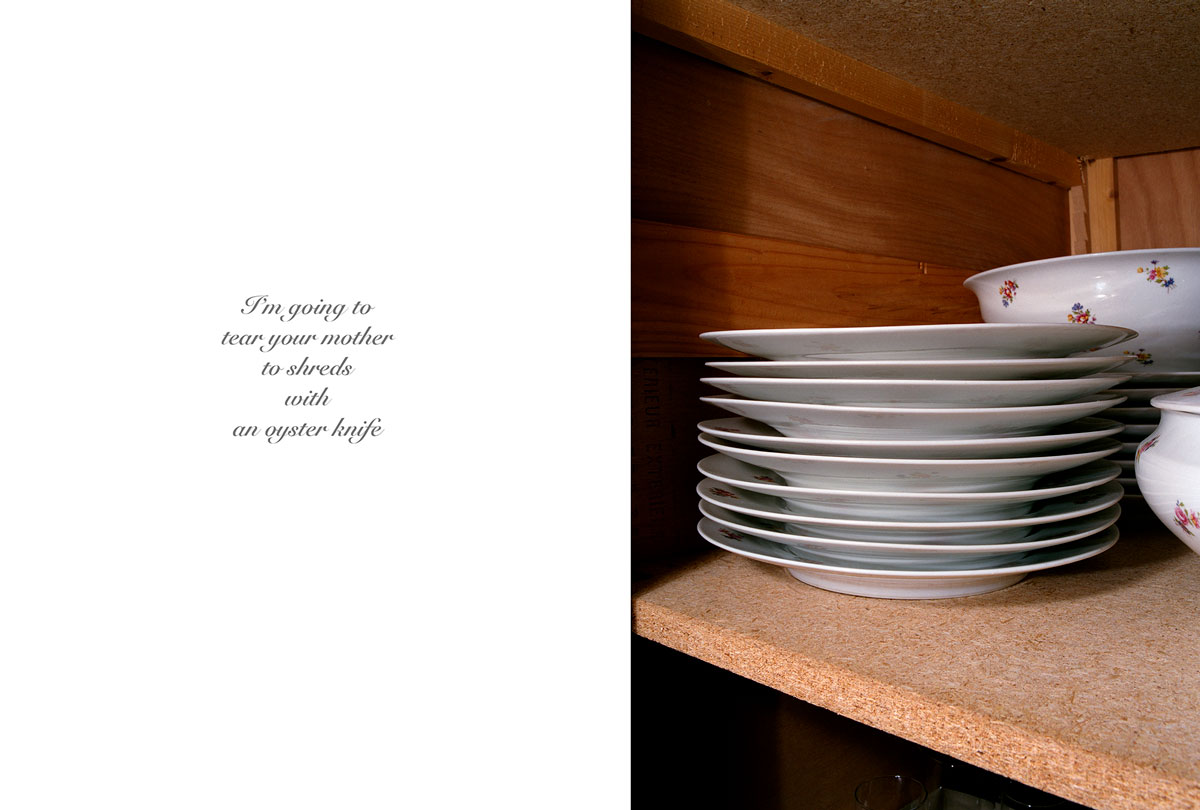 Anna Fox: Untitled from the series My Mother's Cupboards and My Father's Words, 1999 © Anna Fox. Courtesy James Hyman Gallery, London.
Although photography has often been dominated by men taking pictures of women through a 'male gaze', the exhibition's final and subversive section 'Women on Men' seeks to reverse this gaze.  The works of Marianne Wex and Tracey Moffatt are displayed in this section alongside Laurie Anderson's project 'Fully Automated Nikon' and illustrate the use of a re-appropriated 'female gaze' to scrutinize objectification and sexism experienced by women. Anderson uses her camera lens to reverse the gaze and render visible assaults which leave women feeling exposed. Her photographs create a role reversal wherein she exposes men, thus rendering them powerless, not dissimilarly to Laura Bates' pivotal project 'Everyday Sexism' aimed at cataloguing instances of everyday sexism. Moffatt's comic and awkward short film consisting of video snippets of surfers changing out of their wetsuits investigates, not dissimilarly, the subject voyeurism and intrusion.
The exhibition as an ensemble brings together a fresh perspective to photography as a feminist practice. It does not glorify either femininity or masculinity, but rather questions what gendered constructs are founded upon and what their consequences are on individuals' lives. Questioning how masculinities limit and also enable self-expression in a world which is still largely dominated by gender binaries. Although you probably won't leave with a clear answer to the question 'what does it mean to be male?', if you are looking for an exhibition which makes you examine your own gendered behaviours and come out with more questions than answers, then book a spot for the last few days of the exhibition at the Barbican or check out the online resources they have created.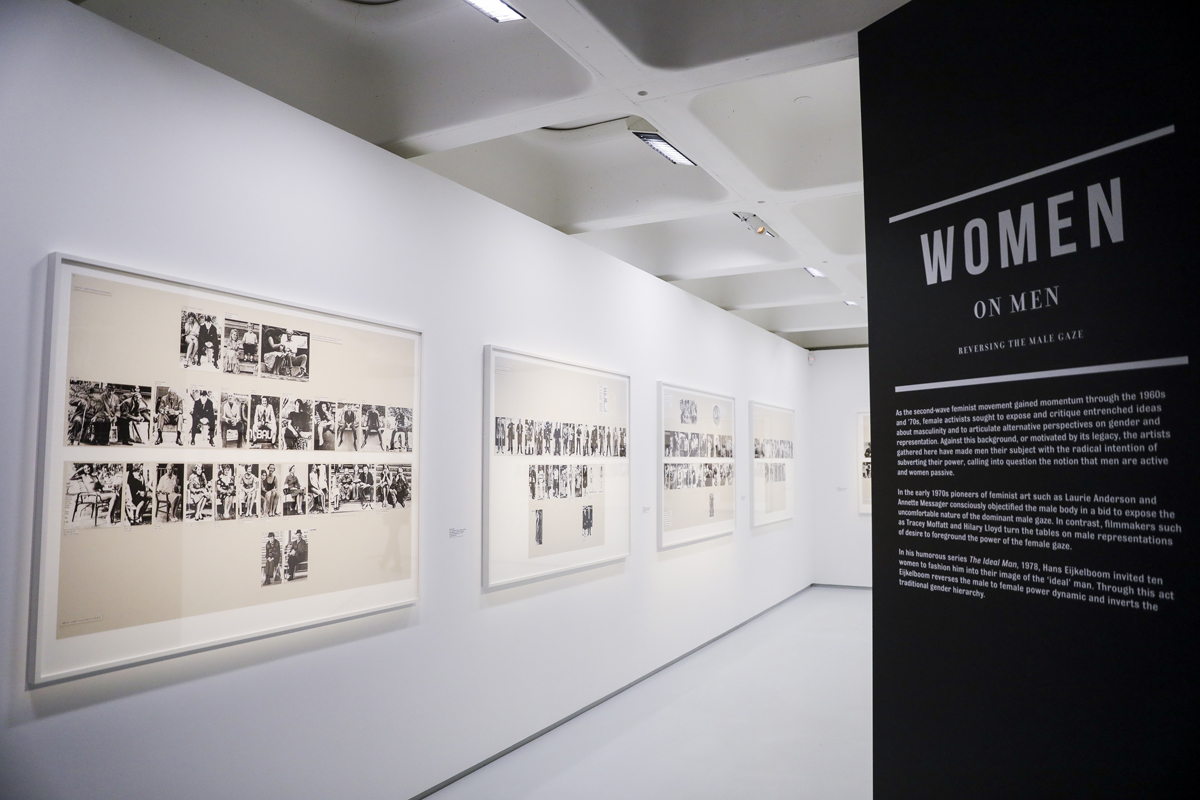 Masculinities : Liberation through Photography Installation view
Barbican Art Gallery : 13 July 2020 – 23 August 2020 ©Tristan Fewings / Getty Images
Masculinities: Liberation Through Photography
Runs until 10th January 2021
Gropius Bau
Niederkirchnerstraße 7, 10963 Berlin, Germany