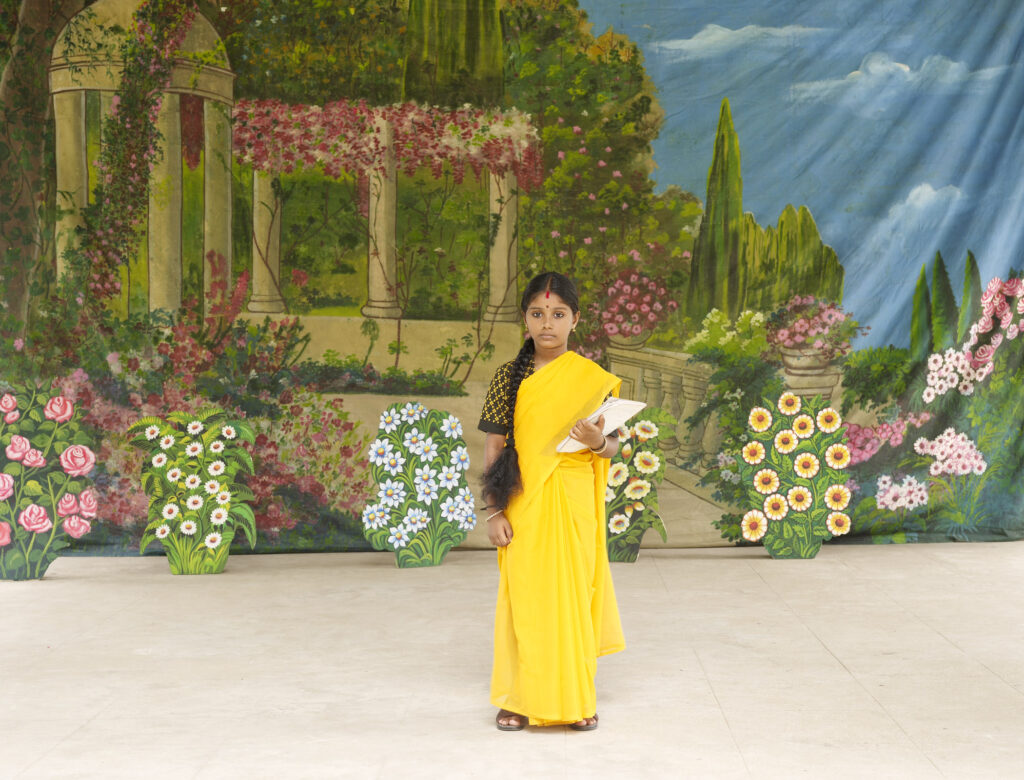 In Conversation with Nandini Valli Muthiah
In our interview with Nandini Valli Muthiah, we discuss her artistic practice and the influence of culture and religion on her work.
"Everyday life, traveling, seeing shows, meeting people. That's all important. You need to get away from the known." – Nandini Valli Muthiah
Nandini Valli Muthiah was raised in Chennai, India where she continues to live. An accomplished fine art photographer, her work explores culture amid a variety of settings. Ahead of Hundred Heroines' next headline exhibition Divine Power: Mortals, Myths & Deities, which situates Nandini's work alongside the early colour photography of Yevonde, we caught up with Nandini to discuss her career to date.
Nandini's first major collection, The Definitive Reincarnate (2006), explores the concept of incarnated divinity through the figure of the Hindu deity Vishnu. Comprising rich saturated colours, this series presents Vishnu in a modern context.
Nandini's love of colour is unconscious; she believes the vibrancy of her work comes 'naturally' to her. The inspiration for The Definitive Reincarnate was equally unplanned; a discussion of the Joan Osborne song What If God Was One Of Us in the car with her husband, commercial photographer and frequent collaborator Joseph M. Daniel, led Nandini to consider the possibility of placing Krishna in a contemporary environment.
"I spoke to the manager at what was then called Chola Hotel (Chennai)," Nandini explains. "I said, I'm a student, I'd like to shoot in one of your rooms. I have a project to do'  Very kindly he agreed. I had actually spoken to an actor to come and sit for me. At the last minute, he canceled. He didn't even bother calling me. He just didn't show up. I had to call a friend who agreed to come and we had to shave his chest. I think we spent about two hours just shaving him and getting him ready for the shoot. He was very sweet to do it."
The series evolved into The Visitor (2010), which developed the premise into an elaborate outdoor production. Inspired by the oeuvre of Gregory Crewdson, Nandini collaborated with Joseph alongside a full film unit. Creating such a large scale work fulfilled one of her long-held career goals.
Remembering to Forget, another of Nandini's major works, was conceived in 2008 for a Fellowship grant received from the Tierney Foundation, New York. It is an ode to childhood memories of 'fancy dress' competitions popular in India, in which young children dressed up as deities, celebrities, politicians, doctors, and members of other professions. The title suggests the need to intentionally 'dress-up' to escape reality and enter a fantastical or aspirational space, a material act which facilitates imagination. As in previous works, the photographs exemplify Nandini's love of colour.
In recent years, Nandini has noticed a shift in the choice of costume; "You've got fairytale characters coming in. You've got Spiderman. The Western influence has come through," she says. "It's nice to look at the evolution of that." Nandini's work is frequently conscious of cultural change; in 2016, she created The Devotee, a series of photographs of men and boys on an arduous pilgrimage to Sabarimala – a temple located on a hilltop in Kerala, India. The devotees of the temple are mostly men; until a ban was lifted in 2018, only pre-pubescent girls and post-menopausal women were permitted to visit.
Sabarimala is dedicated to the Hindu celibate deity Ayyappan, the son of Shiva – one of the principal deities of Hinduism – and Mohini, a feminine incarnation of Vishnu. Although religion is a significant aspect of Nandini's work, her personal beliefs fit 'somewhere in between' religion and atheism. For her, religion is a conduit for exploring culture more generally; "I believe that there is some higher power, but I don't know if there is one person. I am conscious of the culture that we have. A lot of that, I think, of course, you'll see that in my work. I've done a series called Hair. That is very consciously about the culture and how women are looked at. Hair is a symbol of beauty and fertility and all of that. I guess religion and culture plays into that."
Nandini's aesthetic style includes several recognisable hallmarks. Working predominantly with digital photography, she prefers 'horizontal frames', and photographing her subjects 'straight' in front of the lens. Nonetheless, she feels 'every series is different.' While she enjoys the convenience of digital photography, the rapidity of technological change – alongside the necessity of additional equipment – has, for Nandini, exemplified the appeal of analog methods. The draw of analog photography – the tactility and intuitive independence it offers – is perhaps reflected in the golden thread which links all of Nandini's projects; whether through colour, or costume, or contemporary deities, she seeks to 'unburden herself from the yoke of realism and create another plane of idealized reality.'
Interview by Shyama Laxman