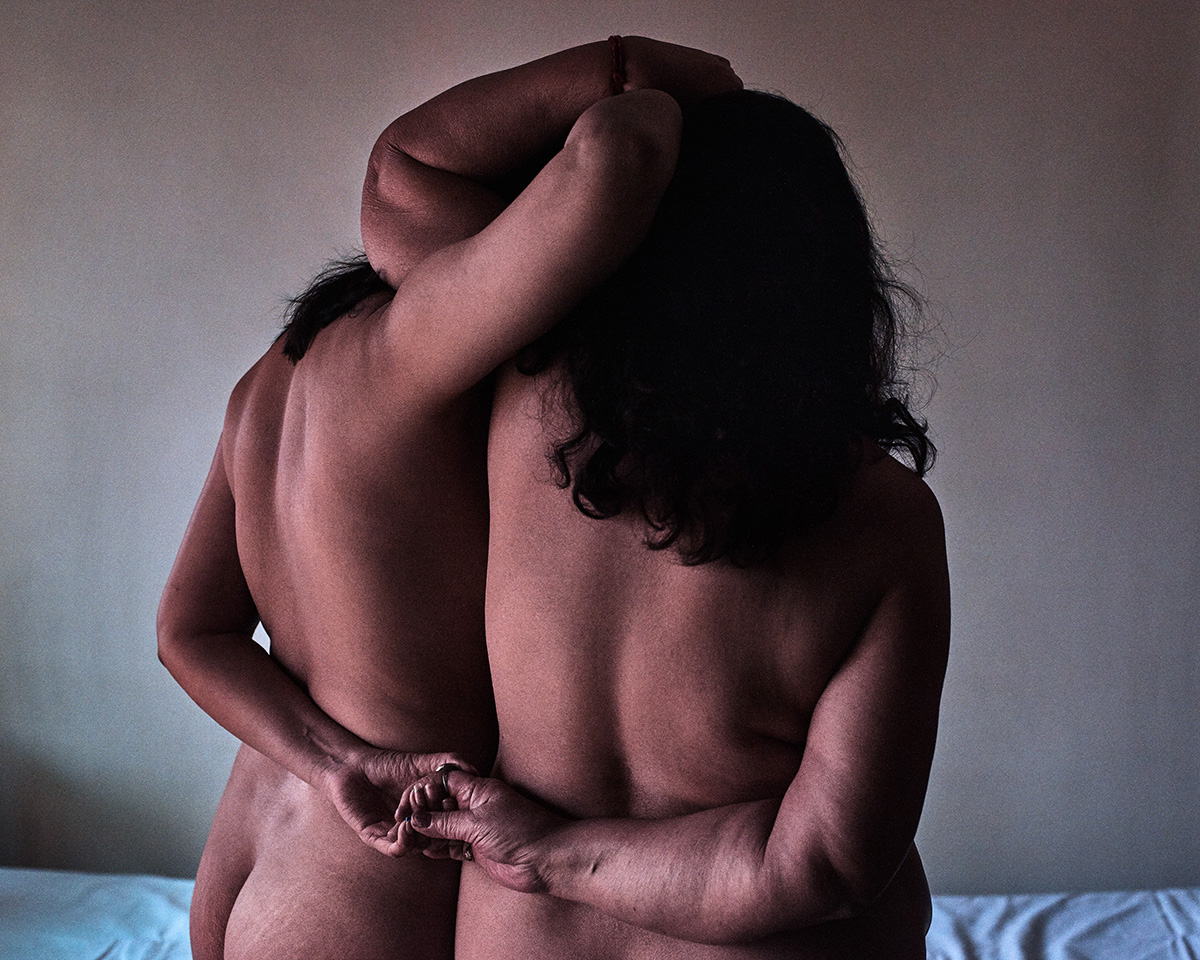 Poulomi Basu, from Fireflies, 2019 - ongoing
"I owe it to the women who have opened themselves up to me. I want them to know that we are fighting this oppression together. We are doing this with collective agency. Our voice of resistance."
— Poulomi Basu
In her latest project Fireflies, exhibited at the Autograph gallery in London, Indian artist Poulomi Basu boldly speaks about the topic she knows well – from her previous work, and her own experience – the repercussions of patriarchy. Departing from social justice issues she explored before, this time, she is turning the camera to her utmost self: her mother, her wisdom and the inner mystical landscape women hold.
The photographic exploration of trauma does not document scars, instead it reveals bodies, the artist's, and her mother's, shouldered together, or positioned in strange, spacelike landscapes. Natural elements become intertwined with female forms, simultaneously expressing resilience and vulnerability, contrasted in soft flesh and rocky environment. The defining Other, required to cohere the world, is no longer a man, but the mother, the primal being, equally able to pass on damage and wounds. Nothing is permanent, neither identity nor pain, but everything is connected – whether through ancestral lineage or universal laws.
Accompanying photographs with video-sound pieces of movement and recordings of space (constructed with filmmaker CJ Clarke), the photographic material is complemented with a different kind of fluidity, expanding further into transparent fabric photo installation – filling the gallery space with life force and continuity.
With Fireflies, Basu further consolidates her position as a photographer focusing on female presence, firmly implanted into societal artistic opus, whether welcomed or not. Distancing herself from activist position she established in work like Centralia, To conquer her land, award-winning multimedia project Blood Speaks: A Ritual of Exile – a project about menstrual taboos – and the latest campaign she did in collaboration with Water Aid, Sisters of the Moon, Fireflies portray a struggle much more intimate and subjective. It is the artist's inner world, exposed with great courage, addressing everyone, but mostly those who would prefer to hide from the necessary resistance.
Petra Godesa
The exhibition is running between 4 March and 4 June 2022 in Autograph Gallery (Rivington Place, London. EC2A 3BA) and is admission free.