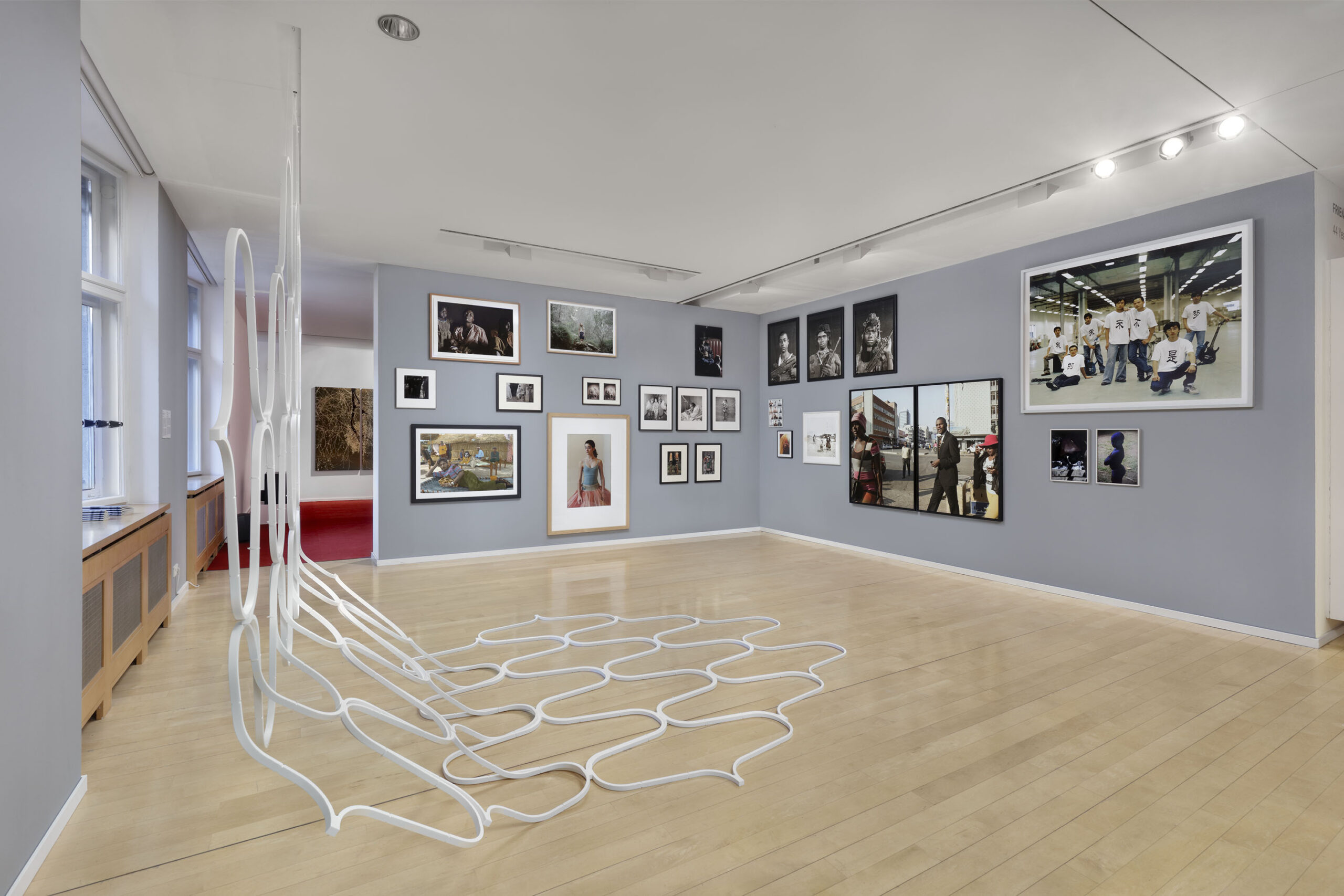 Daimler Contemporary, Berlin
V.l.: Luca Trevisani (I), René Kanzler (D), Dayanita Singh (IND), Pamela Singh (IND), Guy Tillim (ZA), Amit Berlowitz (USA), Annu Palakunnathu Matthew (GB), Dieter Blum (D), Liu Zheng (CHN), Franklin Price Knott (USA), Joseph Francis Charles Rock (A), Verena Pfisterer (D), Pieter Hugo (ZA), Guy Tillim (ZA), Cao Fei (CHN), Viviane Sassen (NL); courtesy Daimler Art Collection, Stuttgart/Berlin. Foto: Hans Georg Gaul, Berlin
Friendship.Nature.Culture
44 Years of the Daimler Art Collection
TWO CONTEMPORARY HEROINES FEATURE IN RETROSPECTIVE MERCEDES-BENZ EXHIBITION
About the Mercedes-Benz Collection
Founded in 1977, the Mercedes-Benz Art Collection (previously Daimler Art Collection) is an internationally renowned corporate art collection. Beginning with the acquisition of a painting by the German painter Willi Baumeister, the collection now totals more than 3,000 artworks.
Celebrating an illustrious history, Friendship. Nature. Culture. 44 Years of the Mercedes-Benz Art Collectionretrospectively charts the collection's four decades of development. The exhibition features 100 of the collection's works, showcasing the conceptual and aesthetic brilliance of roughly 70 artists.
The artwork
From its beginnings in the tradition of South German Modernism, to abstract-minimalist approaches, to a current focus on international photography and media art, curator Renate Wiehager has mapped a journey through the collection's 'conceptual and minimalist tendencies'.
A focus of the collection's development since 2000 has been on works by women artists of the 20th and 21st centuries. Two of the leading women in photography, Contemporary Heroines Viviane Sassen and Dayanita Singh, feature amid the exhibition line-up.
The Heroines
Two photographs from Viviane's Pikin Slee appear. The second-largest village on the Upper Suriname River, Viviane travelled to for the first time in 2012 and subsequently made Pikin Slee became the site of a mainly black-and-white series of abstract compositions, exploring the beauty of everyday life in the village.
An image from Dayanita's Go Away Closer also features. The work comprises forty black and white, square format photographs linked via mood rather than narrative. In tandem, the images form a poetic, deliberately disorientating sequence.
According to Mercedes-Benz Contemporary, Friendship. Nature. Culture 'brings works from painting, drawing, collage, video, photography, installation from the 1920s to the present into a cross-media dialogue.
'The exhibition, therefore, opens up different perspectives on artistic concepts of the aspects of friendship, nature, and culture as they have occupied art in a global perspective over the last four decades.'
Friendship. Nature. Culture is on display until August 28th 2022. For more information, please see the Mercedes-Benz Art Collection website.