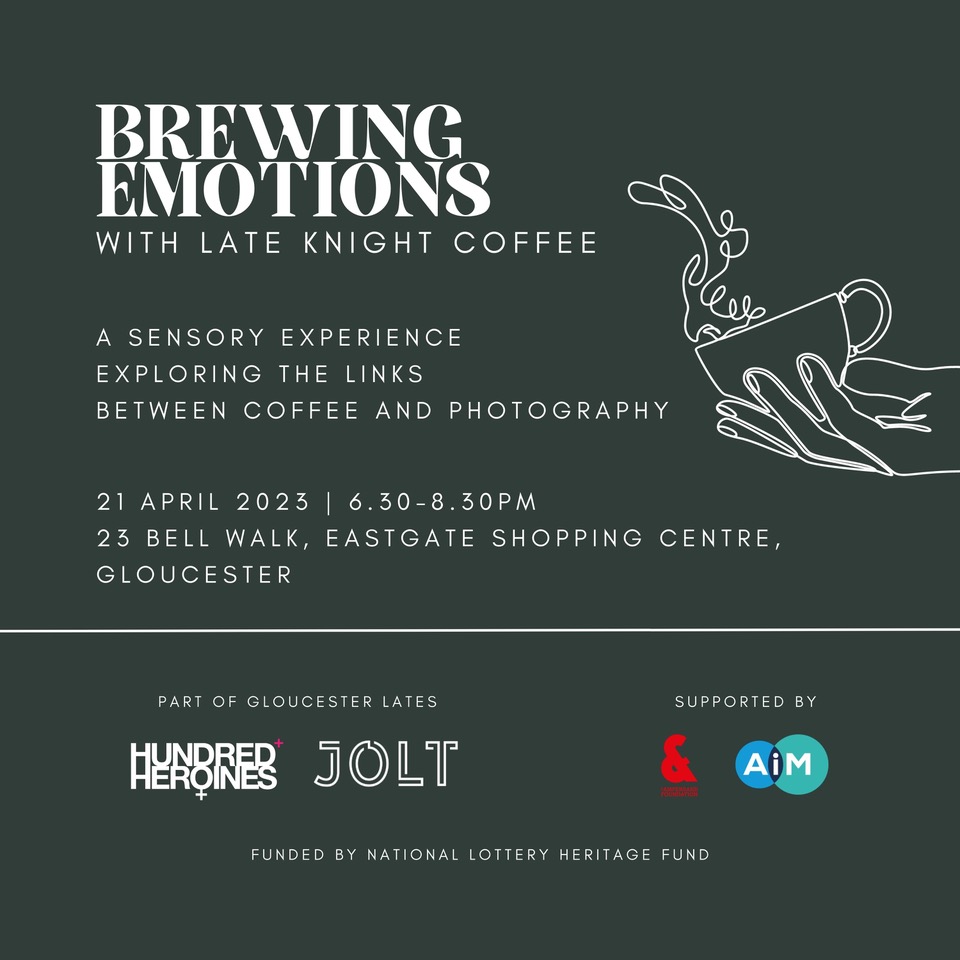 Brewing Emotions with Late Knight Coffee (@latenightcoffee)
Sensory experience exploring the link between coffee and photography
Friday 21 April 2023 18:30 – 20:30 BST
In this workshop with Late Knight Coffee you will learn more about:
the history of coffee;
the various home brewing methods;
and the different coffee tasting notes.
Followed by an open discussion about the emotions Dorothy Wilding's works evoke and how those emotions can be translated into a further sensory experience through five carefully selected specialty coffees from across Latin America.
Hosted by Late Knight Coffee : Instagram: @lateknightcoffee, Facebook: @LateKnightCoffee, Website: lateknightcoffee.com
ITINERARY
INTRODUCTION
Welcome and introduction to Part 1 of the workshop. A short history of coffee.
A whistle stop tour through the history of coffee – from 15th century Ethiopia to the present day
Different coffee brewing methods.
Short introduction to the various coffee brewing methods with a focus on best options for at-home brewing.
Tasting notes
Short introduction to the coffee flavour wheel and how to identify the various tasting notes in a coffee.
Short discussion on what emotions we associate with different flavours.
MAIN EVENT
Welcome back and introduction to Part 2 of the workshop.
The portraits and the stories behind them.
A detailed look at 5 pre-selected portraits from the Dorothy Wilding exhibition aiming at providing participants with more information about each work and the context it was taken in.
Coffee-portrait pairing
Participants will be encouraged to find up to 3 flavour notes in each of the 5 coffee samples and subsequently, match each coffee to one of the pre-selected portraits.
** This interactive part of the workshop encourages participants to use the new knowledge and skills learnt during Part 1 whilst allowing for personal interpretation of Dorothy's works.
Discussion
A closer look into the participants' selections to identify similarities and differences aiming to spark a conversation about the emotions which Dorothy's works have evoked in them and how those emotions have impacted their selections
Book Here
About Late Knight Coffee
Late Knight Coffee is a creative, collaborative and community-focused coffee company based in Gloucester. Founded in 2022, in response to the devastating effects of the pandemic on the local creative scene, Late Knight Coffee aims at showcasing the world of outstanding specialty coffee whilst supporting artists and creatives from the Gloucestershire area.
Gareth is our coffee connoisseur with a passion for photography. In ealy 2022, he completed his foundation course in Coffee Roasting and he is currently taking next steps in his journey in the coffee industry.
Teddy is our music-mad events coordinator who has worked with many of the art collectives and organisations in the local area. Her love of all things creative has inspired this new format aiming to build bridges between the coffee and art worlds.
Free entry. Booking is essential as spaces are limited, register using the eventbrite link above!
This workshop is part of the Gloucester Lates project – Gloucester Lates is a series of weekly workshops/by young people for young people , created by Hundred Heroines in collaboration with JOLT, and is running alongside the Dorothy Wilding Exhibition at the Eastgate Shopping Centre (Gloucester).
Location
23 Bell Walk (bottom of the escalator), Eastgate Shopping Centre, Gloucester.
This event is held in conjunction with Dorothy Wilding: 130 Photographs – the first exhibition of Dorothy's work in the city where she was born.
Born in Longford in 1893, Dorothy Wilding left Gloucester for the bright lights of London, where she established her own studio by the age of 21.  This new, major exhibition features iconic portraits of the young Queen Elizabeth as well as images of some of Dorothy's famous sitters, including Tallulah Bankhead, Cecil Beaton, Noël Coward, Vivien Leigh, Joyce Grenfell and Barbara Cartland. Other works taken in her New York studio in the 1940s and 1950s will include iconic portraits of the Duke and Duchess of Windsor and new stars of the 1950s, Yul Brynner and Harry Belafonte.
Curated by Sisters of the Lens, the exhibition comprises some of Dorothy's iconic portraits reprinted in a large, contemporary style alongside smaller original prints and ephemera including books, magazines, coins and stamps featuring Dorothy's work.
This project has been made possible through the generous support of the Ampersand Foundation and the Association of Independent Museums New Stories New Audiences grant scheme, funded by National Lottery Heritage Fund.