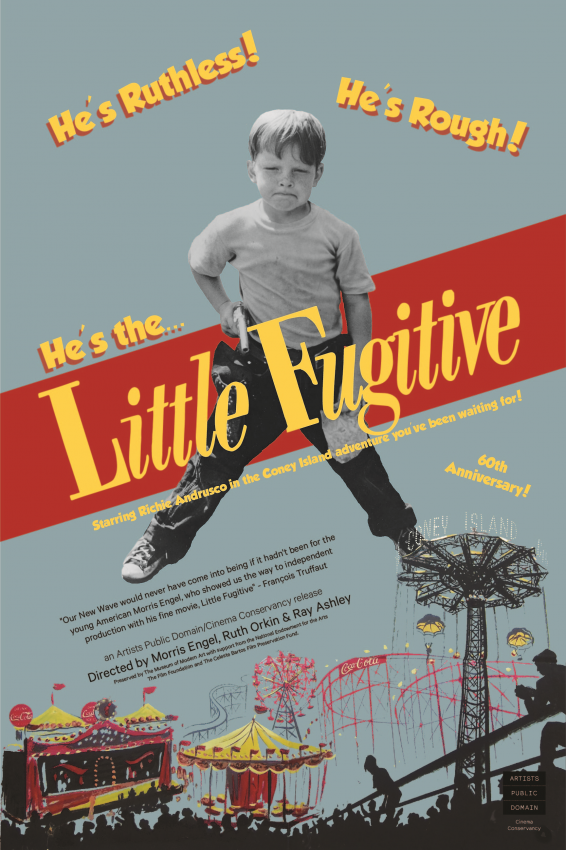 Little Fugitive (1953). Dir. Ruth Orkin, Morris Engel and Ray Ashley
Join Hundred Heroines for a film screening of the 1950's American classic, Little Fugitive, directed by legendary photographer Ruth Orkin.
As we continue our celebrations for Ruth Orkin's centenary, we are pleased to announce a film screening of her directorial debut, Little Fugitive at Sherborne Cinema, Gloucester.
Ruth Orkin is most noted for her "An American Girl in Italy" photograph but she also had a successful career as a director. Her debut film, with then-partner Morris Engel and Ray Ashley, Little Fugitive received critical acclaim and is hailed as one of the most influential American indie films.
At 8:30pm on Thursday 23rd September, join us for a night at the movies in the heart of Gloucester! Register for your tickets via Eventbrite.
Please note:
To help plan for social distancing, please register as a group with one person making the reservation, i.e. one person registers for a group (up to five people in total). This will help us plan for you to sit together and to allow for more people to register.
To allow for social distancing we regret to inform that there is only space for one wheelchair viewer. However if two wheelchair users are in one group, there are two spaces available plus 3 carer/friend seats available in one row.
This event is free but donations help us continue to bring exciting events like these. To donate £5 please text 100H to 70085 to donate £5. Texts cost £5 plus one standard rate message.
Little Fugitive Synopsis
Joey (Richie Andrusco), a bratty 7-year-old kid from a tough Brooklyn, N.Y., neighborhood, is handed off to his older brother Lennie (Rickie Brewster) for the day. Fed up with his younger brother's obnoxiousness, Lennie and his pals play a cruel prank on the boy, leading him to think he has accidentally killed his brother. Running away in fear, Joey escapes to Coney Island, where he spends a full day and night exploring the excitement of the midway while his panicked brother searches for him.
Rated: PG
Little Fugitive was nominated for An Academy Away for Best Story and Writers Guild of America Award for Best Written Drama in 1954