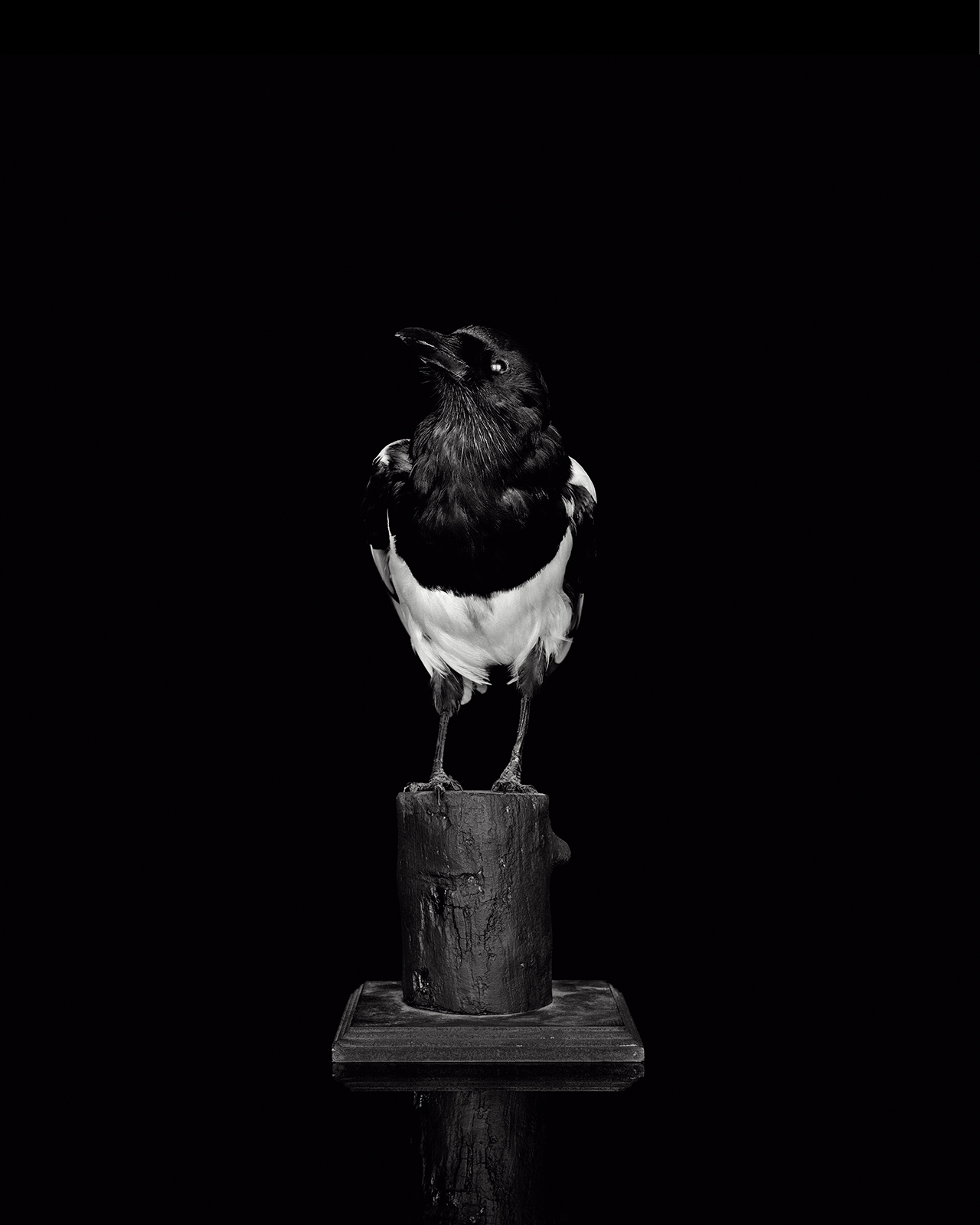 Magpie (Camera) (I), 2021. framed c-type print from black and white negative mounted on aluminium, 60 x 48 cm © Sarah Jones, courtesy Maureen Paley, London
One of the most innovative British artists, Contemporary Heroine Sarah Jones is internationally recognised for her exquisitely detailed, visually arresting photographs.
Her singular approach is exemplified in images, which depict various subjects ranging from glass objects, groomed horses, rose gardens, and most recently, a flowering mimosa tree. Each subject emerges from pitch darkness, their forms limned with a subtle glow.
As her new solo exhibition, Hall of Mirrors, opens at Maureen Paley in London, Sarah got together with Hundred Heroines to discuss her latest work and the nature of photography itself.
After Rorschach
It's tempting to place Hall of Mirrors in a pandemic framework – dark, surreal, parallel worlds –– but the ideas behind Sarah's works are much more intricate.
Like the Rorschach test, with which Sarah has previously compared the formal presentation of her diptychs, every viewer will perceive something different; in her words, it's 'another way of looking.'
Her black horse diptych (Horse (Profile) (Black) (II / I) and (II / II), 2010/13) was the first work she made by 'flipping the negative', printing from one side and then the reverse. This technique, which has now become part of her photographic language, presents two views of one subject. Each mirrors the other, foregrounding the act and notion of doubling.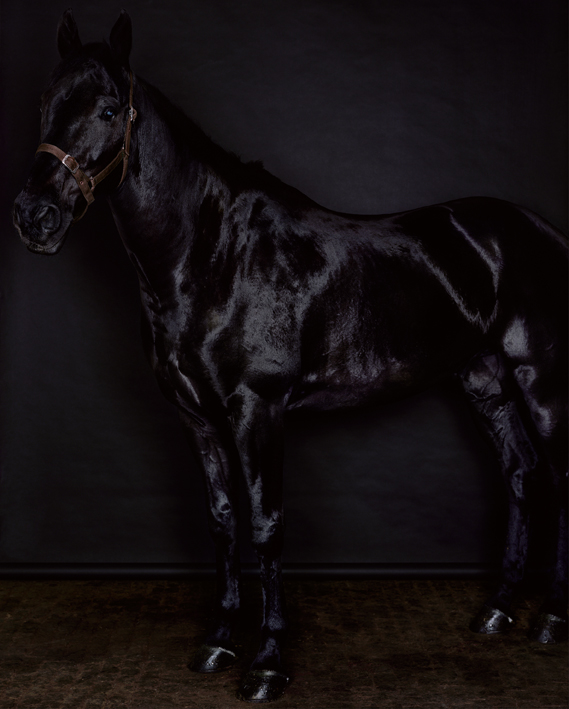 Sarah Jones Horse (Profile) (Black) (II / I), 2010/13 framed c-type print framed: 158 x 128 cm © Sarah Jones, courtesy Maureen Paley, London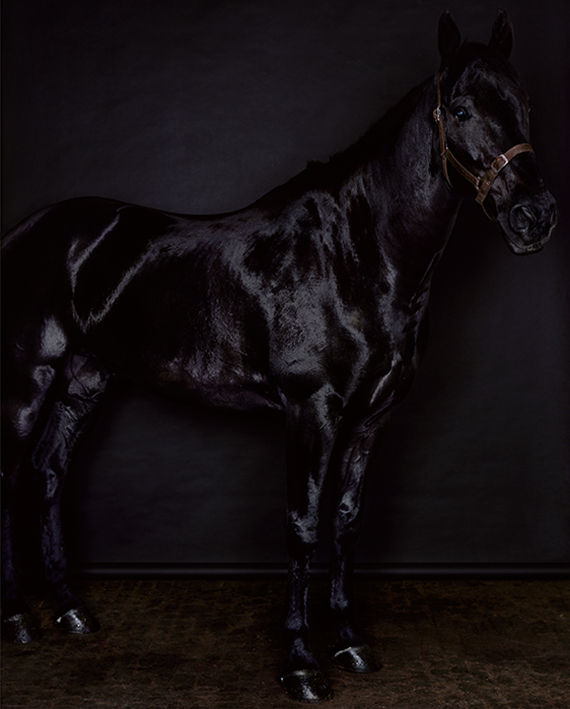 Sarah Jones Horse (Profile) (Black) (II / II), 2010/13 framed c-type print framed: 158 x 128 cm © Sarah Jones, courtesy Maureen Paley, London
The parallels with Rorschach's ink blots define her approach; her work can be unfolded, it can echo other works, or act as a decoy. In her latest series, Sarah's use of objects, plants, magpies, reflections, and mirrors metaphorically demonstrates this elastic potential.
Why Cocteau?
The work is threaded with intertextual references – some oblique, others more obvious. Pivotal to this exhibition (and in her 2018 show at Anton Kern) is the French poet, novelist, playwright, and artist Jean Cocteau.
Sarah has always been fascinated by his work since first seeing the films whilst studying for her undergraduate. In 2018, she referenced Orphée (1950), the central film of his Orphic Trilogy. She is drawn to its inclusion of parallel worlds, the dreamlike state, the Orpheus myth, and – of course – mirrors.
The imagery in Hall of Mirrors references Cocteau's 1930 film Le Sang d'un Poète (The Blood of a Poet), a Surrealist film in which the artist-protagonist enters a parallel dreamscape, wherein he sees vignettes through keyholes. This is resonant for Sarah, who is used to viewing the projected image of her subjects upside down in the large format camera that she uses. The principle of Surrealism as a contradiction of fixed meanings is perhaps also evident in Sarah's work.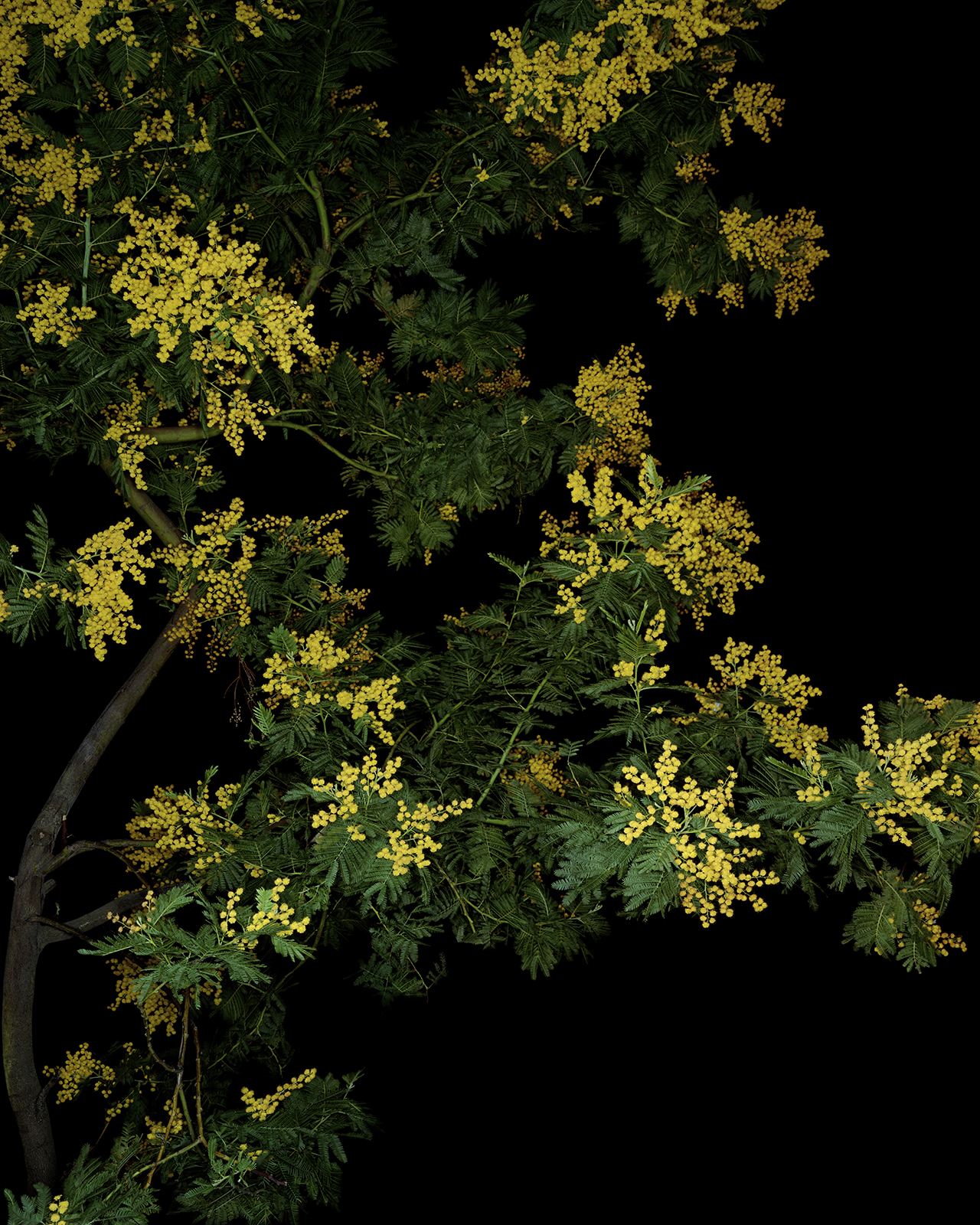 Mimosa (Actor) (II), 2021. framed c-type print mounted on aluminium 152x122cm © Sarah Jones, courtesy Maureen Paley, London
Entering a Hall of Mirrors
The 'mirror' is arguably one of the most significant artistic and literary tropes. Cocteau stated that mirrors were a key theme of his work because 'we watch ourselves grow old in mirrors. They bring us closer to death.'
Distortion and reflection create worlds within worlds, which is another key theme of Sarah's work. The concept of Hall of Mirrors came from three very diverse directions; the idea of the distorting and disorientating mirrors at fairgrounds, the hall of mirrors in the Palace of Versailles, and the song of the same name by Kraftwerk – 'he fell in love with the image of himself and suddenly the picture was distorted'. One of Sarah's works in the show, Mirrorball (Narcissus) (I), echoes this.
Worlds Within Worlds
In Sarah's Hall of Mirrors, the numerous reflected worlds begin to take on the feel of an infinity mirror — or, as Sarah says, 'a labyrinth of collected subjects and objects', reflecting her own fascination with cabinets of curiosities. For her, encapsulating something in front of the camera, for the photograph, becomes an allegory for the vitrine or collection cabinet.
The sense of duality is pervasive; Sarah creates two images from the same negative, circling back to her personal language of flipping the negative. In Magpie (Camera) (I) and (II), the magpie, a bird notorious for acquiring shiny objects, becomes a conduit for the way we use cameras to gather elements that create a 'fictional construct' of our lives. The photograph is the cabinet, the magpie (or camera) the collector.
Visual Language
Sarah's photographs are unusual in their use of darkness to clarify form. The genesis of this aesthetic choice was a combination of the influences she is drawn towards – the densely worked drawings of Giacometti, the paintings of Goya, Malevich's black square, the chiaroscuro in Steiglitz and Steichen's photographs. Along with these references is her use of the cinematic lighting technique of day for night, which gives the illusion of night in daytime. Sarah sees this technique as a way of stripping back her way of working to get closer to the truth, or a truth. She talks about 'writing a photograph, as photography is a language'.
The isolation of the subject, the frontality and the formality that runs through her work, reflects the influence of the Dusseldorf school photographers, such as Thomas Ruff, Thomas Struth and the Bechers, all at the height of their popularity while Sarah was studying for her MA in Fine Art at Goldsmiths. According to Sarah, the void of depth or inky darkness that acts as a backdrop in her photographs, allows her to concentrate more closely on her subject, to condense space, and to attempt to articulate or translate the three-dimensional into the two-dimensional realm of the photograph.
The aesthetic is further enhanced by her post-production process, where even the black and white images are printed using colour processes and all are matte sealed. Sarah explains that it took a lot of testing before she achieved the seamless tones of blacks across both her colour and black and white images.
A Myriad of Contrasts
Condensing a tangible sense of time and space within the artist's studio, and on location, Hall of Mirrors inspires questions regarding the parameters of photography in both theoretical and practical terms. The work juxtaposes a myriad of contrasting elements: memory and re-animation, tactility and mimicry, stasis and vitality.
For Sarah, photography is an ideal medium for synthesising apparent contradictions; it minimises contrasting elements into a static, two-dimensional surface, whose complexities and influences can only be brought into play by looking beyond the surface, as if through Cocteau's keyholes…
Hall of Mirrors is on display at Maureen Paley, London.  Extended until September 12, 2021