Lou Landauer (1897 – 1991)
German Photographer
Lou Landauer (nee Levi), a.k.a. Louise Landauer, was a German photographer who was active during the early twentieth century. While she is most widely recognised today for creating photograms of botanical specimens, her work encompassed a variety of subjects, including street photography and designs for book covers.
Born in Cologne on the 19th July 1897 and raised alongside her sisters Stefani and Bella, she developed an interest in photography after attending the Trade School in Cologne in 1924. Likely to have been what was known as the Royal Prussian Provincial Trade School, the institution was founded in 1833 but was predated by its arts and crafts department, which was originally established in 1822. This department may have been the whereabouts of Lou's first acquaintance with photography. However, she did not formally enrol in a photography course until after her marriage to Georg Landauer (1895 – 1954), also from Cologne, in 1923. In 1928/29, Lou attended the Staatliche Fachakademie für Fotodesign München (The State Academy for Photo Design, Munich). The curriculum included a variety of disciplines including drawing, painting, physics, art history, and commercial bookkeeping. Lou's exposure to this broad array of subjects may have been the catalyst behind her experimental approach; her gelatin prints, mainly produced during the 1940s, highlight her creative composition of apparently simplistic subject matter (photo lamps, glass, etc.). Lou completed her photography studies upon moving to Berlin in 1930, where she was the pupil of Walter Peterhans (1897 –1960) – the course leader of photography at the Bauhaus – for a short time.
According to passenger records from S.S. Vulcania, S.S. Washington, and Transcontinental & Western Air, among others, Lou and her husband frequently travelled between Germany, Palestine, and the U.S. during the 1930s and 1940s. A prominent lawyer, Georg was particularly instrumental in supporting the aliyah, the immigration of Jewish people to Israel. In 1933, he became both the legal director of the Jewish Agency for Palestine and Director of the Central Bureau for the Settlement of German Jews. Shortly after his appointment, Lou and Georg emigrated to Jerusalem. While they often travelled together, Lou is occasionally listed as a lone traveller; on 30th August 1947, Lou travelled to New York to study 'modern colour photography' with a Dr. Martin Rosenblueth in New York for a period of 3 – 4 months.[1] As well as detailing her physical appearance – 5ft 3, with auburn hair and grey-green eyes – these travel records offer insight into Lou's career trajectory; in 1939, the records describe her as a housewife; by 1947, the year of her study in New York, she is listed as a photographer.[2][3]
Following her emigration, Lou began working for Die Jüdische Rundschau magazine; the biggest Jewish weekly publication in Germany, the magazine was printed and published in Berlin between 1902 and 1938. Evidence of Lou's photographic work emerges both in this publication – the magazine published her photographs of a stone-laying ceremony in Kirjat Bialik, Israel in 1935 –  and from The Palestine Post newspaper, which describes her achievements at various photographic competitions:
ARTISAN'S BIG SHOW AT BEZALEL MUSEUM: EXHIBITION OF APPLIED ARTS – Prize Winners

[…] 'A Second Wizo Prize went to Lou Landauer for exquisite wrapping papers in photogramme. Her book-jackets in photomontage are equally attractive and are among the few new and surprising things in this show.'  The Palestine Post, 19th April 1946 [4]
While producing these 'book-jackets', many of which were designed for crime novels, Lou experimented with double exposure techniques and layered symbolism. The resulting still-life images are imbued with an idiosyncratic aesthetic which evokes the unsettling intrigue of the novels they embellish.
Lou also worked as a documentary filmmaker during this time, collaborating with directors Eva Stern and Marta Goldberg on Aufbruch der Jugend  (Departure of the Youth, 1934) – a short film documenting the departure of young Jewish people from Germany as the racist policies of the Nazis gained momentum. The film premiered at the Berlin Logenhaus on 25th May 1936 to critical acclaim. Fulfilling the role of cameraperson, Lou was praised for the empathic quality of her footage; the Russian architect and art historian Rachel Bernstein Wischnitzer particularly applauded the 'achievement and sensitivity' of Lou's camera work. [5] The film depicts a Youth Aliyah group from Germany settling in the Ein Harod Youth Village, learning Hebrew and agricultural skills to support their transition from a typically urban upbringing to a more rural way of life. Although many of these young people were never reunited with their families, the child and youth aliyah saved an estimated 22,000 Jewish youths from the Nazis. [6] Now in the care of The Steven Spielberg Jewish Film Archive of the Hebrew University of Jerusalem and the World Zionist Organization, Aufbruch der Jugend can be viewed in full online.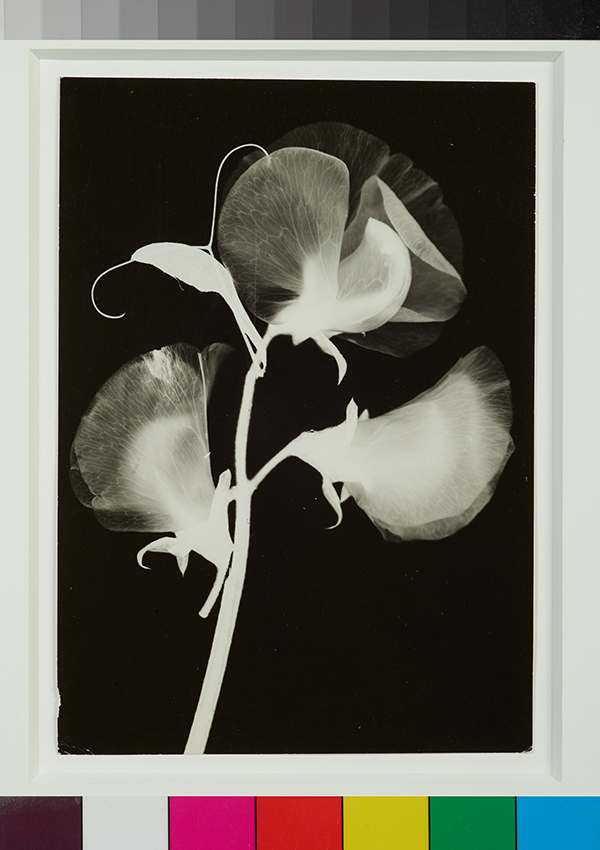 Lou Landauer, Photogram, Sweet Peas, 1936, Matt finish Gelatin silver print, 160 x 120 mm. Private Collection. Courtesy of the Dulwich Picture Gallery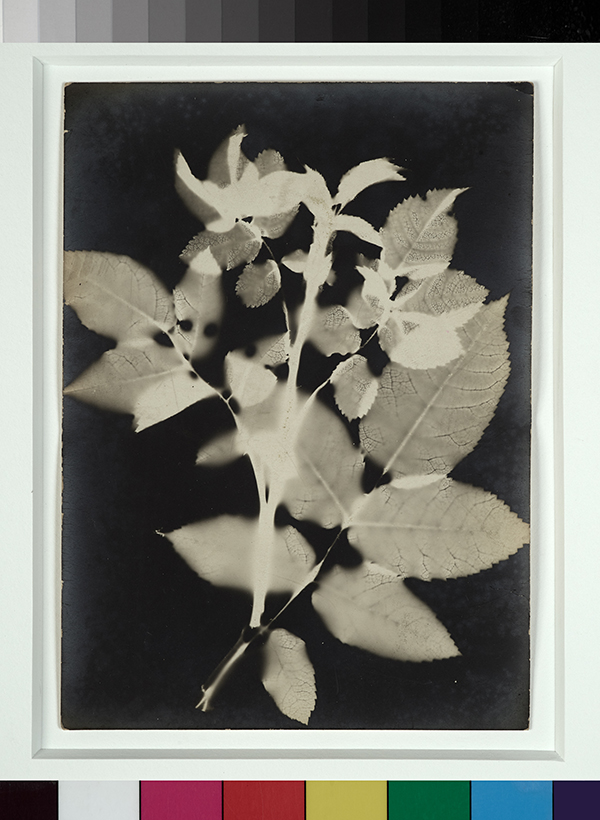 Lou Landauer, Photogram, Two Sprigs, 1936, Matt finish Gelatin silver print, 180 x 130 mm. Private Collection. Courtesy of the Dulwich Picture Gallery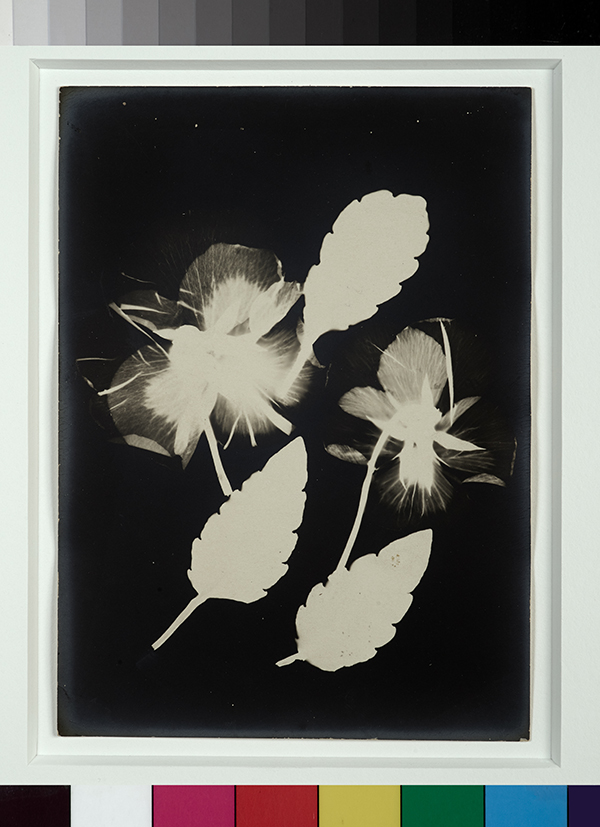 Lou Landauer, Photogram, Violets & Pansies No. 2, 1936, Matt finish Gelatin silver print, 180 x 130 mm. Private Collection. Courtesy of the Dulwich Picture Gallery
In 1949, Lou emigrated to the U.S. with Georg, who died shortly afterwards. Having settled in New York, Lou eventually gave up photography and began a new career as a library assistant at the Leo Baeck Institute, an archive and research library dedicated to German-Jewish history and culture. Lou died in 1991, and while several of her photographs have been auctioned in recent years, the whereabouts of her wider estate remains unknown today. Her botanical photograms were recently featured among a line-up of forty artists in the Dulwich Picture Gallery's Unearthed: Photography's Roots exhibition, which charts the evolution of photography via the organic forms which have populated the medium since its inception. Lou's black-and-white botanical photograms go beyond schematic categorisation; depicting plants with religious and historical significance to Jerusalem, the images capture – according to Dulwich Picture Gallery – 'both the duality of Jerusalem, in their delicate beauty and their rich darkness, and Landauer's experience of a land both intrinsically familiar and entirely alien.'[7]
Aside from her creative practice, Lou spent part of her career teaching and became the first woman professor of photography at the Bezalel Academy of Art & Design in Jerusalem. Despite her appointment, Lou's photography classes were often relegated to her own home.[8] In December 1945, Lou presented an exhibition which included a broad range of her photographic work including nature studies, double-exposure portraits, and landscapes. This exhibition may constitute the only retrospective of her oeuvre to date; Lou's legacy is only just beginning to be uncovered, and a great deal of research into her life and work remains to be carried out. Nevertheless, the fragments of her story which have emerged are evidence of a career which was – like the silhouettes of her photograms – rich with innovation and depth. While only sparsely revealed, Lou's surviving work exemplifies her indomitable spirit and uniquely variegated artistic vision.
References:
[1] "New York, New York Passenger and Crew Lists, 1909, 1925-1957," database with images, FamilySearch (https://familysearch.org/ark:/61903/1:1:245P-MY8 : 2 March 2021), Louise (Lou) Landauer, 1947; citing Immigration, New York City, New York, United States, NARA microfilm publication T715 (Washington, D.C.: National Archives and Records Administration, n.d.).
[2] "New York, New York Passenger and Crew Lists, 1909, 1925-1957," database with images, FamilySearch (https://familysearch.org/ark:/61903/1:1:242T-F3K : 2 March 2021), Louise Landauer, 1939; citing Immigration, New York, New York, United States, NARA microfilm publication T715 (Washington, D.C.: National Archives and Records Administration, n.d.).
[3] "New York, New York Passenger and Crew Lists, 1909, 1925-1957," database with images, FamilySearch (https://familysearch.org/ark:/61903/1:1:245P-976 : 2 March 2021), Lou Or Louise Landauer, 1947; citing Immigration, New York City, New York, United States, NARA microfilm publication T715 (Washington, D.C.: National Archives and Records Administration, n.d.).
[4] The Palestine Post, 19 April 1946 – Archived at the National Library of Israel https://www.nli.org.il/en/newspapers/pls/1946/04/19/01/article/104/?srpos=2&e=——-en-20-pls-1–img-txIN%7ctxTI-lou+landauer————-1
[5] https://lapetitemelancolie.net/tag/lou-landauer/
[6] https://histclo.com/essay/war/ww2/hol/ger/ri/hgri-ya.html
[7] Dulwich Picture Gallery, Unearthed: Photography's Roots catalogue essay, 2021
[8] Rachel Neiman, Photographic Truth at Bezalel, https://www.israel21c.org/photographic-truth-at-bezalel/