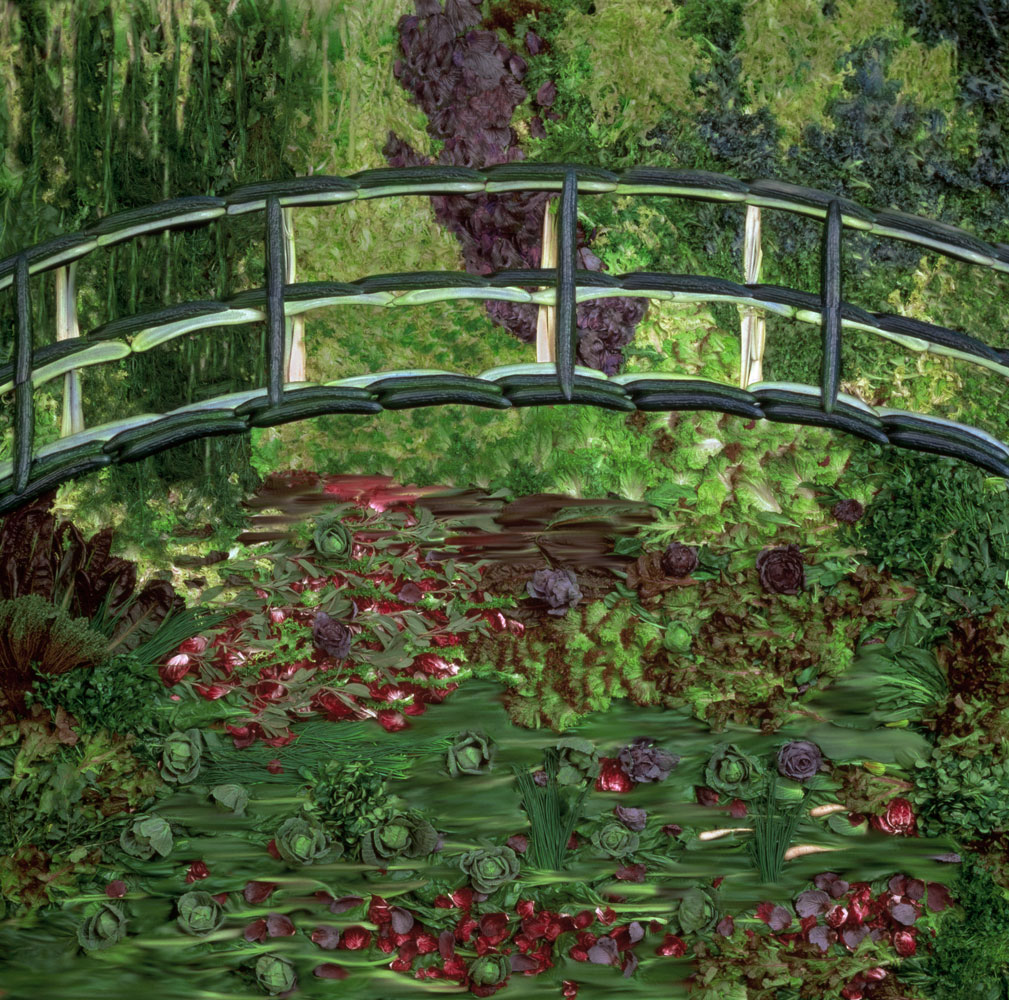 Homage to Monet, 1989 © Tessa Traeger. Collage of french salad digitally manipulated using the first Quantel Paintbox retouching machine.
The staff who ran the art collection always found pleasure in watching these clients gradually realise that the 'Monet painting' they were looking at was, in fact, made of cucumbers.
Read the story behind woman photographer Tessa Traeger's Homage to Monet before delving into her gallery and feasting your eyes on more.
Is photography art? And can commercial photography be seen as art? Since its inception, photography's identity within visual culture has been hotly debated. Combining fine art aesthetics with photographic precision, Tessa Traeger's work offers an interesting contribution to this discussion.
We know that Claude Monet painted The Water-Lily Pond (a section of his garden in Giverny) seventeen times under different light conditions. But Tessa's Homage to Monet (1989), a collage of salad manipulated using the first Quantel Paintbox retouching machine, has its own history of iterations.
Different versions and collections
The original version is not the version we are looking at today. The first was commissioned by the French Salad Board, who wanted to equate their salads with works of art – specifically, French Impressionism. They asked Tessa to make a collage of French salad which visually referenced Monet's bridge painting, and a poster was produced of her photograph. Homage to Monet drew the interest of the then-senior curator of photography at the V&A, Mark Haworth-Booth, who acquired it for their collection in 1990. As a composite (or maybe a synthesis) of commercial work, art, and photography, its intrigue stemmed from its inherent blurring of boundaries.
The version hanging in our online gallery (and outdoor at 59 Sloane Avenue until 12th July) garnered significant attention when, in 1989, The Photographers' Gallery showed it in Machine Dreams: A New Technology – an exhibition of photographic art that had been pixelated via computer processes. At the time, this new technology was a revelation to Tessa; it gave her the opportunity to retouch and enhance her existing work with painterly effects, increasing its similarity to Monet's piece.
This new incarnation stirred the interest of collectors too. When Citibank Private Bank bought a print, they hung it in their board room. During meetings, many of the bank's wealthier clients – who often collected art themselves – assumed it to be one of Monet's versions of his bridge. The staff who ran the art collection always found pleasure in watching these clients gradually realise that the 'Monet painting' they were looking at was, in fact, made of cucumbers.
Tessa Traeger's Practice
By creating her collage alongside a team of assistants, Tessa echoed the way many artists in the 'modern' period (roughly 1860s -1970s), and Renaissance artists before them, worked in their studios – particularly when designing large or complex pieces. One of the main logistical challenges of Homage to Monet was preventing the vegetables from wilting, necessitating a quick turnaround – Tessa finished the piece in one day, producing test shots throughout to ensure the composition was successful. Over the course of her 40-year career, Tessa's hands-on approach to arranging her pieces has afforded her a particular understanding of the creative process and an acute awareness of the 'photogenic'.
Homage to Monet is unique among the works in this exhibition. Interestingly, it is the only photograph that has been digitally manipulated – all the others were taken on large format film. But rather than it being a question of format, it is the way the artist arranges, illuminates, and captures the food on display which invites different responses. Her work for Italian Vogue is reminiscent of late Renaissance paintings; the dramatic use of lighting in Still Life of Pumpkins and Courgette Flowers, or the inclusion of a coil of lemon peel in Still Life for Italian Vogue, reflects Renaissance sentiment.
Tessa's hallmark chiaroscuro effects recur in her work for The Telegraph Magazine:  Pumpkin, Potatoes, Shallot and Peas from Rue Mouffetard Market;  Poilane Sourdough Bread, Normandy Butter and Salt Cured Pig's Ear, Snout and Tail; and Ham and Bone for the Soup, Pork Pies and Salted Pig's Tail from the Auvergne. Her visual approach – almost always keeping the food at eye level and close-up – means we meet it, and can almost smell it and feel its textures. The high contrast lighting venerates the food, lending it an air of importance.
Although most of the photographs in this exhibition were taken using film, Tessa celebrates the digital age much more. She extols the increased creative possibilities that digital photography presents to artists today. A striking example of this potential, Homage to Monet shows us why.