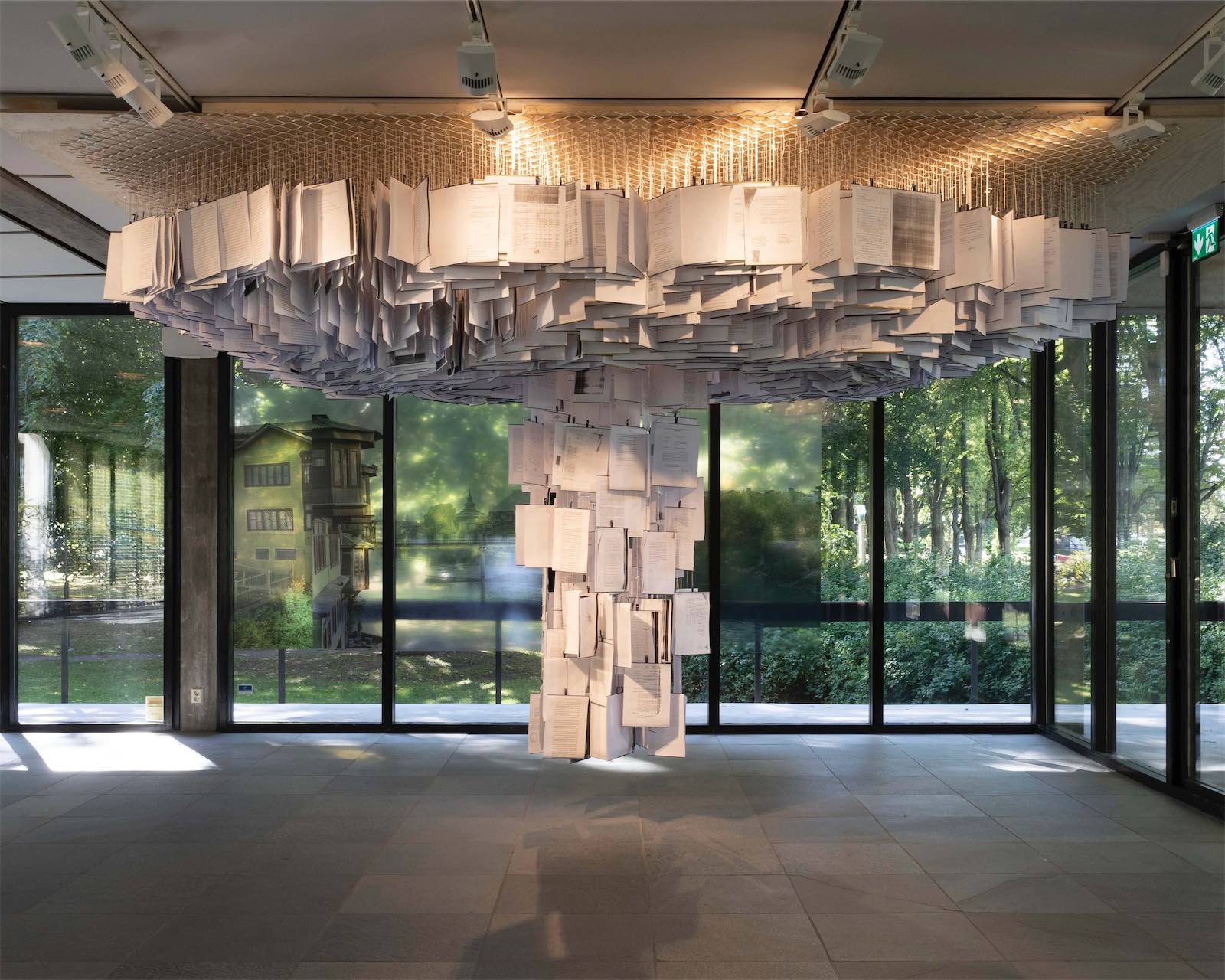 Anita Khemka & Imran Kokiloo
Installed and exhibited for the first time for Landskrona Foto Festival 2022, Landskrona, Sweden
Conceived as a decorative piece, this mushroom-shaped chandelier was made using over 3600 pages of legal correspondence between the courts, petitioners, and respondents in Kashmir. This piece draws parallels to the perfectly taxidermized busts and heads of kills that camouflages the violence underneath.
Installed and exhibited for the first time for Landskrona Foto Festival 2022, Landskrona, Sweden
Anita Khemka & Imran Kokiloo
This work, conceptualized as a decorative piece, a trophy is a take on the judicial-legal system prevailing within democratic societies for regions specially designated as disturbed areas. Special laws purportedly brought in to provide protection against civil prosecution and to ease the hand for military operations against acts of insurgency and terrorism, provide a cover against prosecution of human rights violations as well as other civil and criminal charges against armed forces. Cases are often times dragged on for decades in the dark labyrinths of legal corridors in a classical Kafkaesque manner. Yet such legal edifices are oftentimes celebrated as pillars of a truly modern and vibrant democracy in the public domain, not unlike the hunted trophies adorning the living rooms of the erstwhile aristocracy.
This installation formed in the shape of a mushroom and lit like a chandelier is made by using over 3600 copies of legal correspondences between the courts, the petitioners, and the respondents from just of few out of the hundreds and thousands of cases still pending in various courts of Kashmir as well as the Supreme Court for over decades. These are cases of accusations of rape, forced disappearances, judicial murders, and fake encounters as much as compensation for the loss of life and property.
These documents are of cases which are mostly invisible to the world and yet they sprout up once in a while, like the elusive morels in the forests of Zabarwan, and then disintegrate and disappear as quickly within just a few days.