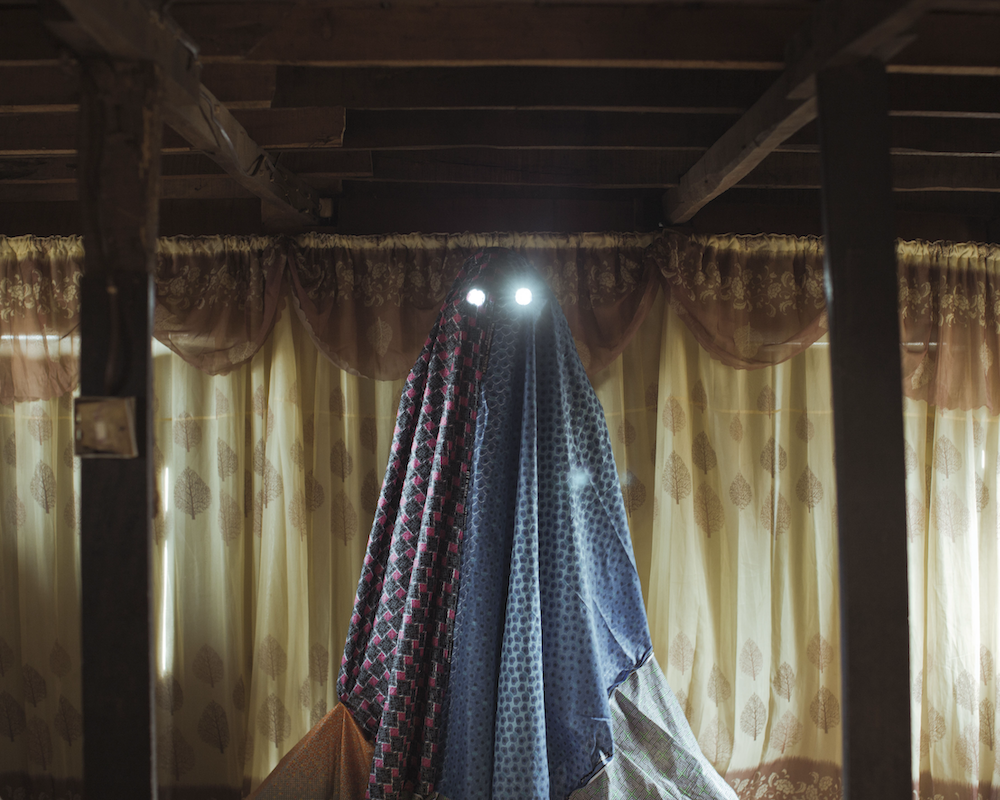 In Conversation with Cristina de Middel: Part Two
Last year, Contemporary Heroine Cristina de Middel became both a full member of the prestigious Magnum Photos, and its new President. In light of her appointment, Hundred Heroines caught up with Cristina to discuss her artistic practice and how she perceives the role of photography in a continuously developing world.
PART TWO
Hundred Heroines: I'm aware that a lot of your projects are in book form, and you do sequential work – is that something which helps you expand on what the image is conveying?
Cristina De Middel: Yes; the sequencing is almost as important as the image-making. It's less exciting, because you don't have the moment of 'being there', shooting and interacting; it's a much more internal and private process, and it's much more intellectual, but it's very important. 
It's frustrating, but at some point I had to embrace the fact that the perfect edit doesn't exist; you put a sequence, and you love it on Monday, but on Tuesday you wake up and you hate it and it makes no sense, and on Wednesday someone says, "This is great!" and you think oh, wait…
That's why I don't look at my books. I publish them and never look at them again! Because if I go back, I can't help but spot the mistakes or the moments where I could have improved the edit. Editing is the grammar; it's putting together a sentence that makes sense, and understanding the role each word plays. If you have a very good vocabulary, and you control grammar, you should be able to 'speak' photography and tell a story in an effective way.
HH: The topics you've focused on in your work are quite varied; how do you decide upon what you want to explore?
CDM: It can come from many places, but most of the time it's a reaction to the news, or something that is going on. Everything is normally triggered by contemporary events; they can be small, or huge. I could be talking about war, or immigration; or I can talk about something that happened around the corner. 
Reading newspapers, magazines, speaking with friends; at some point, opinions start building upon you – for example about selfies. Maybe not now, but at some point, the time comes to talk about that.
It's a combination of general analysis of what is going on, of course my own, and some event which could be used to explain it – when you make a connection between something small and something big.
HH: To be able to put together something in that way – I think it's a fantastic skill, a fantastic way to communicate.
CDM: Well it's something that I think everybody will have to develop at some point – just as we developed the capacity to express opinions in writing. We started with basic pieces of writing, such as rules, and then we ended up making amazing pieces of literature – as a culture, as animals. 
We will learn visual language – as an animal, as a culture – and we will be more and more sensitive to that. We have already reached a point where some images carry a meaning we cannot really express with words – emojis, for example. 
So, that's how our way of communicating is shifting. As photographers we have a role to play in that, and the audience should be ready.
HH: I was reading about the history of Magnum Photos; they describe themselves as a mix of 'reporter and artist', and they want to emphasise the 'way people see things'. I'm intrigued to know why you decided to apply to be head of Magnum? 
CDM: It came after a roundtable, a panel I did with Alex Majoli the first time I met him in Lagos, Nigeria. We were discussing something about documentary photography, and Alex and me are both very convincing. We found ourselves like two trains colliding, coming from opposite directions. It was fun, but at some point I told him, 'but of course, you're [in] Magnum, what are you going to say?' 
Afterwards, we had a conversation, and realised we really didn't agree at all. He wanted to prove me wrong, which is something Alex loves (laughs). We visited the Magnum website, which I hadn't done for quite a few years, and I realised that if you go through the Magnum archive, what I was doing was not really that 'edgy'; there were photographers who had done that before me. It was a good cure for the arrogance I had! 
Magnum was not what I thought it was. It is perceived as a very traditional documentary agency. But actually, there's a lot of debate and constructive conversations where things become quite intellectual about what photography is and isn't, coming from our individual experiences.
So after that conversation with Alex, I told him, 'maybe I'll try [to join] one day', and he said 'yes, do it.' And then I sent my portfolio and got in, which was a big surprise. 
It's a co-operative; you're joining a group of people working, and you have to be ready to work. I would have thought that my type of work was more challenging for certain people, but it went well because I was wrong in my perception of Magnum. I think this is the DNA of the organisation, something very precious – some people are very 'pure' in their definition of 'good' photography, in a traditional way, but there is no conflict with people who don't want to follow the rules; there's open mindedness.
HH: I too was surprised to read that; I had thought they were quite traditional as well, but reading about how they position themselves, it seemed like they were a very natural fit for what you wanted to achieve with photography.
CDM: Actually a perfect fit. And now that I have been with the agency for five years, I have confirmed that. Joining Magnum has been one of the best things that has happened to me during my career.
HH: You became President of Magnum quite soon after becoming a full member. In what ways do you hope to influence the organisation, and in what ways have they influenced your practice?
CDM: When I quit photojournalism, I stopped researching that field, and being in Magnum made me rethink many things. It provided answers to the questions and frustrations I had, and opened up new possibilities. I feel very comfortable jumping from documentary to fiction, and back; everything is more clear in my mind. One of the priorities I think we're all focusing on in Magnum is expanding the perception of the organisation. We don't want to change, because it hasn't changed; it's just that there are other things influencing its DNA which makes the organisation more rich, and more compatible with the society we have now. 
There are challenges; everybody is taking pictures, and has a different reaction to pictures, so there's the challenge of keeping up with what photography 'is' for society. We really need to understand this so that we can stay relevant. I think one of the main debates has been around legitimacy, the relationship between the photographer and the subject… in Magnum, there are a lot of photographers working on that. Photographers are starting to question – am I allowed to take a picture? 
At the same time, there are very dramatic events going on, and somebody has to take a record of that. I think there's this balance between building, and questioning what is being built. I think we're prepared – there's a lot of work, but I don't see why Magnum wouldn't be relevant 20, 40, 50 years from now. We have all of the ingredients for that!
Intrigued by Cristina de Middel's work? For more information, check out her website, or her Magnum profile. Click here for part one of this interview.