Heroine Heather Agyepong discusses mental health, coping with lockdown and her upcoming projects
Contemplating our emotional and creative wellbeing in light of recent lockdowns, we ask London-based visual artist and performer Heather Agyepong about the role of visual culture in mental health and marginalisation. Heather's art practise engages with themes of visibility, identity, diaspora, the archive, and mental health. As her photographs go on display as part of the group exhibition A Picture of Health: Women Photographers from the Hyman Collection at the Arnolfini in Bristol, Heather shares how her artwork has been influenced by her own mental health struggles and reflects on the activities that have helped her stay positive during lockdown.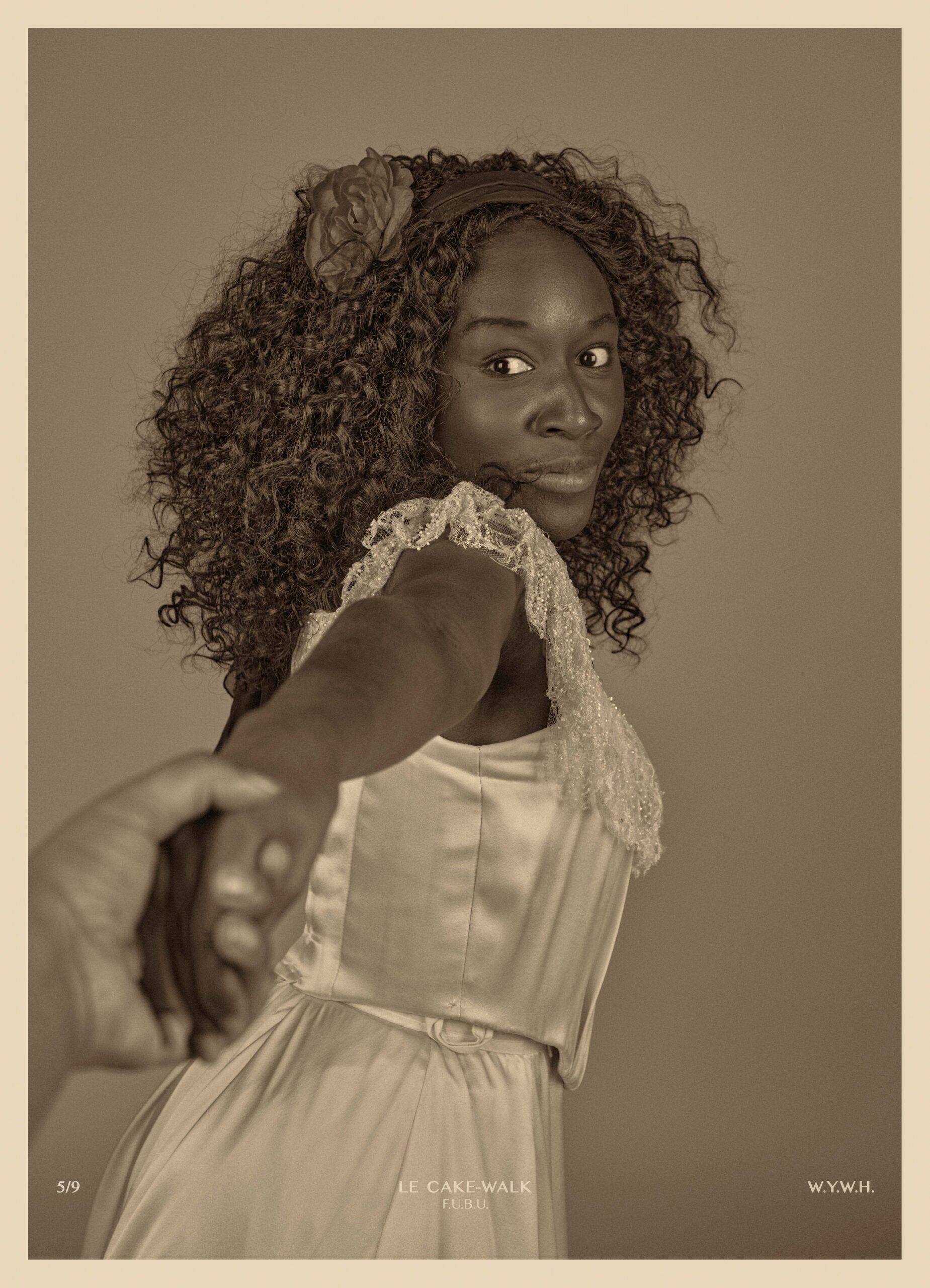 Wish You Were Here, Le Cake-Walk: Rob This England, 2020 © Heather Agyepong, Courtesy of The Hyman Collection, London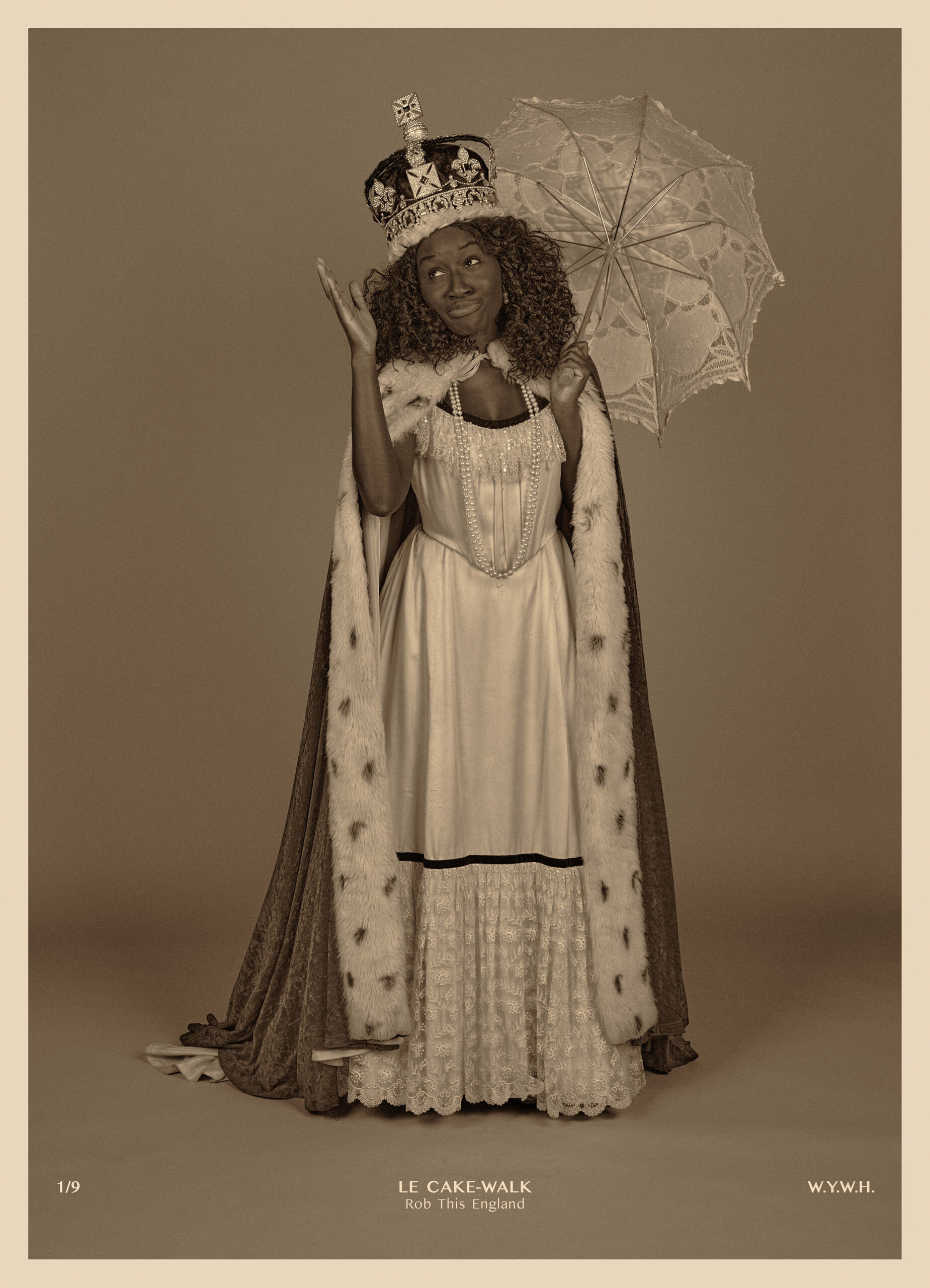 Wish You Were Here, Le Cake-Walk: Rob This England, 2020 © Heather Agyepong, Courtesy of The Hyman Collection, London
Venetia Jolly: One of the things that really draws me to your work is the way you encourage viewers to think about their bodies and identities as an act of self-care. Where does your interest in mental health and wellbeing come from?
Heather Agyepong: My own issues with my mental health. When I was 19, I began to understand how visual culture can have a damaging effect on one's wellbeing and identity formation, so that sparked my interest in making work which attempts to deconstruct that power dynamic and question the image more than anything else.
VJ: The relationship between image and identity is a strong focus of your work. As a pervasive form of visual culture in everyday life, what is your opinion of social media?
HA: I unfollow any account that triggers jealously, comparison or perfectionism. I often take big breaks from social media. I don't even think it's reflective of real life; it's a highlight reel so I understand what it REALLY is so I can't take it that seriously. I'm mostly on it for lighthearted videos and artistic inspiration.
VJ: Y

ou have previously spoken about your struggles with rest and described photography as a form of therapy. Are there any other activities you have participated in during lockdown to maintain your mental wellbeing?
HA: Getting out in nature can be really spiritually invigorating; I used to think that was just something people said but it's been a major shift for me. Valuing work that hasn't got a concrete outcome. I often attached so much of what I do about the end product rather than the joy of doing. Practicing gratitude and taking lots of social media breaks. Also distancing myself from negativity and protecting my energy at all costs.
VJ: Could you tell us a bit about any of your upcoming projects? I am aware you are set to star in an upcoming adaptation of Naomi Alderman's novel The Power…
HA: We're currently filming so I actually can't tell you anything but when it's out I will come back and fill you in! I am however making a solo performance called The Body Remembers about how we can take agency in our own healing.  The performance uses movement, projection, and a series of audio testimonies to create a collective experience for both myself and the audience to observe, reflect, and note what is happening in our bodies. The work will debut this year (fingers crossed).
VJ: Your experience as a performer / actor influences your photographic practice. In the first image from your Wish You Were Here series you chose to embody Aida Overton Walker, a celebrated African American vaudeville performer. What is the significance of including historical figures in your work?
HA: I would say my work often examines the past rather than people per se. When I started to engage with the archives meaningfully, it had a real impact on my sense of self. What ideas contributed to my identity? Who were the people who came before me? What was our legacy? What is erasure and why is there so much of it? The past informs so much of our present, I feel looking back, whether it be about re-examining or re-imagination; this creates a sense of reclamation of histories, especially as a black woman whose histories were often deemed inappropriate, misunderstood or simply neglected.  There is so much to learn from looking back; new stories come to life and nuanced conversations begin to emerge from the often-flattening conceptions of marginalised communities.
VJ: Can you describe the research process behind selecting which historical figures you want to explore?
HA: Often it's just a lot of reading alongside mining my own personal histories, struggles, grievances that have drawn me to this particular moment in history. What can this object, person, idea in history enable me to learn/unlock something more within myself? What did the history maker overlook in this narrative? How can I bring this invisibility to life and how can it encourage me to free up limited beliefs about myself? It's all about the questions for me.
VJ: Wish You Were Here is a title which seems to encompass multiple realities – past, present and future. Moving from history to the present day, have recent events such as the Black Lives Matter movement altered your practice in any way?
HA: Not at all, I think that's really a question for people outside of the black community because this has been so many peoples' lived experience for so long. There have been photographs and videos of people being killed in cold blood by police, so it felt like it took a pandemic to make people take notice, which is somewhat disappointing.
VJ: The photographs in the series subvert offensive twentieth century depictions of Cake Walk dancers, advocating for people of Afro-Caribbean descent to 'take up space'. What do you envision for Black British artists in the future?
HA: Black British Artists can make whatever work they want whether it be about race, gender or black bin liners and have total agency of their narrative with little need for any other gaze to decode the work on their behalf. I think I envision total freedom!
VJ: Lastly, could you use three words to describe how you felt while you were creating the photographs from Wish You Were Here?
HA: "HERE. I. AM."
Heather discovered photography whilst at university as a cathartic way to confront her concerns with self-image. She has recently been selected as a Foam Talent artist for 2021, awarded to exceptionally talented photographers who engage with "the pulse of our times". Her artwork has received attention in The Financial Times, The Art Newspaper, The New York Times and the BBC. Heather's images are available at The James Hyman Gallery.
By Venetia Jolly
IG: @venetia.jolly