Feminist photographer Jo Spence's work relating to health and wellbeing on display during Bristol Photo Festival
A major retrospective of Heroine Jo Spence, From Fairytales to Phototherapy (18 June – 20 June 2021), is being exhibited at Arnolfini as part of Bristol Photo Festival. With a focus on health and well-being, it is a celebration of Jo's work as a phototherapist, a practice whereby she used photography as a medium to address personal trauma, such as her struggle with cancer.  The retrospective is derived from The Hyman Collection, one of the most comprehensive collections of the woman photographer's works in the world.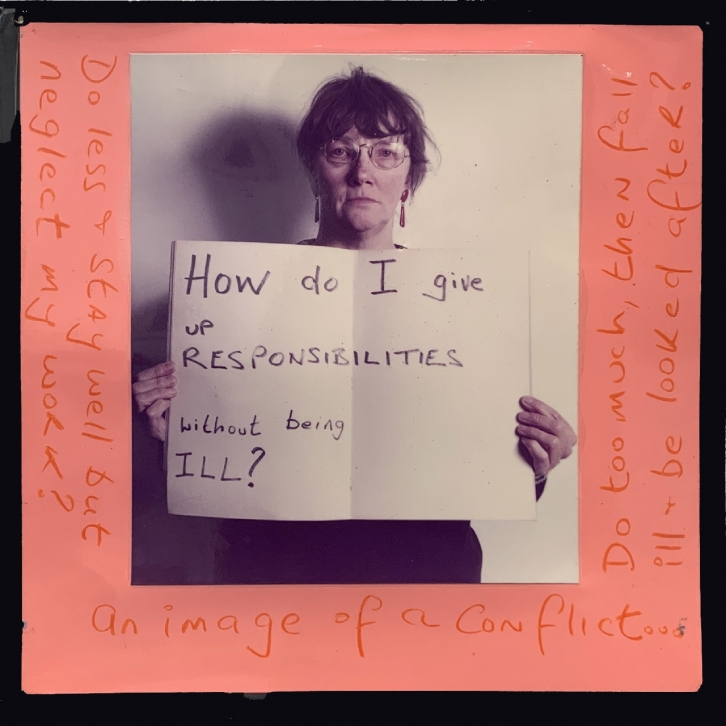 Only When I Got to Fifty Did I Realise I was Cinderella ,(03) by Jo Spence 1984, In collaboration with Rosy Martin © The Jo Spence Memorial Archive, Ryerson Image Centre, Toronto, Canada.
Also featuring Jo's complete BA thesis, Fairy Tales and Photography… or, another look at Cinderella, the piece looks back on the evolution of the Cinderella story, and its reinterpretation in the media against the backdrop of the wedding of Prince Charles to Lady Diana on 29 July 1981.
The thesis foreshadowed Jo's practice as a feminist photographer—a politically charged artist who challenged sexism and traditional gender roles but who also imbued her works with sensitivity and humour.
Jo's phototherapy images include many self-portraits which are a collaborative effort between Terry Dennett, Rosy Martin, David Roberts, Dr Tim Sheard and Valerie Walkerdine.
Some of the images, such as one where Jo is sticking her tongue out and another where she is holding a placard with 'how do I give up responsibilities without being ill' written on it, reference her struggle with cancer. Other images look at family life, the body, gender roles and taboo sexuality.
Though taken in the 1980s, the posed compositions and accompanying captions lend Jo's work a modern, almost 'Instagrammed' feel. The personal narrative of the photographs arguably renders the viewer a kind of voyeur, a position which develops as the series of images unfold.
This is reflective of social media, wherein a desire to learn the backstory of the photographs we see on people's timelines is part of the experience. Fairytales to Phototherapy is remarkably contemporary — notably via its exploration of gender roles, frank presentation of deeply personal crises, and disregard for social censure in terms of what is 'posted'.
Jo's artistry is also an important addition to the discourse of diverse representation — the need to see, understand and accept all kinds of bodies, irrespective of age, race or gender. 
With regard to the element of 'therapy' that these images have, it seems to be an inadvertent reference to the practice of art therapy in the field of mental health. Perhaps without intention, Jo Spence anticipated the artistic and creative practices that have become a key element in our social and medical lives almost thirty years later.
Discover more at the Bristol Photo Festival site.