Mobilize (2015) 3 mins
By Caroline Monnet
Caroline Monnet
Canadian artist and filmmaker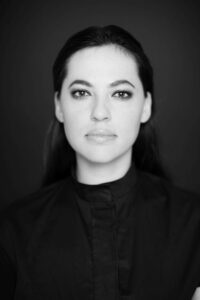 The energy and intensity of Caroline Monnet's 2015 film Mobilize is acutely relevant now as extreme global disquietude and agitation permeates global protests and our pandemic disrupted lives. Urgent and wordless it demands an instant visceral and emotional response to the kinetic flow of images driven by the compelling rhythm of Tanya Tagaq's soundtrack before the intellect has even a chance to make sense of the meaning. A perpetual forward momentum reaching back through a visual history towards an insistent yet unknown goal and an unknown future. More than anything Monnet's film demands that we look again and then again in a process of re-framing, re-viewing, re-contextualising and re- visiting a given narrative forcing us to re-think what we think we know.
Mobilize was one of 4 films made by First Nation artists commissioned by the National Film Board of Canada re-using archive footage to explore indigenous identity and representation. The films premiered together as Souvenir in 2015 in Toronto before Mobilize screened as a solo work at both Toronto International Film Festival and Sundance Film Festival.
Working to a tight deadline Monnet allowed her instinct to guide her selection of archive footage from a number of different films, known to Canadian audiences, which were shot in the 60's and 70's. But it was the choice of soundtrack which so dramatically enervates an entirely different reading of the imagery. The dynamic percussive ticking and rhythmic beat of Tanya Tagaq's raw wordless song 'Uja' quickly catches hold of your heart-beat, suspensefully drawing together tantalisingly short clips celebrating, without sentimentality or nostalgia, the alive and vibrant traditional crafts and skills that have been passed down through generations of a people deeply connected to the pulse of a challenging landscape. The music fuses modern polar-punk with the indigenous female Inuit tradition of 'throat-singing' evolved from a vocal breathing contest between dueting female singers which mirrors the constant interchange between modernity and tradition.
Beginning with images of strong hands weaving, cutting and building Monnet conjures a powerful forward momentum as if people are striving towards a goal, hurtling towards a fateful moment, preparing for a momentous event. Splicing shots of canoes traversing a lake, snow-shoed feet crossing snow-covered land, wide expanses of forest-fringed waters, wolves amongst the trees, snow-covered houses, washing, children running, a boy leaping across a roof she suggests a precarious existence in extreme conditions. The momentum builds and speeded up footage of a canoeist perpetually racing across dark icy depths as if searching for something unseen is inter-cut with a sea-plane taking off, a town, the landscape from the air and the menacing underwater shadow of a shark. We burst into the frenzy of a surging modernity, crowds, traffic, speeding trains and Mohawk labourers skilfully balancing on iron constructions straining towards the skies. A young woman confidently navigates the city before her expression slips into apprehension in the final frames.
Monnet's sequencing of these images re-creates the forward trajectory of generations of her own family's gradual journey away from their original, natural landscape to a modern urban life in which they are nonetheless culturally rooted, insisting in a Q&A with Kier-La Janisse and Clint Enns for Spectacular Optical that 'I wanted to focus on positive outcomes. Today, being an urban indigenous person doesn't make you any less native, or any more assimilated…I wanted to speak about a people moving forward, a people that mobilizes itself and that is far from being stagnant. We are contemporary, culturally rooted and constantly on the move.'
A communications and sociology graduate Monnet is a self-taught multi- disciplinary artist and film-maker. Born with a 'foot in many worlds' her personal perspective, rooted in her identity as the daughter of an Algonquin mother and a French-born father, holds within it the duality of an upbringing in the Algonquin territory of Outaouais in Quebec and summers in Brittany in France. Drawn to explore the tension between opposites, the borders and spaces between cultures and landscapes, her work often focuses on Indigenous identity acknowledging that there is no attempt to imagine the world beyond her own experience but instead to channel her own introspection and examine the world she does know. Conscious of how she was shaped by her French education and a home life rich with theatre, books and music she stresses how the natural landscape is core to her identity. Memories of the the lakes, rivers and swamps so central to Algonquin lives, culture and storytelling which also divide and demarcate demographic regions and Quebecois colonial history are recurring themes in her work.
But rather than focus on the turmoil of the past Monnet is passionately hopeful for the future and insistent that new generations bridge racial divides and forge new paths, new opportunities and new ways of making their voices heard. In an interview with Rebecca Dawe for Godberg Monnet describes picking up a camera and feeling that she had discovered a powerful tool. A tool for 'empowerment, fulfilment, communication'. In Mobilize she disrupts the use of this powerful tool which has often created a negative narrative of indigenous lives as victims of violence, drugs, alcohol and poverty and perpetuated stereotypes, misconceptions and racism. The re-use of existing material in this intense and highly condensed film touches on the complexity and representation of indigenous identity consciously drawing attention to the radical act of reclaiming ownership, to the process of re-writing and asserting indigenous visibility, presence and strength within the urban landscape. It is a powerful indicator of the need for indigenous voices to tell their own stories. 'Authenticity is so, so important. It speaks about representation, as well as countering racism since truth-telling brings understanding. I think in telling stories, it's important we hear stories directly from the people.' But 'We've also come to a place where filmmakers are not necessarily referencing cultural items, but are still contributing to Indigenous cinema. That is, they are creating as an artist without necessarily having to be an Indigenous artist. Just an artist who happens to be Indigenous.'
Filmography
The Seven Last Words (co-director) 2019 
Emptying the Tank 2018
Tshiuetin  2016
Mobilize  2015
The Embargo Project 2015
Roberta 2014
La mallette noire (co-director) 2014
Gephyrophobia 2012
Warchild 2010
Ikwe 2009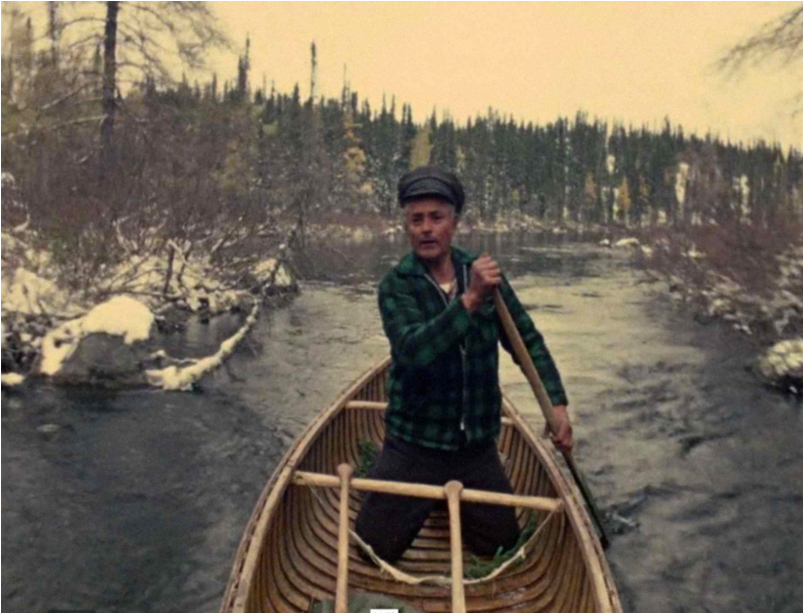 + Caroline Monnet collaborated on the Embargo Film Project with Elle-Máijá Tailfeathers who featured In Liberating the Mind (week four of our Online Film Festival curated by Lisl Ponger).
Image (Above) Film Still © Caroline Monnet; Featured Image Caroline Monnet by Ulysse Del Drago