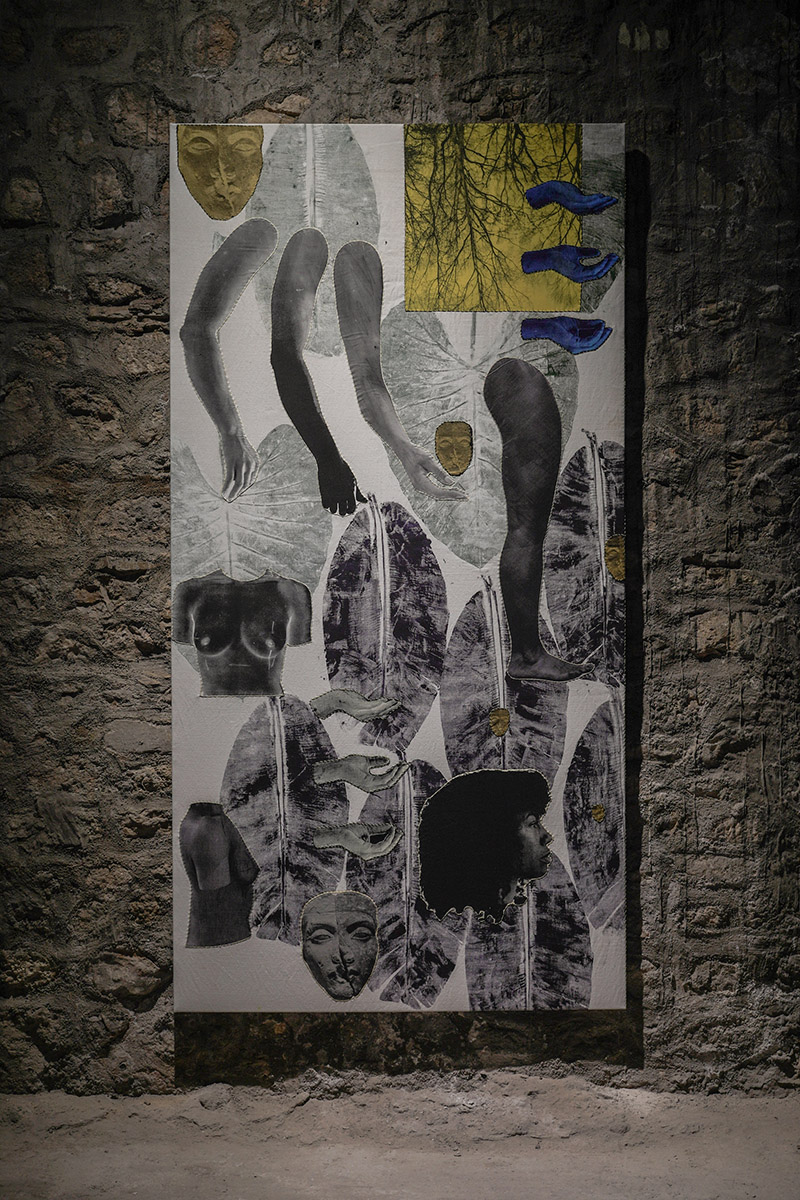 Zohra Opoku, 'I have my mouth to speak, my legs to proceed, my arms to make my enemies fall. The two entrances in the earth are opened for me. Geb the prince of the gods, has opened his jaws for me (and) my eyes which were blocked; he stretches out my legs which were crooked; Anubis strengthens my thighs. I am raised up indeed (and) Sakhmet the goddess who exists in the sky stretches me out…,' 2020. Monotype print on canvas screenprint applications, thread, 132 x 258 cm. Courtesy of Mariane Ibrahim. Installation view from the 7th Athens Biennale 2021 ECLIPSE. Photo: Nysos Vasilopoulos.
Final days to experience Heroines Zohra Opoku and Zanele Muholi at Athens Biennale, on view until Nov 28
The 7th Athens Biennale ECLIPSE, co-curated by Omsk Social Club and Larry Ossei-Mensah under the artistic direction of Poka-Yio, has entered its final week.
Closing 28th November after a nine-week run, ECLIPSE represents a valuable opportunity to engage with the social, political and spiritual changes of the contemporary moment through the work of some of the world's most outstanding artists, including several of the leading women in photography.
According to its creators, the exhibition title 'ECLIPSE' highlights the 'obscured perspective of reality' which stems from 'the constant state of flux we are experiencing in our society now'. A phenomenon which invokes 'filtering and shrouding', the eclipse metaphorically functions as a catalyst for the reanimation of 'an unresolved past that can inform an unspoken present and ultimately shape our future.' Merging these multiple realities into a single moment, the eclipse emblematises a prolonged moment of significant transformation.
Two Contemporary Heroines recognised for their striking black and white photography and portraiture – Zohra Opoku and Zanele Muholi – feature amid the line-up, presenting works which explore identity, culture, and history.
Designed to 'interrogate many of the ideas, queries, concerns, and desires that are frequently not platformed within a Biennial format' and 'activate a dynamic cross-cultural discourse', ECLIPSE pays careful attention to the work of artists from the African Diaspora, in addition to other historically marginalised artistic voices.
The physical events of ECLIPSE are accompanied by an online programme which encompasses a series of virtual 'portals'.
Visitors to these websites can put anonymous questions to a digital fortune-teller and listen to the sonicECLIPSE mixtape collection, as well as discovering more about the exhibiting artists and curators via the Biennale website.
An immersive, multidisciplinary arena, ECLIPSE aims to facilitate an 'experiential shift in art viewing', opening 'an alternative future for contemplation'.
The ΑΒ7: ECLIPSE inhabits three neighbouring landmark buildings of the historic centre of Athens: the Former Department Store Fokas, the Former Santaroza Courthouse in Justice Square, and Schliemann-Mella Hall. The exhibitions will remain open until 28th November.