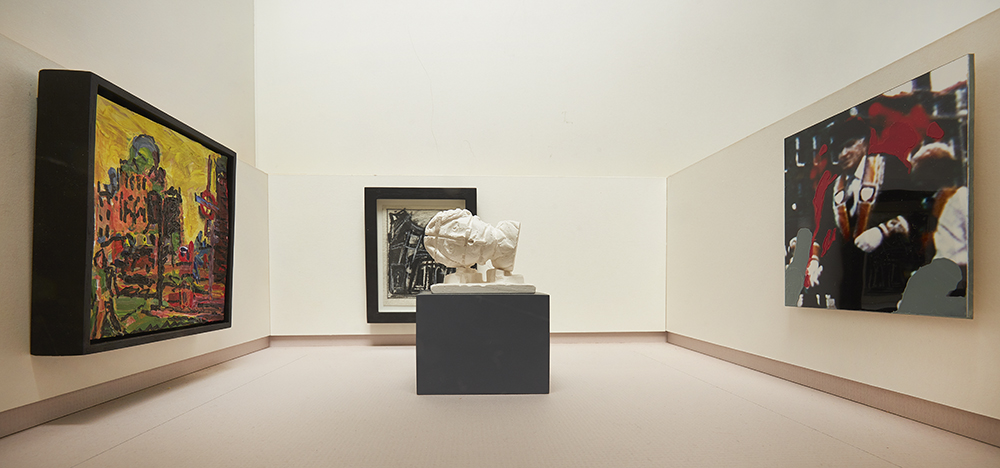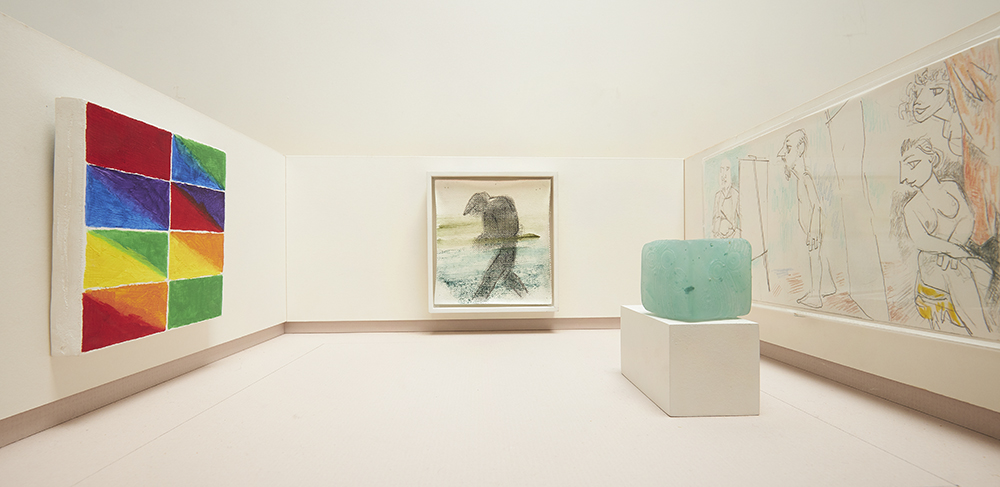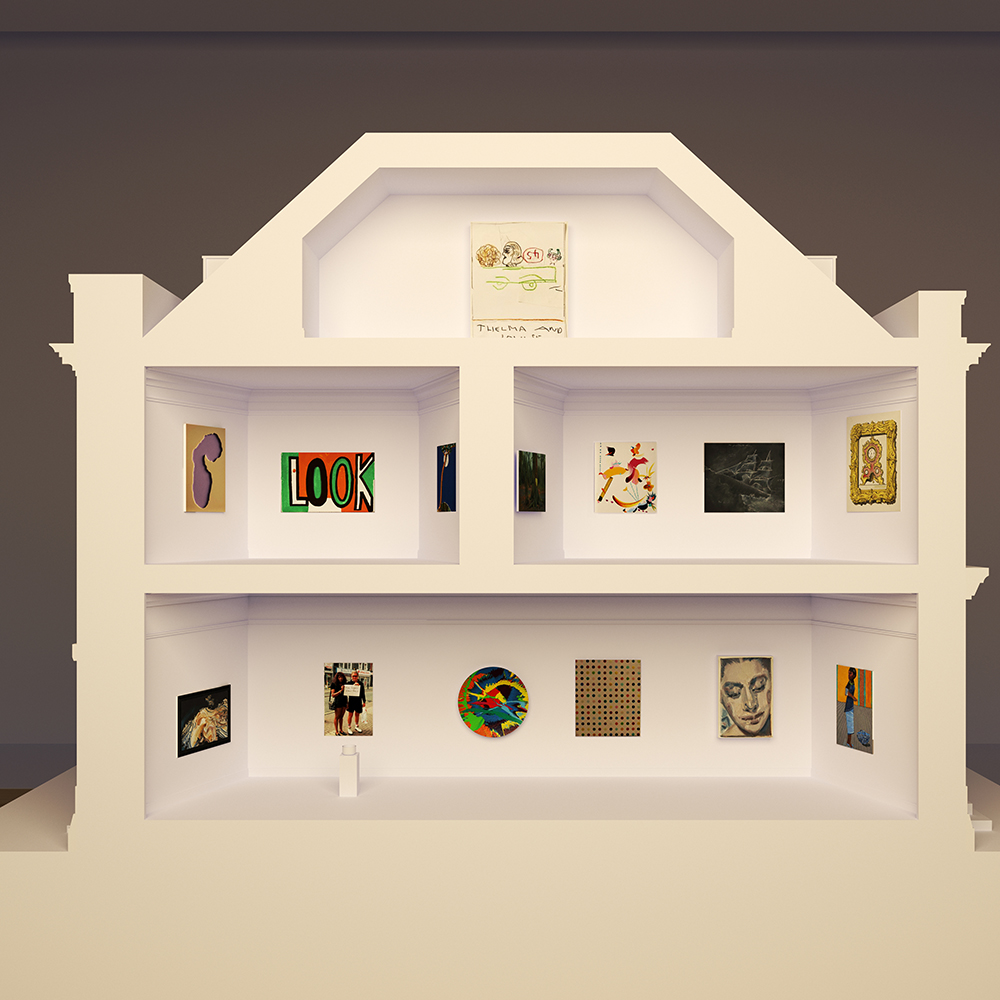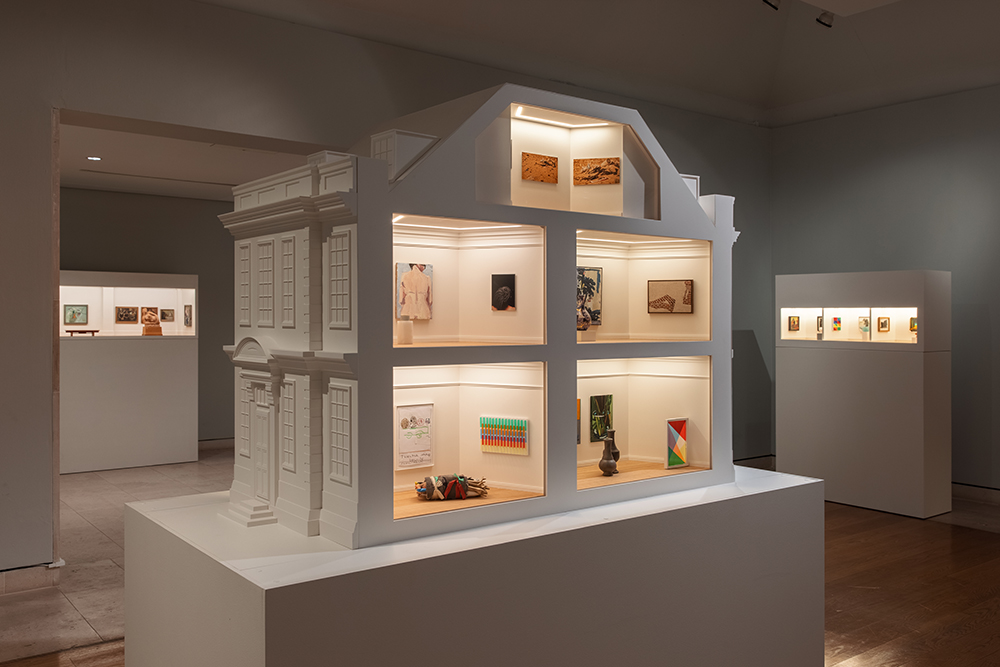 Photography necessitates a kind of 'slow looking'; its ability to reconfigure finite moments as perennial 'spaces' has been pondered by photographers from Henri Cartier-Bresson –  who described the ability of photographs to capture the 'decisive moment' in which the pivotal events of a scene achieve equilibrium – to contemporary photographer Noemie Goudal, who has characterised photographs as places which can be visited and revisited. Both concepts suggest the deliberation at the heart of photography; although the shutter is activated in a fleeting moment, photography is a precise, meditative art.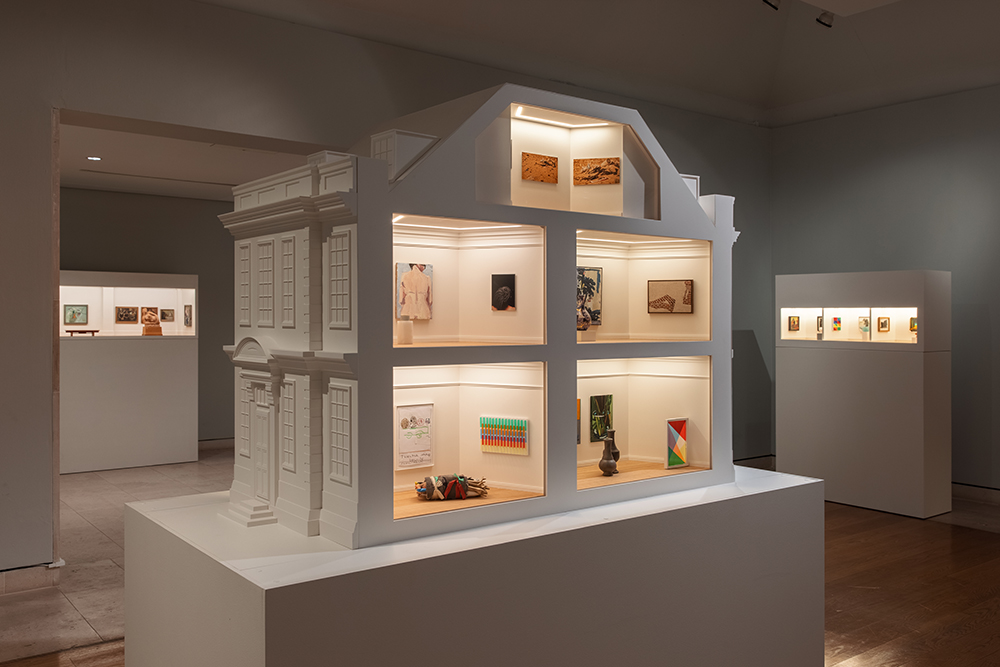 Installation views of 'Masterpieces in Miniature: The 2021 Model Art Gallery' at Pallant House Gallery. Photography: Rob Harris
In a new exhibition at Pallant House Gallery, Masterpieces in Miniature: The 2021 Model Art Gallery, photography's contemplative aspects – for viewers, and for photographers themselves – are made keenly apparent.
Described as 'a microcosm of British art today', the collection features new works created in 2020 by thirty four contemporary artists – including several legendary photographers – and spans a wide variety of media. Three of the most renowned women in photography have contributed to the exhibition; Contemporary Heroines Tacita Dean and Gillian Wearing, and, posthumously, Legacy Heroine Khadija Saye.
Each exhibit is a piece of art recreated by the original artist in minute form. The gallery itself is akin to a doll's house, enclosing the artists' contributions within a work of art in its own right. Designed by Wright & Wright architects, the architecture of the mini gallery echoes that of Pallant Gallery itself, an 18th century Queen Anne townhouse with a modern white cube extension. The model gallery, alongside two earlier model galleries, provides a fascinating insight into the evolution of artistic styles across the decades.
In Tacita Dean's Disappearance at Sea – a pencil drawing on blackboard – a ship emerges from a mist of white charcoal. The drawing shares a title with her 16mm colour film of the same name, which showcases footage of the sea intercut with close-ups of lighthouse bulbs.
An allusion to the ill-fated ambition of Donald Crowhurst (1932–1969), a British businessman and amateur sailor, the original film – which was a collaboration between Tacita and cinematographer John Adderley – was filmed using an anamorphic lens which extended the breadth of the image. An adaptation of the piece in miniature, Tacita's drawing is a fragment of this wider narrative, emerging as if from a memory or a dream.
Emphasising the perhaps surprising ubiquity of individualism, the series espouses the merits of careful perception. So, too, does an Untitled image from Khadija Saye's Crowned series (2013), which focuses on hairstyles worn by Black women.
Created as part of her graduation project while studying Photography at UCA Farnham, Khadija's intimate portraits fully realise the intricacy of the styles, celebrating their beauty and heritage.
The significance of 'space' has become increasingly prevalent amid the strictures of the COVID-19 pandemic. The works on display emblematise creativity which remains despite – or is even enhanced by – restriction, refuting the notion that tighter parameters diminish artistic potential.
Although each artist has recreated their work on a small scale, the impact of the originals is no less powerful. In these new forms – which merge seamlessly with their historical moment – the images acquire additional nuance and resonance.
Literally generating a new habitat, the model gallery represents both a physical and metaphorical 'space' in which to appreciate the artworks; the 'slow looking' of photography is amplified as viewers lean in, peer more closely, and enter into an awareness of the finer details.
Perhaps paradoxically, the obscure becomes obvious not via spectacle or enlargement, but through the subtle invitation offered by these tiny masterpieces.
Masterpieces in Miniature: The 2021 Model Art Gallery is on view at Pallant House Gallery, Chichester, UK until Spring 2022.