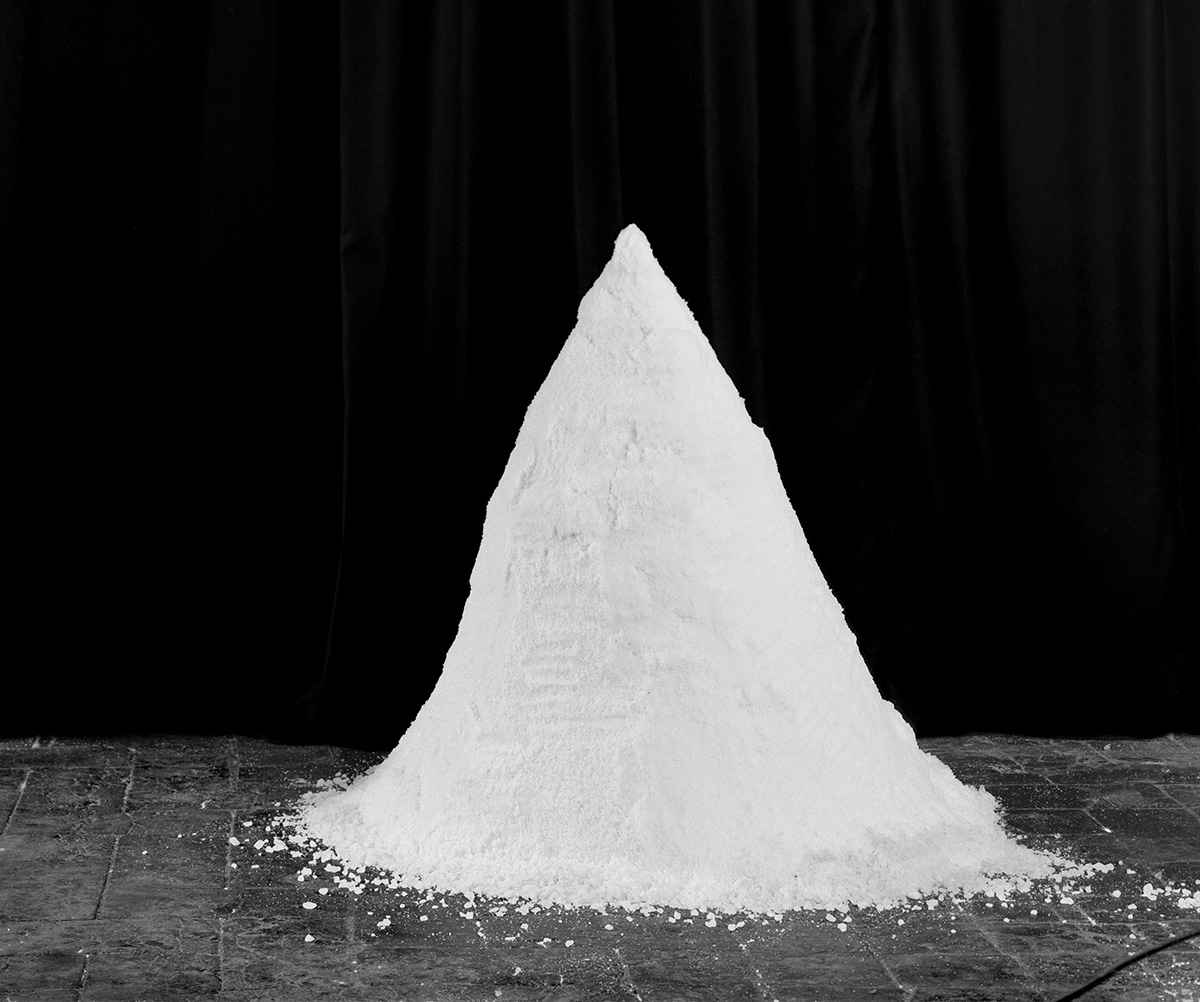 HANNAH COLLINS. Salt (5) silver gelatin print mounted on canvas 220 x 263 cm, 1996 © Hannah Collins, courtesy Maureen Paley, London
Hannah Collins presents her haunting new exhibition across two galleries in London until October 2021
Ten years ago, acclaimed photographer and filmmaker Hannah Collins endured treatment for cancer, from which she recovered. Reflecting on this time, she reports how – while observing her dependency upon medical machines and the effects of chemicals on her body – she 'longed for nature', yearning to explore and understand wider notions of 'the healing process'.
The question prompted a visit to the Colombian Amazon, where her interaction with the Cofán people – an indigenous group native to what is today the northeastern corner of Ecuador, as well as the corresponding region to the north in Colombia – illuminated numerous reminders of humanity's reliance upon Earth's natural resources.
One of the leading women in photography today, Hannah focuses on historical and social frameworks and addresses a wide range of subjects and geographical locations. Through El Tiempo del Fuego, a new exhibition of Hannah's work at Maureen Paley gallery, visitors can embark upon an odyssey which follows Hannah's physical and figurative footsteps.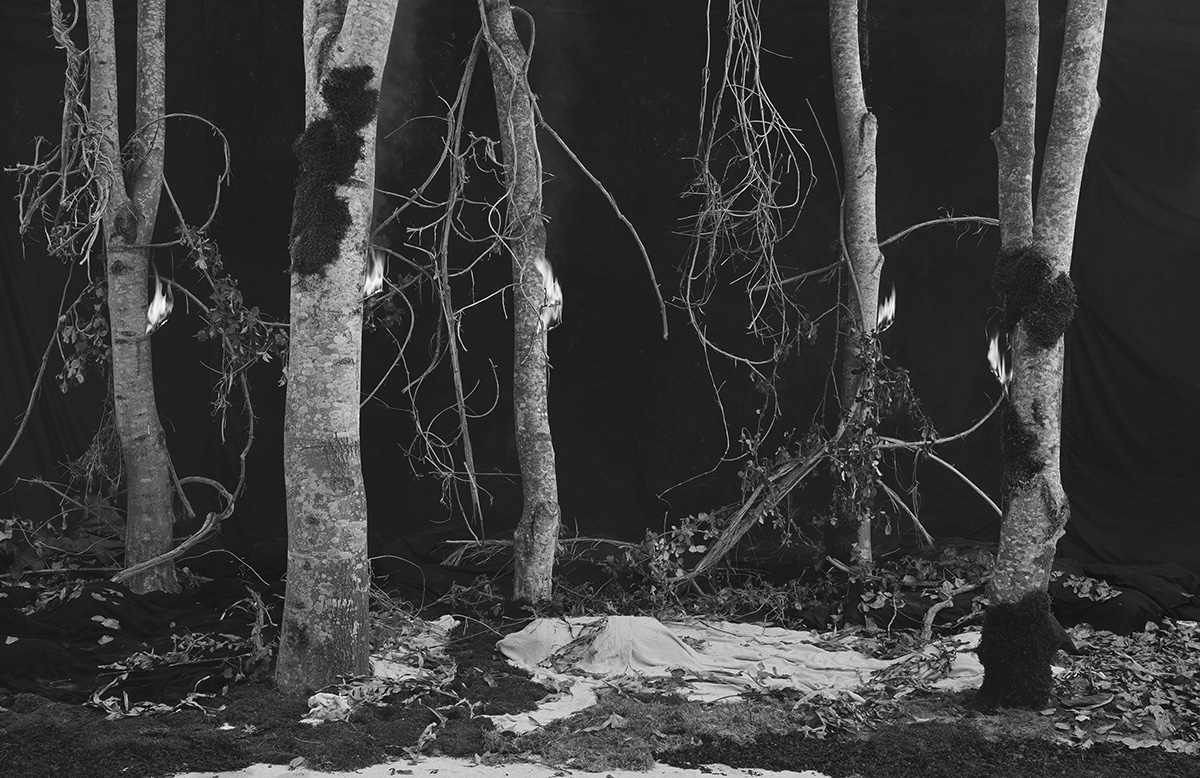 HANNAH COLLINS Flaming Forest pigment print on paper 240 x 400 cm 2021 © Hannah Collins, courtesy Maureen Paley, London
Her large format photography is critically acclaimed, having been nominated for a Turner Prize in 1993. As with many of Hannah's most recognised works, the scale of many of the images in El Tiempo del Fuego precipitates an absorbing experience; they seem to envelop the exhibition space, generating a rich sensory environment which echoes the nature of Hannah's original encounters.
The work is derived from the breadth of Hannah's prolific career; the photographs – taken in Latin America, Central America, and Europe – represent a cornucopia of interiors, exteriors, interactions, and objects. However, although El Tiempo del Fuego is richly varied, its genesis can be traced to one evocative image.
The memory of 'flames in the forest' – encountered as Hannah was guided through the Amazon by a Cofán shaman – forms an anchor point around which the exhibition orbits. In Hannah's words:
'One evening whilst walking through the forest with the shaman he carefully cut a groove in a copal tree. He lit it to produce a small, controlled flickering flame that could sustain light but did not burn the damp tree.'
Akin to the flames of the copal tree, Hannah's photography acts as a sustaining presence, perpetuating an experience of memory. The exhibition is presented across Maureen Paley gallery's two London spaces, allowing plenty of space for visitors to dwell upon, and immerse themselves within, the work.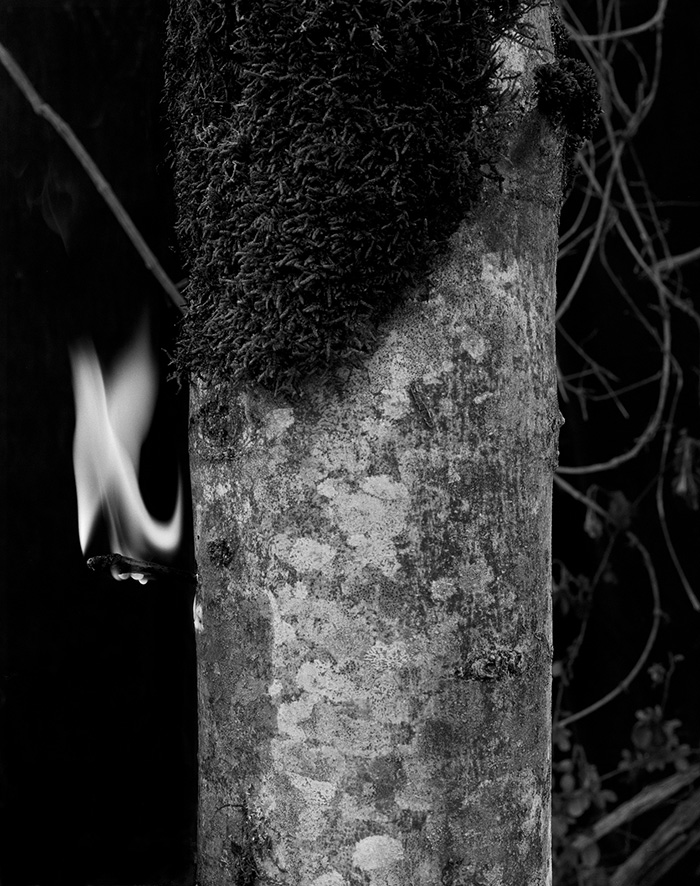 HANNAH COLLINS Small Flame, Copal Tree II framed silver gelatin print 35 × 36 cm 2021 © Hannah Collins, courtesy Maureen Paley, London
The journey of El Tiempo del Fuego ('The Time of Fire', in Spanish) is as much psychological as it is literal; Hannah's recovery from illness – a 'time of fire' in its own sense – is analogised by the flicker of orange among the deeply resonant black and white photography.
Heralding the resilience of nature, humanity, and memory itself, these vibrant flashes – whether in the form of votive candles, pencil sketches, or the photographed flame of the copal tree, as in Small Flame, Copal Tree I – exemplify life's defiant beauty, and the potential for harmonious interrelation between humans and the environment.
Beyond a marker of persistence, fire is a precursor to transformation; for Hannah, the image of flames in the forest is a 'recreation of a memory of one of these healing and hopeful experiences of that journey as a shared photographic image remade in the context of a studio.' Distilling this encounter into a transmittable form, Hannah expertly crafts and disseminates a stirring, mutual experience of hope.
El Tiempo del Fuego is on display across two Maureen Paley Galleries in London until October 9 & 23