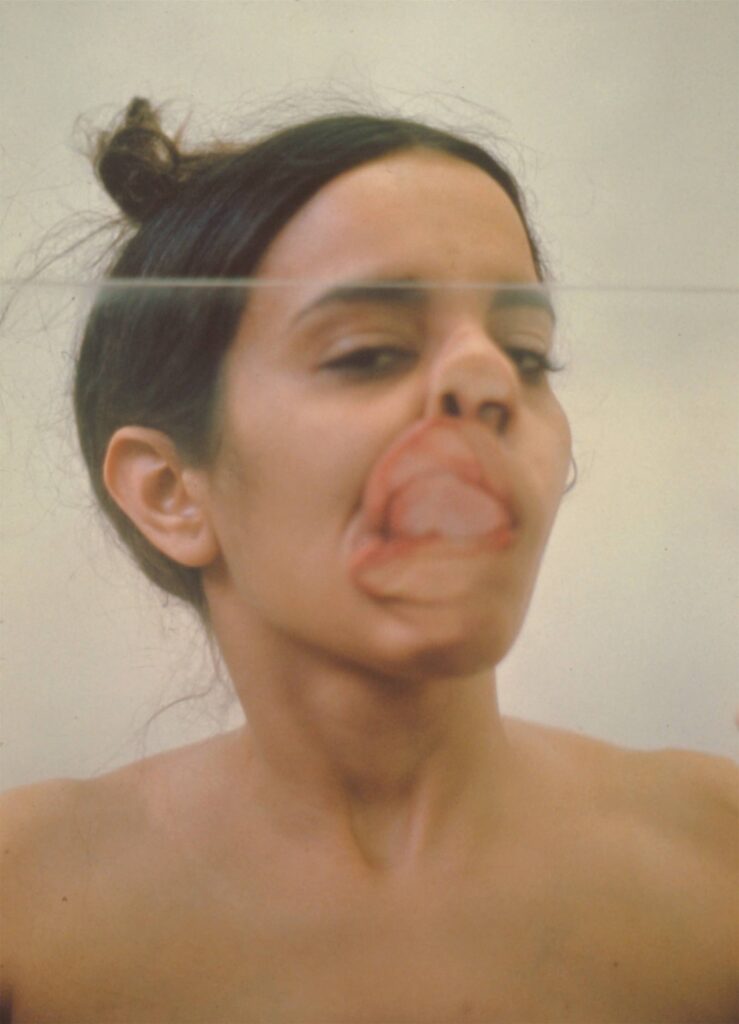 (Glass on Body Imprints), 1972. Courtesy The Estate of Ana Mendieta Collection, LLC / Galerie Lelong / Verbund Collection, Vienna.
Ana Mendieta (1948 – 1985)
Cuban-American Artist
"My art is grounded in the belief of one universal energy which runs through everything: from insect to man, from man to spectre, from spectre to plant, from plant to galaxy." – Ana Mendieta
Recognised as one of the leading women in 20th century photography, Ana Mendieta was a Cuban-American performance artist, filmmaker, sculptor, and painter known for her 'earth-body' artwork. 
Ana was born in Havana in 1948 to a wealthy political family. In 1961, aged 12, Ana and her 15-year old sister Raquelin were sent to live in the US under Operation Peter Pan, a programme run by the US government and Catholic charities to help Cuban children flee Fidel Castro's dictatorship. 
The Mendieta sisters' formative years in the US consisted of moving between different orphanages and foster homes. They were united with their mother and brother in 1966, and their father joined the family in 1979, after having spent 18 years as a political prisoner in Cuba.
Ana studied painting at the University of Iowa, developing an interest in primitive rituals, religion, and spiritualism. Blood was a common element of her works, symbolising violence against women. 
Her 1973 work Rape Scene, which she performed while at university, was a comment on the rape and murder of a fellow student at Iowa University, perpetrated by another of their peers. Ana invited friends and fellow students to her apartment, where she had tied herself to a table and remained motionless while her naked body was smeared in cow's blood. 
The same year, Ana began working on another performance series – Siluetas. It involved hiding her naked body in natural landscapes, including sand, earth, snow, trees, and grass in an attempt to blur the boundaries between womanhood and Mother Nature. In her "earth-body" sculptures, Ana spread blood, feathers, flowers, and dirt across her body. 
"My works are the irrigation veins of this universal fluid. Through them ascend the ancestral sap, the original beliefs, the primordial accumulations, the unconscious thoughts that animate the world", she said. The sites and materials she utilised also spoke to her sense of being uprooted during childhood.
After graduating, Ana moved to New York where her work gained more recognition. She joined the Artists In Residence, Inc. (A.I.R. Gallery), the first gallery dedicated specifically to women artists in the US in 1978. It was here that she met minimalist sculptor Carl Andre who was to become her husband. 
In 1982, Ana debuted her performance art Body Tracks – drenching her arms in blood and dragging them down a white wall to create a drawing. The resulting imprint indexes the body, leaving a trace which resonates with kinetic energy. Ana also worked on a number of experimental films between 1970 and 1980, including Creek (1974), Energy Charge (1975) and Rupestrian Sculptures (1981).
Sadly, Ana's life was tragically cut short on 8th September 1985, when she fell from the window of her 34th floor apartment. Her death was mired in controversy. Carl was tried for Ana's murder; although he was acquitted, exhibitions and retrospectives of his work continue to attract protest.
Ana's legacy lies not in the ambiguity or tragedy of her death, but in her enduring relevance as a bold, innovative artist. Her powerful assertions of agency and evocation of women's experiences have become a crucial reference point in the history of feminist art, continuing to reverberate within the work of today's leading artists and photographers.