Woman photographer Natasha Caruana Explores a New Model for Learning
Heroine Natasha Caruana is known in the industry for her dedication to teaching and mentorship. She brings much-needed positivity and transparency to what it means to be a working artist today. The photographer's most recent venture is the Work Show Grow online school.
Work Show Grow started as a workshop and mentorship business but during the 2020 spring lockdown a supportive international community began to grow. The school opened its doors in September 2020 and has just celebrated six months together.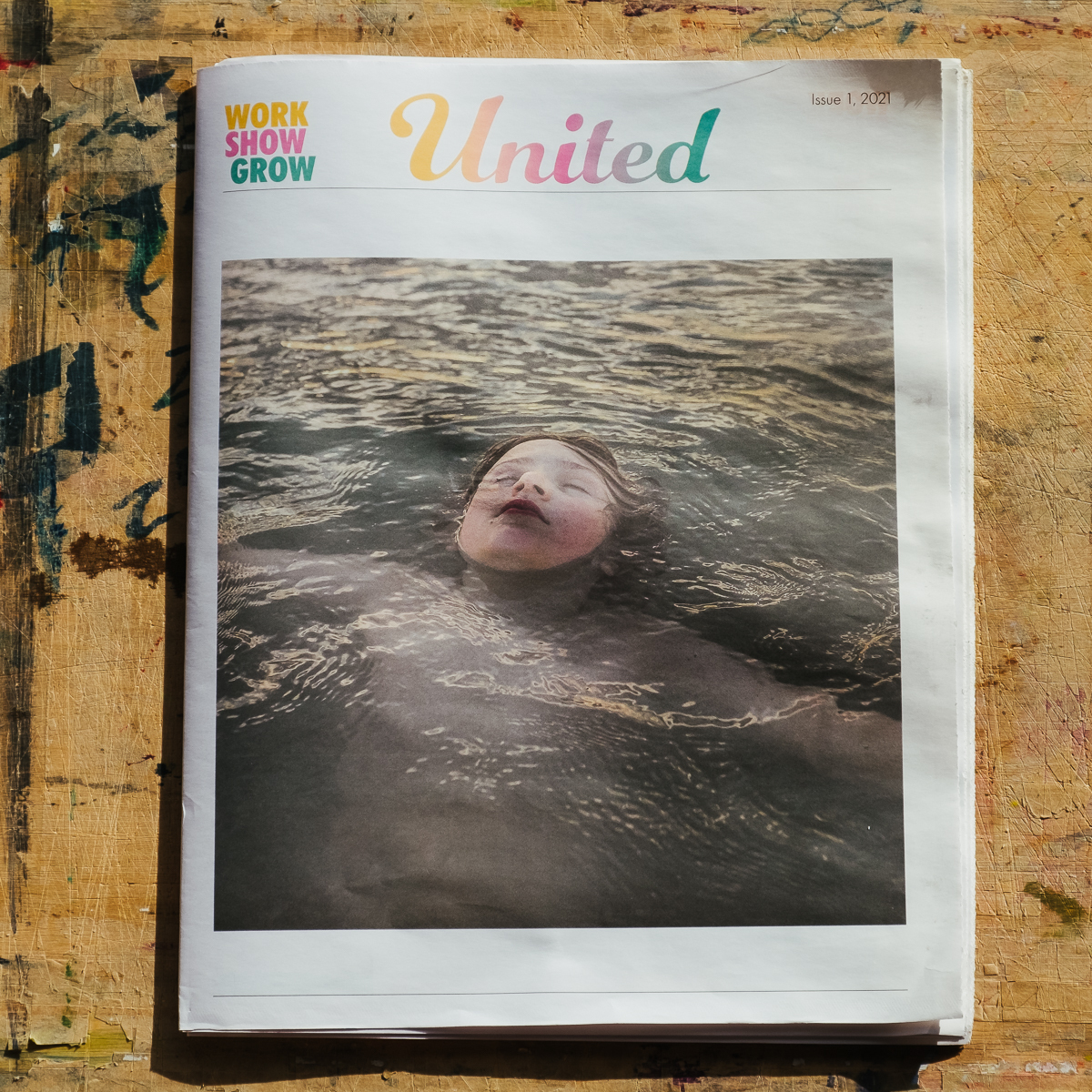 United, Work Show Grow Zine
Work Show Grow school is an untraditional, disruptive business model which strives to be affordable, inclusive and supportive. It is about community rather than competition. School members can dip in and out of bi-monthly mentorship sessions, expert workshops, monthly crits, a co-working group, special projects and an ever-growing library of resources.
The content focuses on how to develop professional and creative skills, with actionable ways to get your name out there and get paid for your work. As a member myself, I have especially enjoyed the monthly critique sessions which are a safe and positive place to talk about work in progress.
The first special project was the 'United' zine, a 64-page tabloid newsprint. The project took place from December 2020 to January 2021 and had contributions from 108 international artists at different stages in their careers.
In keeping with the ethos of the school, the full process was live. Members learnt about zine creation, colour profiles for printing, budgets, distribution and contributed to a programme of launch events.
The zine is divided into three chapters with each piece designed to inspire and motivate readers. Work focuses on the professional work of an artist.
Nastassja Nefjodov talks about how creatives introduce themselves to others, and why she introduces herself as an artist. Simona Ciocarlan and Lucy Levene reflect on the importance of practice. Other artists, including Natasha, share their working process in images.
In the second chapter, Show, the emphasis is on creative life lessons. The images show a huge range of practices, carefully designed to create a dialogue between the words and images on each spread. The artists talk about play, creativity, how to approach a project and how to be in the world. In words that echo the contemporary moment, Giulia Savorelli says, "Extreme isolation and detachment can bring perspective and clarity".
Although the pandemic runs below the surface of much of the work, only the third chapter Grow centres on ways in which artists are working to survive the changes.
Here too, the work is directed to providing guidance, encouragement and optimism. Joy and life emanates from every page, the physical newspaper being such an important part of this feeling. In a time of uncertainty for everyone but especially for the arts, the project gave an outlet and purpose to the contributors who then passed this on by posting out free copies to friends, galleries, curators and educators.
A reminder that we are all in this together and the communities we build are crucial for the work that we do.
"It was such a thrill to see my work printed alongside so many inspiring and brilliant artists from all over the world in the United publication. It was particularly special as the zine was created during lockdown in a time where everything was so uncertain and lacking in joy. The Work Show Grow special project gave me something to look forward to and be proud of that I could share with my friends, family, and professionals in the industry." Elizabeth Ransom
If you would like your own copy there are a few still left on the Work Show Grow website, for the cost of postage.