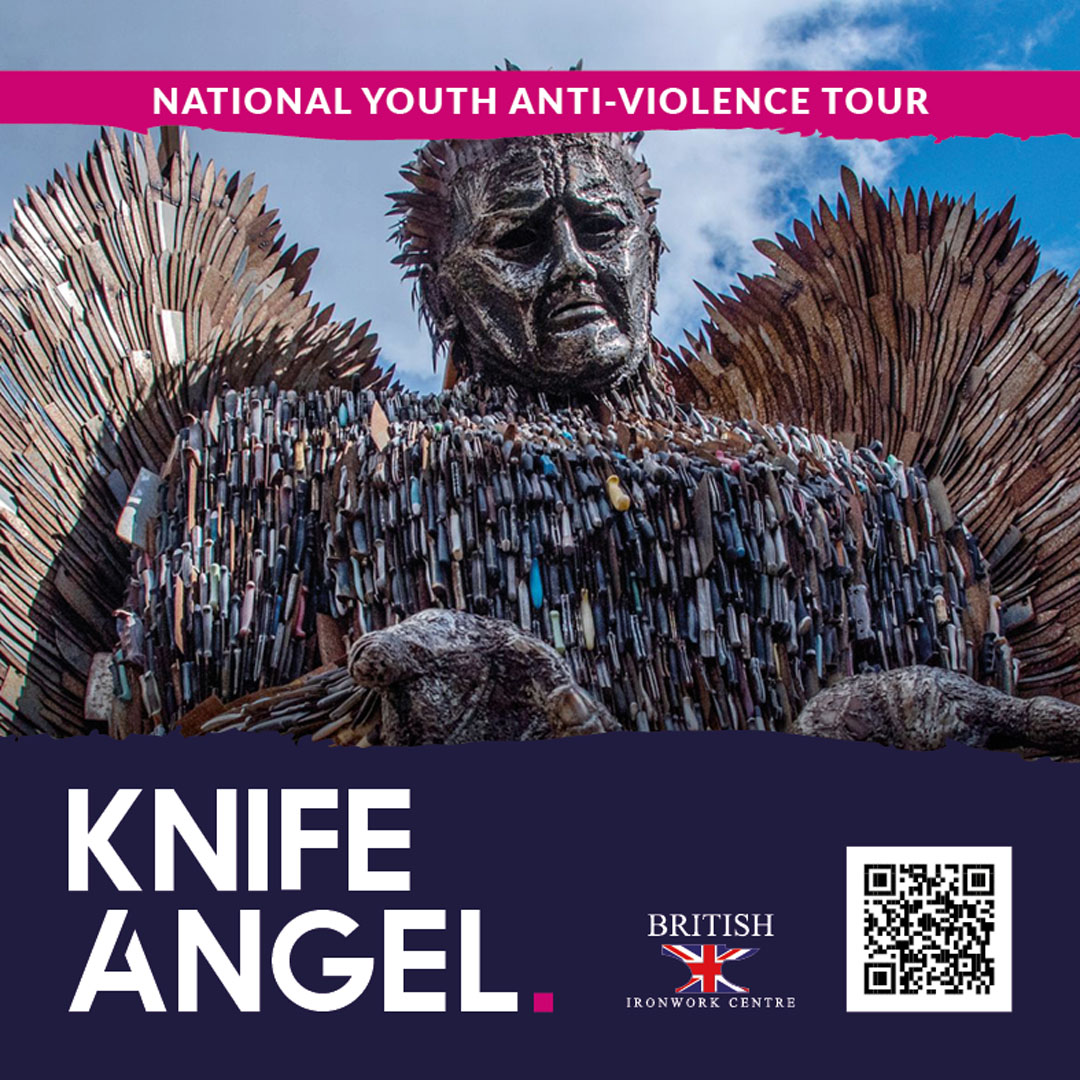 Photograph the Knife Angel
And see your work featured in the Eastgate Centre and be in with a chance to win a prize!
Dust off your camera or pick up your phone and head down to the Cathedral to photograph the Knife Angel
Enter your images to the national and local competitions for the chance to win an angel trophy and other prizes, as well as seeing your work displayed in the Eastgate Centre.
Throughout February, Hundred Heroines is running a free photo competition, alongside the Ironworks national competition, to create a jumbo album as a record of the Knife Angel's visit to Gloucester.
The Online Version
Make a picture of the Knife Angel, upload it to Facebook or Instagram and include the following tags:
@britishironworkcentre  #KnifeAngelPhotoCompetition
@hundredheroines. #GloucesterKnifeAngel
The Eastgate Exhibition – Prints
Submit your images in one of the following ways:
Post on social media as above
Come by the Heroines Quarter during opening hours and bring your image(s) on a memory stick, SD card, phone or laptop
Bring your own print (no bigger than 10″ x 8″) to the Heroines Quarter
We'll print out the images and display them on the Creative Canvas in the Eastgate Centre, where the public will have the chance to vote for the People's Angel throughout March.
Gloucester Competition – Closes at 16:00 on 5th March
Prizes
The winners of our three favourite images will each receive a voucher for £50 to spend at the London Camera Exchange, a copy of Renate Bertlmann's book Discordo Ergo Sumand a Hundred Heroines goody bag.
The winner of the under-18s category will receive a copy of the Tate Photography Ideas Book.
The winner of the People's Angelwill receive a commemorative framed portrait of themselves with their winning image.
National Competition (run by Ironworks) closes on 31st December and the winner will receive a Knife Angel trophy.
Terms & Conditions – Gloucester Competition
With the exception of the People's Angel, which will be chosen by the public, the winners will be chosen by the Hundred Heroines team.
There is no submission fee.
By entering, you agree that your work can be published on our website, social media channels, used in our promotional material for the Anti-Violence Campaign and be displayed at the Eastgate Centre.
You will be credited as the author of the work.
You retain the copyright over your work at all times.
All images submitted through social media will be considered for the competition, but we cannot guarantee printing them out if the platform compresses the image.
Terms & Conditions for the National Competition can be found on the Ironworks website.