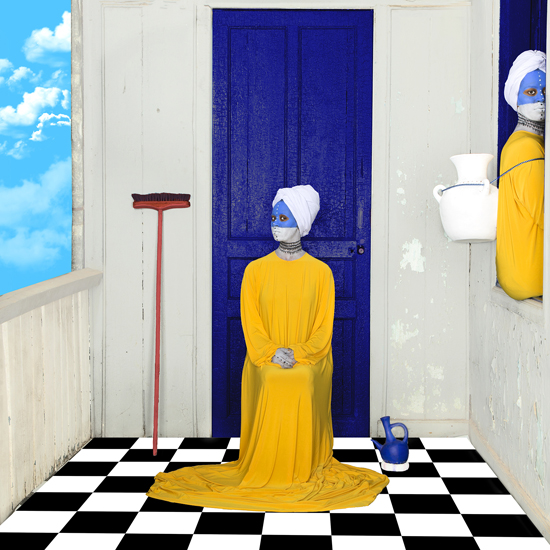 Aïda Muluneh, A Woman's Work , Water Life, 2018 © Aïda Muluneh. Courtesy the artist
Reframing global perceptions of the African continent
By Harriet Lloyd-Smith
Contemporary photographer Aïda Muluneh is an artist reframing global perceptions of the African continent. Born in Addis Ababa in 1974, she left Ethiopia as an infant while the country was in the midst devastating civil war. She spent the next decade in England, Yemen, Greece and Cyprus before settling in Canada in 1985. Her career aspirations swung from basketball player to lawyer before pivoting to photographer when her school art teacher reopened a disused darkroom and handed her a Pentax 35-millimetre camera. She received a BA in film, radio, and television from Howard University in 2000, and gravitated towards the work of Chester Higgins Jr., Richard Avedon and Gordon Parks. Following her studies, she got a job at The Washington Post and began questioning the mass media's perception of African Americans and the African continent. In 2007, she returned to Addis Ababa, where she continues to live and work as a fine artist, commercial photographer, photojournalist, educator and cultural entrepreneur.
Muluneh valued the role of mentors in her career's formative years. One such figure was Sharon Farmer, the first African-American woman to be hired as White House photographer, who took the time to review work Muluneh had created on her first trip back to Ethiopia. "At that time being a young photographer, it was important to get feedback from more established photographers in order to improve my visual language and to also understand the structure of storytelling through images", she recalls. "I believe the reason why I am passionate about teaching has a lot to do with all the different photographers who have been part of my creative growth such as Sharon."
Muluneh has exhibited everywhere from South Africa to Canada, England to China. Her work is permanently in situ at the Smithsonian's National Museum of African Art and can be found on the walls of MoMA and the Hood Museum of Art.
The artist's global upbringing offered her a unique view of her native continent. Her photographic language, instantly identifiable, is an arresting fusion of surrealism, and the sharp, vibrant visual cues of Ethiopian culture, and far beyond. With their graphic flatness, lack of shadows and masterful application of Photoshop, Muluneh's images can appear somewhere between photograph, collage and painting. And she approaches her compositions like a painter might, beginning with archival research and sketching. The results, saturated in primary colours and primarily featuring women, weave a complex web of contradictions: domestic and political, other and otherworldly, historical and modern, fact and fantasy. Symbolism is embedded in props, vibrant garments, body painting and surreal environments – visions of Africa not as one identity, but as a rich cultural tapestry. Her figures exclude stoicism, dignity and poised resolve as they gaze surely down the lens, questioning the viewer's own gaze.
Yet within these scenes, at first easy on the eye and celebratory in palette, is something harder to swallow: themes of injustice, colonialism and misrepresentation. Muluneh's work aims to provoke change and subvert the West's tunnel vision of what Africa is, was, and will be.
Her photography journey began in the darkroom, and despite what her vivid contemporary work might suggest, she still values the importance of black and white, both in her photojournalism, and for young photographers. "I do believe that it is the foundation for photography students because you must first understand light before you can explore other elements, such as color." She told LensCulture. Muluneh's palette often references the roots of her home country: the artefacts, garments, traditional body art and wall paintings found in Ethiopian Orthodox churches.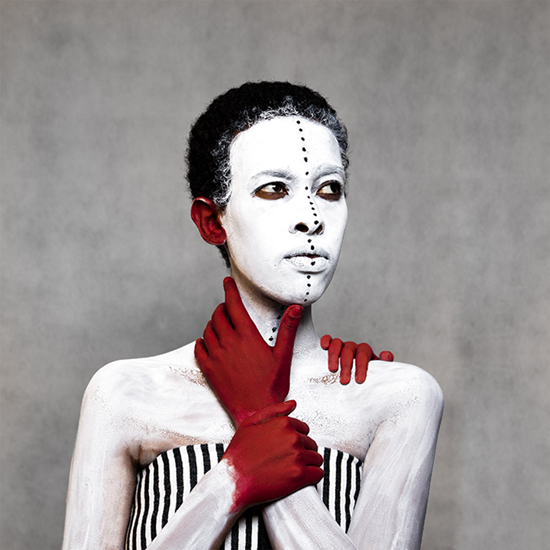 Aïda Muluneh, The 99 Series Part Two , 2013 © Aïda Muluneh. Courtesy the artist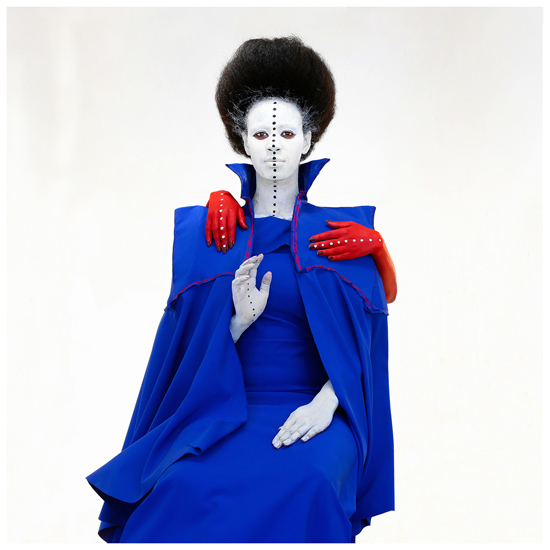 Aïda Muluneh, All in One, 2016 © Aïda Muluneh. Courtesy the artist
In 2016, Muluneh staged her first solo exhibition; The World is 9, at David Krut Projects, New York, which came nine years after her return to Ethiopia. The title stemmed from a line her grandmother used to say, "The world is 9, it is never complete and it's never perfect." It wasn't until Muluneh was an adult that the words fully sunk in. "In this world, we are idealists seeking perfection but living in a reality which does not afford us that balance. Life is unpredictable and imperfect," she has said. Departure, a work from the series that featured on the cover of the 2018 UNESCO Global Report Reshaping Public Policies, sees two female passengers on a dilapidated train. One gazes forward, as if towards a future, the other stares pensively through a grubby window, hand pressed against the glass. This image, like many of Muluneh's photographs, makes use of an arrestingly bold, graphic colour scheme, featuring the green, red and yellow of the Ethiopian flag. For some, this may induce feelings of familiarity and nostalgia, for non-African eyes, it urges deeper inspection.
For her 12-piece series, Water Life, commissioned by WaterAid and exhibited at Somerset House in 2019, Muluneh took to one of the driest, hottest and most inhospitable places on earth, the salt flats of the Danakil Depression in Afar, Ethiopia. The series explores the devastating impact a lack of clean water access has on women. Muluneh's images, shot in 40-degree heat, see the desolate landscape offset by vibrant body painting, African garments, domestic objects and near-luminous yellow Jerry Cans, which have become a symbol for global water scarcity. The series eschews a factual, journalistic approach, opting instead to form narratives that combine the strength of women for whom this is a daily reality with the staggering beauty of the African continent. "I could have easily edited my portraits onto the background without actually shooting in Afar, but I was certain that I wanted to go there and experience it for myself. I wanted to be confronted by the harsh and aggressive environment, to feel the heat and understand how people live in these kinds of conditions," she told WaterAid. Muluneh homed in on the female experience because, in places of water scarcity, the onus tends to fall on women and young girls to walk for hours on foot to collect it. This affects not only the opportunities of women but the futures of entire communities. These images, soaked in riotous colour are as much enchanting, as a call to action and illustrate how access to clean water is a privilege, not a certainty.
For Muluneh, education goes beyond her own artistic output. She is also a much-in-demand juror, mentor and curator, having served on the jury for the Sony World Photography Awards, the World Press Photo Contest and is currently a Canon Ambassador.
In 2010, through her company Desta for Africa Creative Consulting, she founded Addis Foto Fest, the first international photography festival in East Africa. The biennial event aims to connect African photography to the world, and vice versa. As in Muluneh's own visual work, the festival harnesses the potential of art to shift the single, infamous view of Africa – one often of famine, war and corruption – increase diversity in contemporary photography and amplify aspiring talent. "Without education we can not change the market nor be able to compete in the international market, hence I invested a great deal in supporting emerging talents through various educational activities in the past 12 years," she explains. "Education is not only about those in the continent but it is also about educating the international audience who are unaware of the different perspectives and talents that exist in Africa."
Muluneh's multifaceted work is grounded in the importance of education and a belief in the future of Africa. Her striking images seek to reclaim the myriad identities of a continent all too often squeezed into a narrow view defined by Western eyes. She seeks out commonalities in the human experience, those that transcend notions of geography, class and identity. Muluneh offers her lens as a tool so the world might widen its own.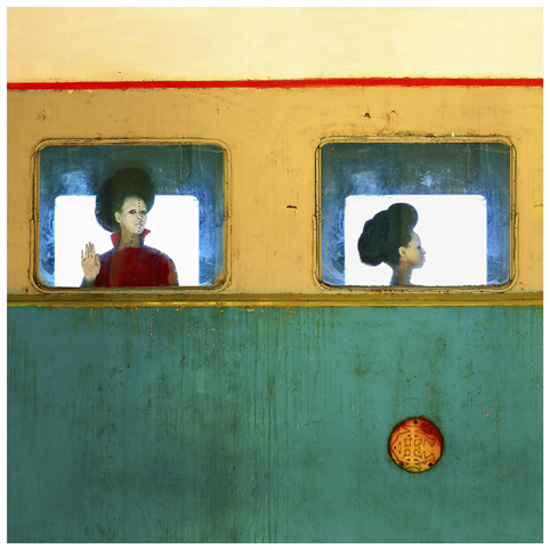 Aïda Muluneh, The Departure , 2016 © Aïda Muluneh. Courtesy the artist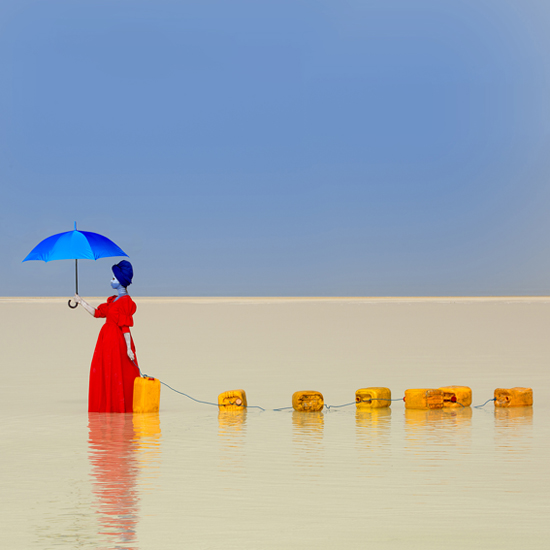 Aïda Muluneh, The Shackles of Limitations , Water Life 2018 © Aïda Muluneh. Courtesy the artist