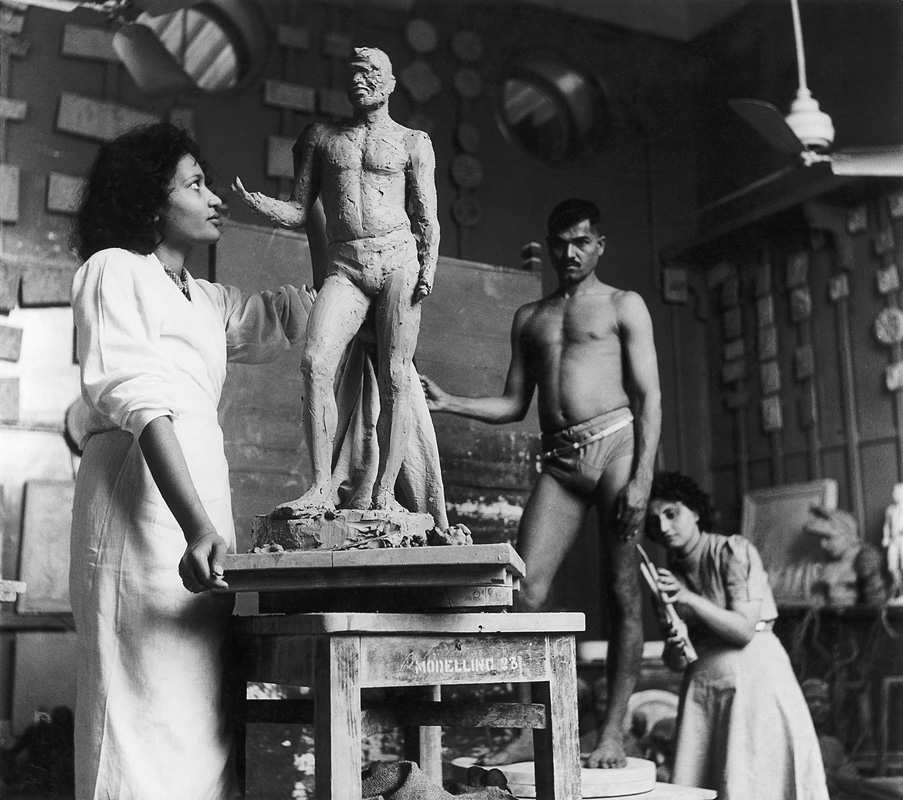 Homai Vyarawalla. Rehana Mogul and Mani Turner at work in sculpture class at the J.J. School of Arts. A live male model can be seen in the background. Bombay, late 1930s. HV Archive/Alkazi Collection of Photography
Mini-symposium to accompany exhibition
Join our Anemoia Symposium panel as they discuss the work of the Heroines showcased in our Anemoia online gallery, with special guests of Friends & Family on February 27 at 17:00 GMT.  Including time for Q&A.
Chaired by Haley Drolet (Research Assistant, Faculty of History, Oxford University).
Hundred Heroines is very pleased to welcome Amanda Hopkinson, Janice Kinnery, Jean Bubley, Monika Baker, Ralph Harrington and Tiffany Wai-Ying Beres, to discuss the work of Edith Tudor Hart, Berenice Abbott, Homai Vyarawalla, Fanny Foster, Esther Bubley, Gerti Deutsch and Nancy Sheung. This event promises to give new insight to the life and work of these Heroines.
Held over Zoom.
Our mini-symposium is chaired by Haley Drolet.
Having grown up on the coast of Maine, Haley currently lives in Oxford, England with her Dalmatian (and Hundred Heroines' mascot) Annie. She completed a MA in Classics from King's College London and now works as a Research Assistant in the History Faculty at the University of Oxford. She has been researching and writing profiles of women photographers for Hundred Heroines since the Summer of 2020.
Amanda Hopkinson's writing has focused on women photographers' work since the 1980s, when Virago published her biography of Victorian pioneer Julia Margaret Cameron. Most recently she co-curated [with Mike Berlin, for the Peltz Gallery, London 2019] an exhibition of work by Picture Post photographers including Gerti Deutsch, Refugees and Citizens (a transition Deutsch both documented and made herself). In 2020 Amanda Hopkinson both wrote and spoke on Deutsch for the Another Eye: women refugee photographers in Britain [Four Corners Gallery, London 2020]. Both events were part of the Insiders/Outsiders festival.
Janice Kinory (Discussing Fanny Foster)
Dr Janice Kinory is a Research Associate for the HEIR Project the Institute of Archaeology Archive at the University of Oxford. HEIR has been digitising images taken from largely forgotten, technologically obsolete resources warehoused in various parts of the university since 2013. Its image collection has expanded to just under 35,000 pictures from multiple university departments, libraries, and colleges.
Jean Bubley, Esther Bubley's niece, suddenly found herself in charge of an important photography collection when her aunt passed in 1998.  A software developer with no background in photography, Jean rose to the challenge. She made sure the collection was housed archivally and oversaw numerous projects to promote the work including a retrospective exhibition at the UBS Gallery in New York City, the publication of Esther Bubley: On Assignment, and most recently the e-book and exhibition Dissin's Guest House: A Home Away from Home for Jewish Defense Workers during WWII.
Monika Baker is an independent documentary film maker, photographer and curator.  Baker studied documentary film at National Film and Television School (NFTS) and a Masters in Screenwriting at Edinburgh Napier University. Winner of the Oscar Micheaux award for her film "Silent In The Crowd"  and co-founding member and first chair of Autograph – Association of Black Photographers.
Monika curated several landmark exhibitions projects such as "Reflections of the Black Experience," the diverse inclusion to Arts Council England's "Decibel Visual Arts" a national arts legacy initiative and Signals, Festival of Women Photographers. She has worked consistently with the multi-awarded Director Menelik Shabazz on several documentary films over the years, to include "The Story of Lovers' Rock" and recently "Pharaohs Unveiled.'
Dr Ralph Harrington is an independent historian of visual culture with a particular interest in art and photography by women. He has a doctorate in modern history from the University of Oxford and a further PhD in the history of art from the University of Leeds. He has held posts at the University of Hull, the University of York and the Science Museum and has been a consultant in art history and architectural heritage working for organisations including the UK Government, Unesco, the National Trust and Historic England.
Tiffany Wai-Ying Beres (Discussing Nancy Sheung)
Tiffany Wai-Ying Beres is an art historian and curator, currently getting her PhD at the University of California, San Diego. Running the estate of Nancy Sheung/archive along with family members, Tiffany has many exhibitions featuring Nancy's work in the pipelines for 2021.
Saturday February 27. All times GMT
17:00 – 18:35:
 

Friends & Experts

17:00 – 18:15: Discussing the work of Edith Tudor-Hart, Berenice Abbott, Homai Vyarawalla and Fanny Foster.

18:15 – 18:35: Round Table Q&A

18:35 – 18:50 Comfort Break
18:50 – 20:00:
 

Family

18:50 – 19:35 Discussing the work of Esther Bubley, Gerti Deutsch and Nancy Sheung.

19:35 – 20:00: Round Table Q&A