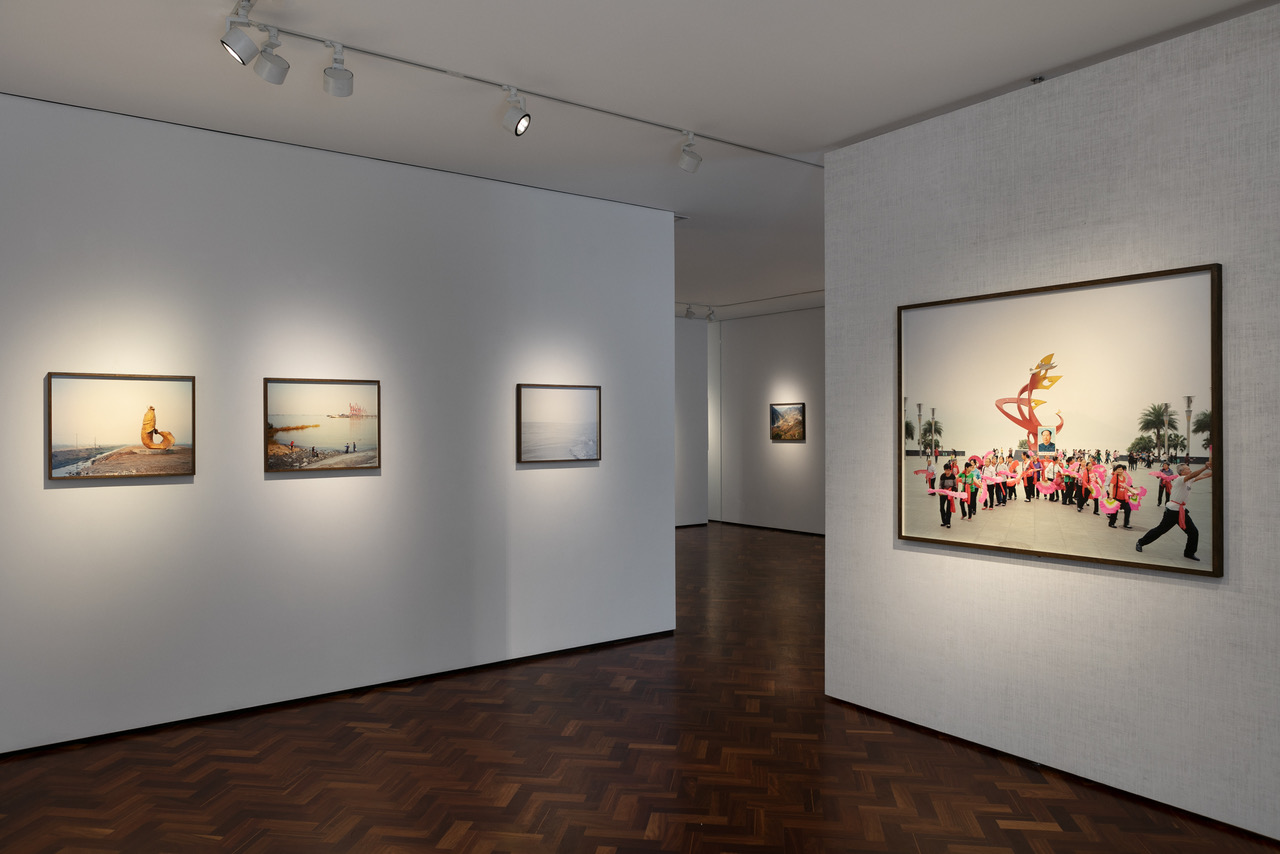 Installation Image, courtesy Messums London
With Love
Yan Wang Preston at Messums London
From the foundational symbolism of the Yangtze to the controversial identity of the rhododendron, Yan Wang Preston is a photographer transfixed by the emotive interrelation between humanity and the natural world.
From 1st June, Messums London is presenting Yan's first London-based solo exhibition. Curated by Johnny Messum & Zelda Cheatle, the exhibition introduces three major bodies of work – With Love. From an Invader., Forest, and Mother River. Each series reveals Yan's thoroughly researched and often deeply personal excavations of colonial history, migration, and the body.
Over a period of four years (2010 – 2014), Yan travelled the entire 6,211km length of the Yangtze River, exploring the connection between China's topography and identity. The culminating project, Mother River, offers a detailed, nuanced portrait of the Yangtze which challenges its conventional image.
Elsewhere, Forest (2010 – 2017), a series of images depicting reforestation in China, continues Yan's focus on the association between humans and nature. Photographs of mature trees, domesticated by the shopping districts and transport stations of Chongqing, contrast with haunting depictions of deserted 'model town' landscapes in Haidong Development Zone, emphasising the moral complexities at the heart of industrialisation.
Yan's entire oeuvre solidifies her desire to give nature a voice. In '2-University City, Chongqing, China, 2011', four trees peer above a soaked concrete wall; at the exhibition's opening event, Yan commented that in her interpretation, the cascade which appears beneath each plant creates the impression of tears.
However, Yan refrains from making a specific argument via the work, prizing ambiguity as an invitation for viewers to form their own opinions. Beyond critique or condemnation, the images converge beneath an umbrella of 'hope'; while the current state of the Earth's climate inspires dread, Yan's work reverberates with aspirations of positive change.
While such change is evidenced by the Yangtze's mercurial likeness, or the apparent adaptation of transplanted flora, Yan's most recent work is perhaps her most visceral evocation of change to date.
'With Love. From an Invader.' stems from Yan's decision to produce an identical photograph, every other day, for a year; the subject, a heart-shaped rhododendron bush in Burnley, Lancashire, captured half an hour before sunset.
Introduced to the UK as an ornamental plant by 19th century botanists, yet condemned by some modern ecologists as an 'invasive species', the rhododendron bush became a fertile microcosm for both local biodiversity, and postcolonial discourse.
'With Love. From an Invader.' appears at Messums in the form of four panels, each celebrating the shifting seasons. It is also currently displayed as a video installation at the Royal Botanic Garden Edinburgh (until 28th August). Here, a time lapse of the 182 photographs is enriched by a soundscape composed by Monty Adkins, who collaborated with Yan in gathering environmental sounds from the area.
Among 'the wind, rain, snow, leaves rolling, bark rubbing, ice cracking…the pheasants, owls, lamb, sheep, robins, blackbirds, curlews, cuckoos, geese and magpies…the bees…' the photographs blossom into life.
Such elemental experimentation extends into Yan's most recent series, 'Autumn, Winter, Spring and Summer', also partially displayed at Messums. In her rhododendron seed pod studies, Yan evokes Chinese symbolism; the square format of the images is a code for Earth, the round arrangement of the rhododendron seeds a celestial figure for Heaven.
Yan has also integrated unpredictable natural materials into the work, emphasising the cyclical aspect of seasonal change. While fire rages as a means of destruction, snow eventually bathes the rhododendron pods beneath a soothing, replenishing mantle.
For Yan, the ideal image is one which inspires emotion as well as intellectual discourse. While deepening her acquaintance with the rhododendron seed pods, she was unexpectedly struck by their relevance to her own history.
Before turning to photography, Yan spent ten years as an anaesthetist according to her father's wishes. Dissecting the seed pods in a meditative process of discovery, she felt reminded of her time practising medicine.
This lent the plant a new emotional context; an echo of the prelude to her genesis as an artist, the 'invasive' species became a harbinger of memory, growth, and the foundation for a new sense of home.
Yan Wang Preston: With Love is on display at Messums London, Cork Street, until 1st July 2022.
Installation Images, courtesy Messums London