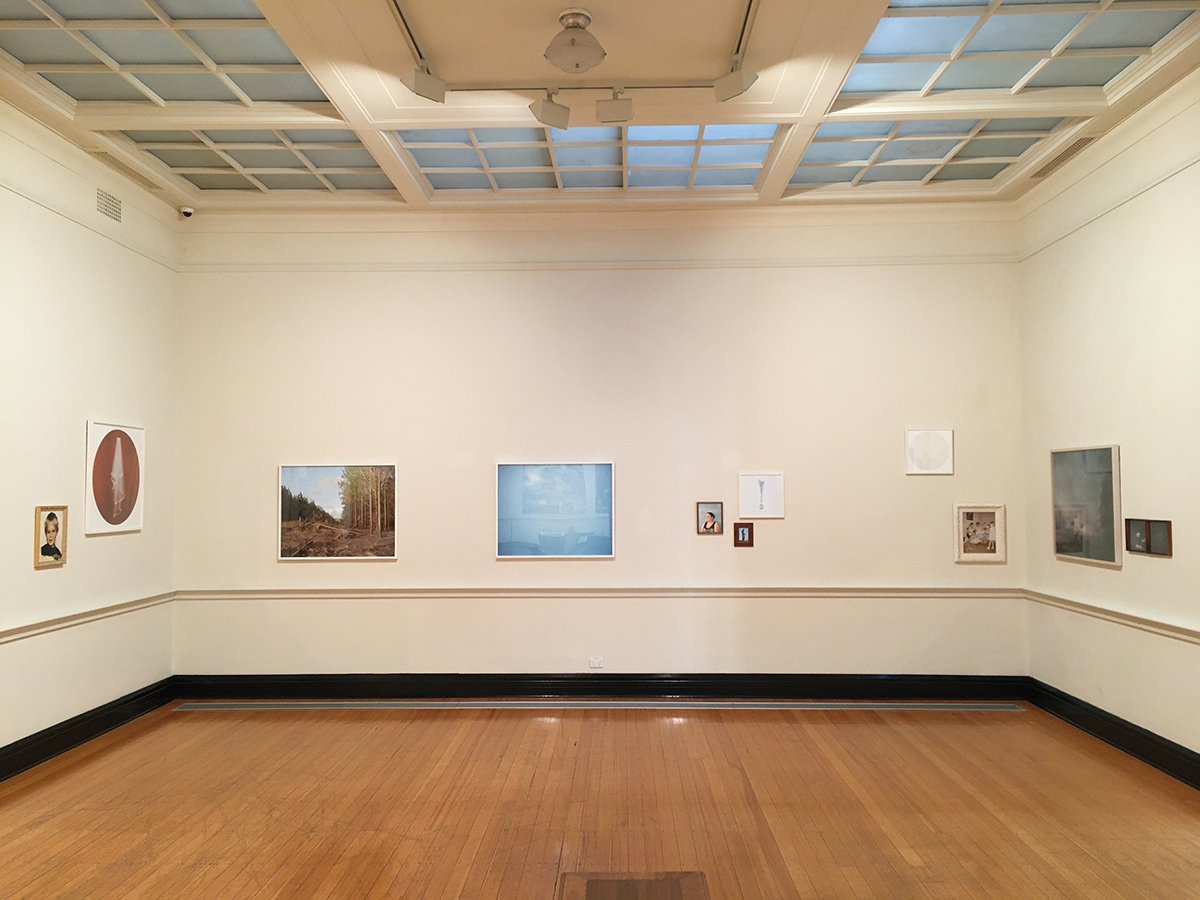 Katrin Koenning, Dear Chris 2012-13, installation view, Castlemaine Art Museum
Cloudy: A Few Isolated Showers brings together a vast collection of visual artists for an optimistic exhibition
*Trigger Warning: Mentions of suicide*
Omnipresent and sublime, the sky has inspired artists throughout the centuries. Although no stranger to scientific study, the vast space above is a fertile domain for the mystical and abstract; via clouds and constellations, imaginative stories are embedded into the air.
A new exhibition at Castlemaine Art Museum (CAM), Australia, Cloudy: A Few Isolated Showers has its sights set purposefully upwards. The variance of the collection – which includes artists such as Frederick McCubbin, W B McInnes, and Dora Meeson – reflects contrasting elements of nature; while the sky itself is 'always there; blue, limitless and clear', the transience of the clouds lends an emotive energy to our experience of weather.
For leading woman photographers such as Katrin Koenning, photography constitutes an ideal medium through which to interpret these emotions as visual art. Cloudy exemplifies this relationship; according to CAM, 'photography – with its fundamental relationship to light and time – is the perfect medium through which to consider the sky in all its turbulent glory.'
Katrin's practice frequently revolves around distance, transience, and fluctuation – situating her work seamlessly within the exhibition's concept. In her long-term project Indefinitely, a series of apparently unrelated images – flames, stars, flocks of birds – indicates the myriad of activity which takes place between separate geographical points, embellishing potentially melancholic separation with a vibrant chain of connectivity.
Katrin also attracted critical acclaim for her series Astres Noires (Black Star), produced in collaboration with Bangladeshi artist Sarker Protick. Working thousands of miles apart, each photographer recorded the minutiae of their environment – dust clouds, droplets of rain – 'in enchanting ways that elevate the mundane to the metaphysical' (National Geographic).  Katrin described the work as possessing 'a rhythm of voyage' – a journey through time and space traversed beneath a mutual sky.
Featured in Castlemaine's Cloudy exhibition, Katrin's series Dear Chris (2012 – 2013) is engaged with the association between loss, ritual and memory. Produced in memory of her cousin's late husband, the work is a sensitive retelling of both Chris' life, and the aftermath of his suicide, through significant objects and locations.
Like much of Katrin's work, the project does not follow a linear narrative, instead arranged into three 'chapters' of selected fragments – 'vernacular pictures from Chris' childhood Album, photographs of some of Chris' objects kept by Alana, and finally photographs of places of significance to Chris'.
As in Katrin's other works, apparently mundane or ephemeral motifs acquire profound resonance. Just as Cloudy enables the sky to appear in 'multi-layered and complex' ways, Dear Chris imbues objects and spaces with the emotional intricacies of grief. For Castlemaine Art Museum, Katrin's work echoes the 'abstract qualities' of the sky itself, 'such as transition and impermanence.'
Discussing Indefinitely, Katrin offers the view that 'space is not a vacuum or a void, but rather the creator of new narratives: a space of the imaginary.' As Dear Chris examines the void left by the loss of a loved one, stories emerge in places of absence. Unexpected relations occur, including those between the work and the audience; aesthetically, the photographs feel familiar – akin to those in many other family albums. Through their own memories, Katrin draws the viewer to Chris and his story.
The skies in Dear Chris oscillate between light and darkness, turbulence and tranquility; each is captured amid perpetual flux. In one image, a beam of sunlight emerges from behind a dense forest, projecting an ethereal glow along the vacant road beneath. The effect is the creation of a phantasmic focal point, lingering in the centre of the frame. In Katrin's work, as in Cloudy, neither distance, nor the sky itself, are harbingers of emptiness; both become a canvas upon which new visions can flourish.
Cloudy: A Few Isolated Showers is on display at Castlemaine Art Museum until 24th November 2021.
By Katherine Riley