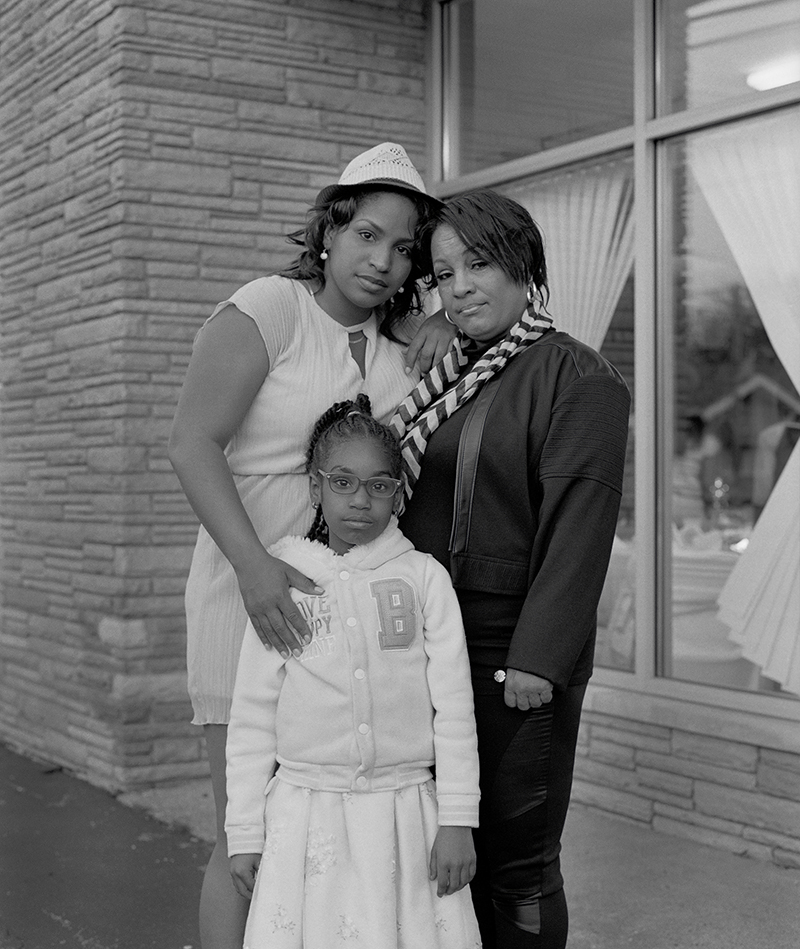 Flint is Family Act I: Shea Cobb with Her Mother Ms. Renee and Her Daughter Zion at Nephratiti's Wedding Reception, Standing Outside the Social Network Banquet Hall, Flint, Michigan, 2016 – 17. LaToya Ruby Frazier (American, b. 1982). Gelatin silver print; image: 50.8 x 61 cm. Courtesy of the artist and Gladstone Gallery, New York and Brussels. © LaToya Ruby Frazier
LaToya Ruby Frazier, Catherine Opie, Wendy Red Star, and Carrie Mae Weems feature in latest exhibition held at Cleveland Museum of Art until March 13, 2022
While 'motherhood' is a term with a myriad of associations, these alternating perspectives are perhaps rarely explored in equal detail. A new exhibition from the Cleveland Museum of Art, Picturing Motherhood Now unlocks the nuances of motherhood through visual art — encompassing work by thirty three diverse contemporary artists including leading women in photography such as LaToya Ruby Frazier, Catherine Opie, Wendy Red Star, and Carrie Mae Weems.
Focusing on work produced during the last two decades, the exhibition narrates an 'intergenerational and evolving story' of motherhood.
Through a variety of media, motherhood becomes 'a lens through which to examine contemporary social issues — the changing definitions of family and gender, the histories and afterlives of slavery, the legacies of migration and the preservation of matrilineal Indigenous cultures.'
The exhibition is organised into four distinct sections, each orbiting a selected theme. 'Missing Pictures' highlights images of motherhood which are frequently underrepresented, examining injustices within the histories of Black and brown motherhood and 'offering positive and empowered images of these mothers'.
Another section, 'Making and Matrilineage', acknowledges the crucial role of mothers in maintaining tactile culture, particularly the preservation of Indigenous artistic traditions.
While 'Mother Tongue' focuses on language and storytelling as the foundation of collective social histories, 'Kinships' considers 'maternal lineage that is not necessarily biological', showing how 'heritage can be anchored instead by shared values, politics and artistic ideals.'
According to the director of the Cleveland Art Museum, William M. Griswold, "Picturing Motherhood Now examines contemporary interpretations of motherhood against the backdrop of the CMA's encyclopedic collections. Visitors to this compelling exhibition will understand how these artists challenge traditional representations of motherhood and how they diverge from historical treatments of the theme."
Picturing Motherhood Now is on view in the Kelvin and Eleanor Smith Foundation Exhibition Gallery, Cleveland Museum of Art, from 16th October 2021 until 13th March 2022.