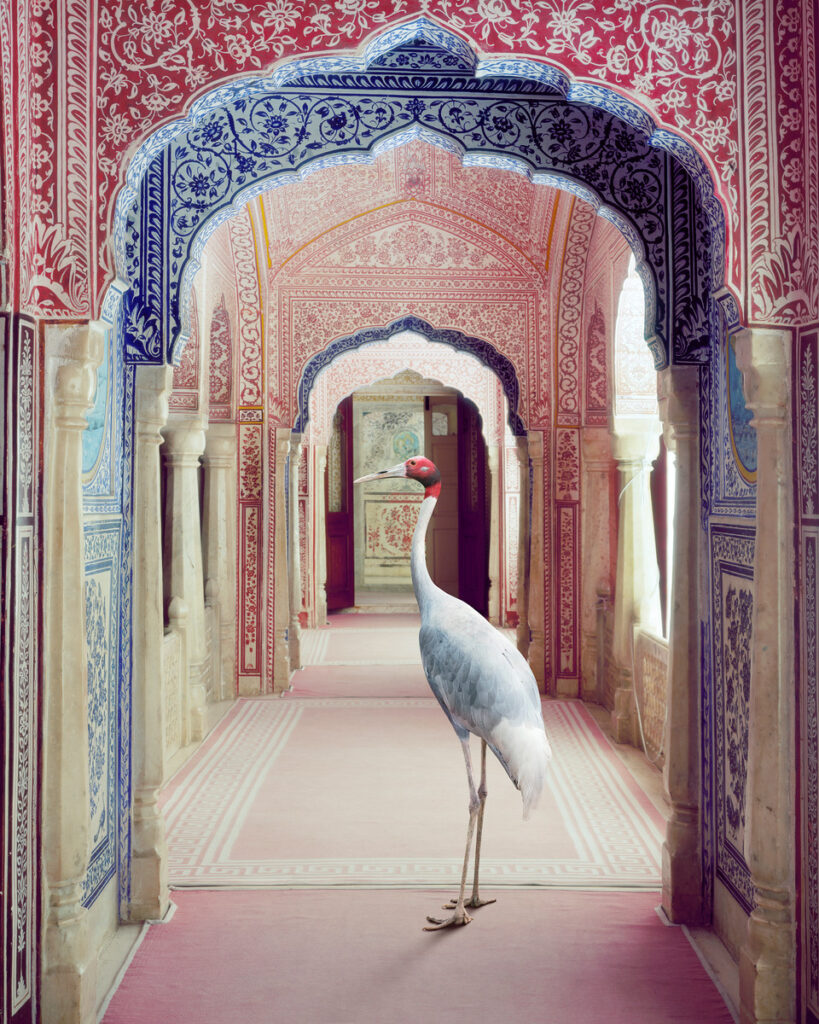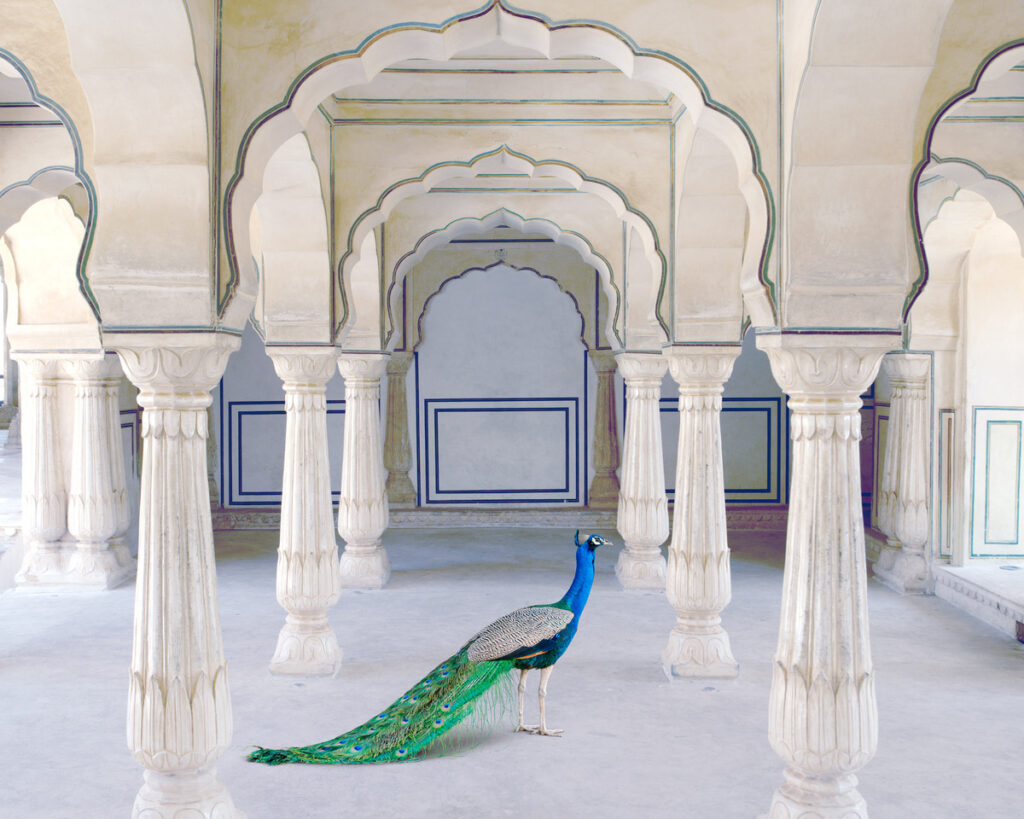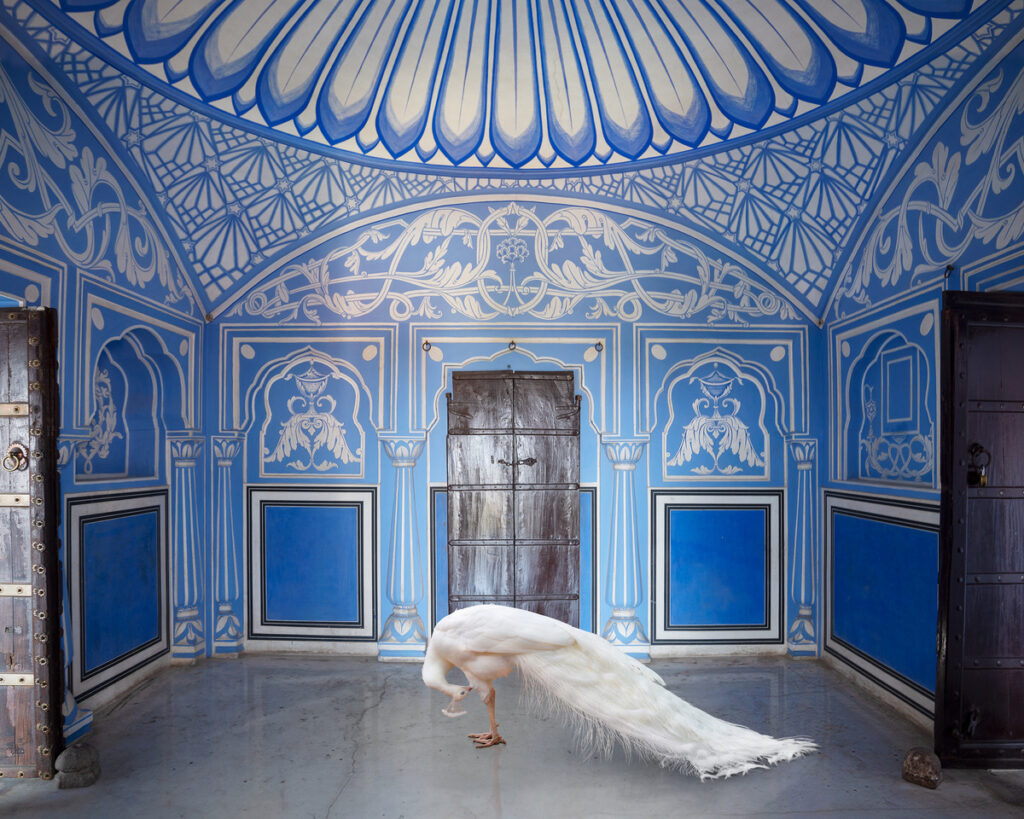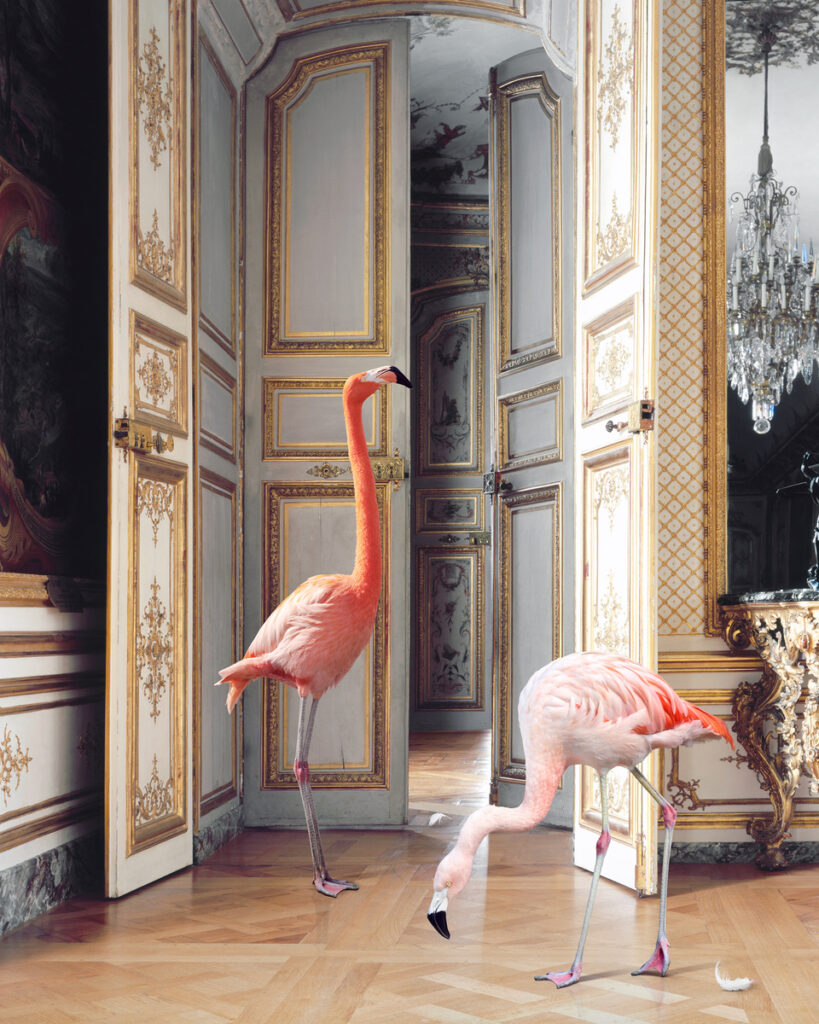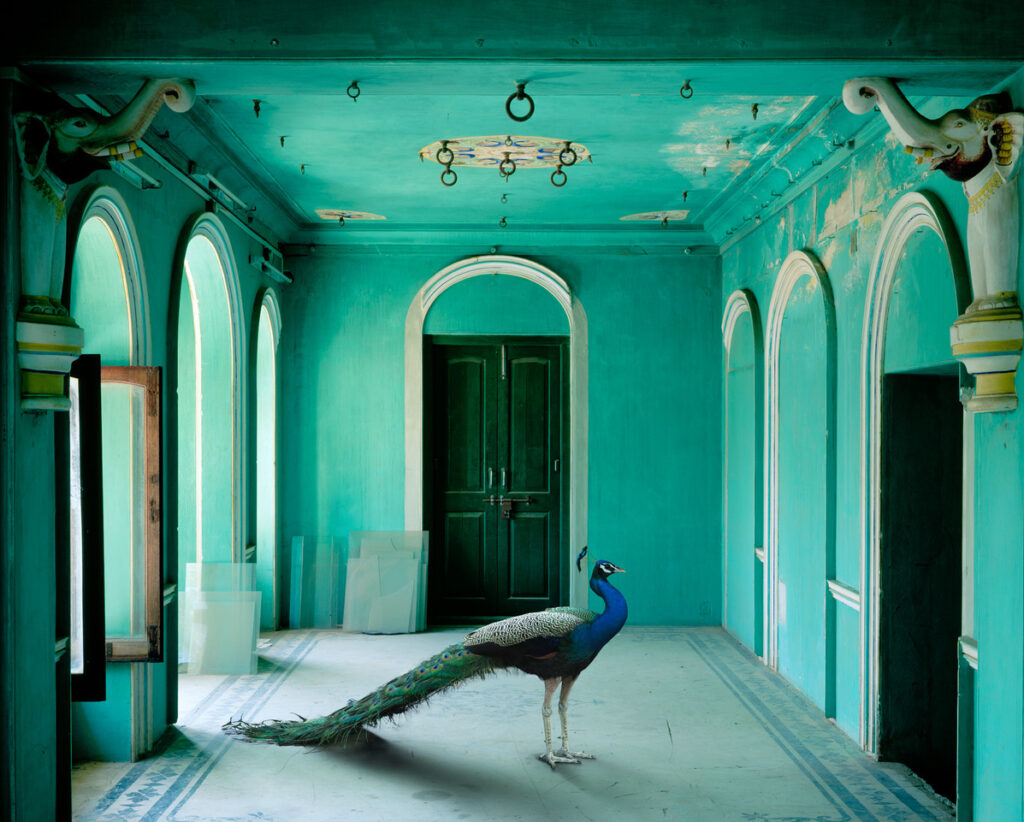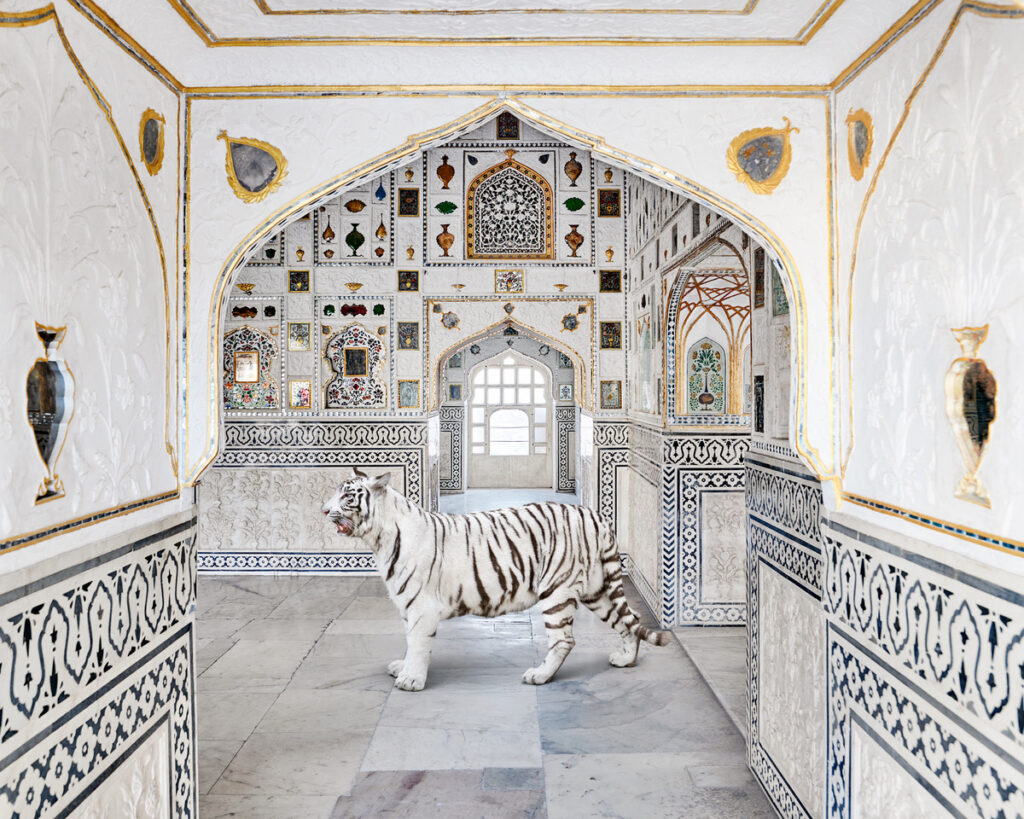 Karen Knorr uses her signature style to comment on global warming's impact on animal behaviour, in London until Oct 31
Anthropogenic global warming is rapidly transforming Earth's ecosystem; turbulent developments, initiated by human activity, are compelling animal species worldwide to alter their established migration and breeding behaviours.
According to the observations of phenologists – scientists who study the pattern of naturally occurring phenomena – these behavioural shifts are dramatically affecting biodiversity at both a regional and global level.
Demonstrating visual art's capacity to raise awareness of such concerning changes, Karen Knorr's Transmigrations – her first one-artist show in the UK since her Tate Britain exhibition Belgravia and Gentlemen (2014) – depicts animals wandering among opulent domestic settings. The style characterises much of Karen's work, including the series India Song (2008 – 2021), Metamorphoses, and Fables (2003 – 2008) – all of which feature here.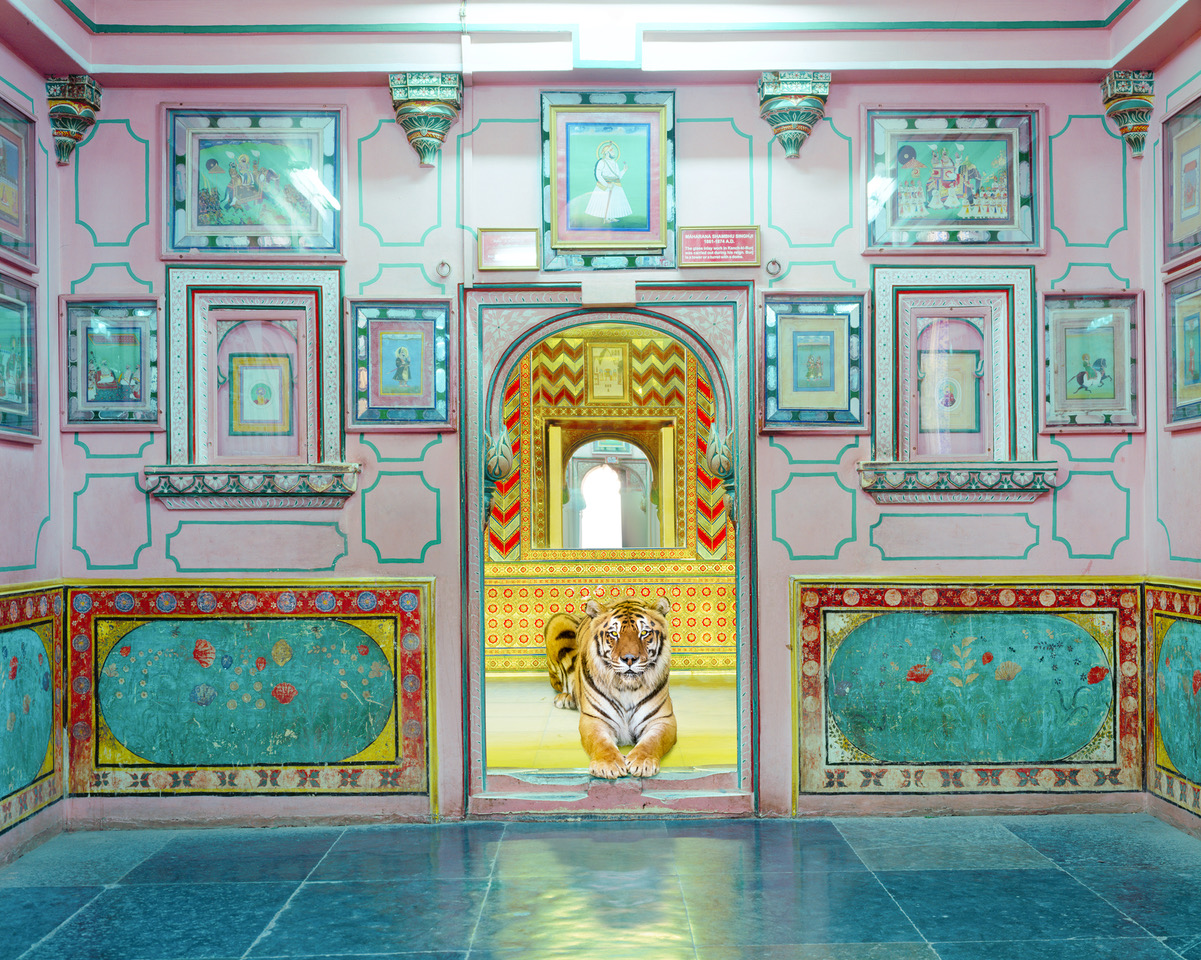 Tiger Breath, Sheesh Mahal, Amer Fort, 2020 © Karen Knorr. Courtesy of Augusta Edwards
One of the leading women in photography, Karen has used digital methods since the 1990s to create a distinctive visual language with aesthetic and conceptual appeal.
In her large-scale colour work, which uses compositing and digital montage techniques, Karen weaves rich visual tapestries influenced by Indian and European cultural heritage.
Taxidermied or wild animals are photographed separately, then placed digitally in palace or museum interiors to disrupt these sites. In 'The Queen's Bedchamber [Château Chambord]', a fox curls up atop a four poster bed; in 'The King's Reception [Château Chambord]', stags lock horns beneath a glittering chandelier and the painted gaze of Philippe d'Orléans.
While the animals which appear in Karen's photographs act 'as signifiers of a radical alterity, or "otherness", representing the vulnerable, displaced, and rejected' (Augusta Edwards), their presence is not an exercise in anthropomorphism.
Rejecting the moralistic conventions of traditional fables, in which animals appear as metaphors for human folly, Karen's recreations instead liberate these creatures into typically forbidden territory.
In both the contemporary ecological climate and the heritage narratives of Hinduism and western Christianity, touchstones of Karen's practice, wildlife is frequently 'subjugated' and 'trapped' – abused by those at the 'apex of the hierarchy' (A. E.).
Illustrating wild creatures lost amid inorganic architecture, these images directly confront the tangible effect of humanity on non-human species; the surprising visual contrast of the images, perpetuated by the composite techniques behind them, emphasises the hostility of these institutions towards nature.
According to Augusta Edwards Fine Art, who play host to Transmigrations, the animals in Karen's series 'are the principal actors in a perpetual conflict between nature and culture. Humans are now both perpetrators and victims of the oncoming horrors of our warming earth.'
Through these awe-inspiring images comes a glimpse of the balance shifted; in the face of human-led destruction, Karen conjures a world in which animals reclaim their independence, agency, and power.
Transmigrations is on display at Augusta Edwards Fine Art from 18th – 31st October 2021.
By Katherine Riley